The Northman Was A Life-Long Dream For Alexander Skarsgard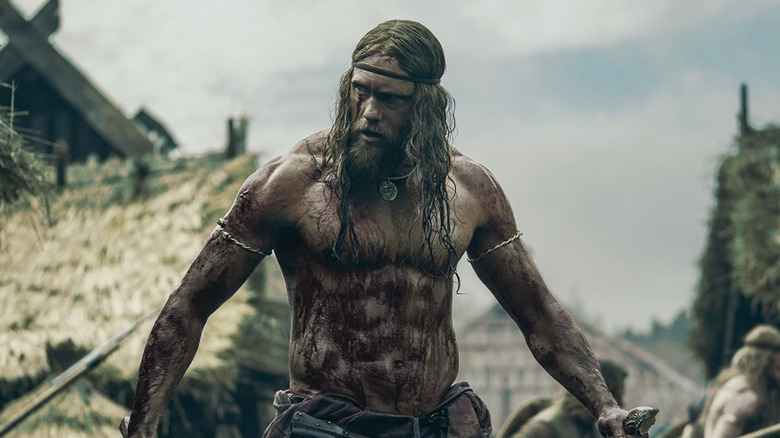 Focus Features
One of the most interesting blockbusters hitting theaters in all of 2022 is "The Northman," a Viking epic and revenge tale from director Robert Eggers, known as the man behind "The Witch" and "The Lighthouse." But what happens when you give that filmmaker a $90 million budget and an A-list cast led by Alexander Skarsgard? If the early word from critics is to be believed, a bit of bloody movie magic. For Skarsgard though, this represents the accomplishment of a dream that has been in the works for a long, long time. This was not merely taking on a role to cash a paycheck. This was the absolute definition of a passion project.
A long-nurtured dream come true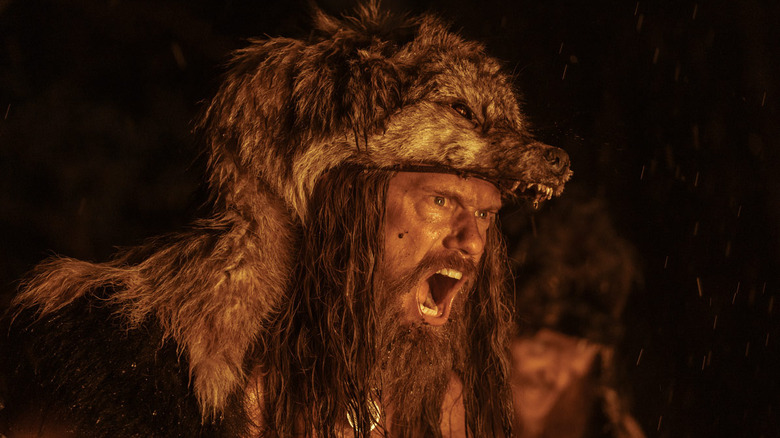 Focus Features
Skarsgard, a Swedish actor known for his roles in everything from "True Blood" to "Godzilla vs. Kong," has been truly in-demand in Hollywood for well over a decade. His ascent up the A-list has only continued in recent years. Yet, for most of that time, he has desired to make a Viking film, and that really dates back to when he was a kid. Speaking to IndieWire in anticipation of the release of "The Northman," Skarsgard said the following:
"I've kind of nurtured this dream of making a Viking movie for many years. I didn't want to be an actor, really, when I was a kid, but I have very strong memories of our [family's] country home on Ölanda, an island in the Baltic. There's almost 200 massive runestones on the island, and it was a very profound experience as a kid, seeing these rune stones with the inscriptions, erected by a Viking 1,000 years ago, where it just set your imagination running, who are these Vikings, where did they go, and what happened?"
The reality of actually making a film about Vikings set in about a decade ago. Yes, we have seen movies about Vikings but never terribly accurate ones. Though History's "Vikings" did manage to do that pretty well on the small screen. But Skarsgard wanted to see this happen on the big screen.
"About 10 years ago, I started thinking about making a Viking film. I realized I'd never seen a historically accurate, truthful depiction of the Viking Age on a big screen, where you can combine the scope, the canvas of a big epic adventure film, but stay true to the old Icelandic sagas and the tone and the language, the starkness of it. This harsh world, the harsh people, to try to have that and base it on the Icelandic sagas, which often revolve around a family feud, a revenge story, it's very intimate. I was trying to figure out what that story would be, to have that intimate story at the center, but a big, big scope, so it'd be like an event to go see it."
The right man for the job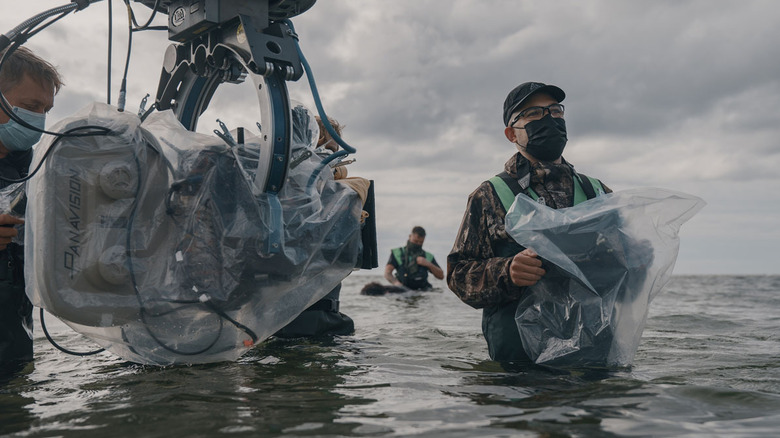 Focus Features
The actor had spent time going over texts and trying to figure out the right story to tell. Things really took off when, about five years ago, he met Robert Eggers. Skarsgard knew he had met the right man for the job. The story they ultimately decided to tell was "an action-filled epic that follows a young Viking prince on his quest to avenge his father's murder." It was through conversation together that Skarsgard saw his dream finally coming together, with an important piece of the puzzle sliding into place.
"Rob and I started talking about Vikings and Norse mythology. I had just seen 'The Witch,' and I was impressed by how I really felt transported back to a different time when I watched it. It felt so authentic, and knowing Lars Knudsen, who also produced 'The Northman' and produced 'The Witch,' I knew that it was a very, very small budget. The richness of that world, how it immersive that felt, for very little money was incredibly impressive. So after I met with Rob, I called Lars and said, 'I think if we can get Rob as a director, that would be an absolute dream because he's got a deep knowledge of Norse mythology and of Viking culture. He's incredibly smart and clearly, a very talented filmmaker.' So Lars agreed, and we asked, and here we are."
The cast also includes Nicole Kidman, Claes Bang, Anya Taylor-Joy, Ethan Hawke, Björk, and Willem Dafoe.
"The Northman" is in theaters on April 22, 2022.