Top Gun: Maverick Did The Unthinkable At The Box Office, Morbin' Time Is Over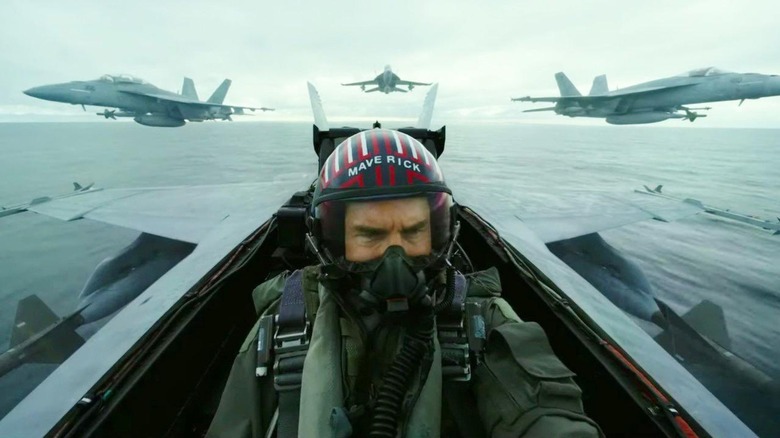 Paramount Pictures
"Top Gun: Maverick" didn't have much in the way of heavy-hitting competition keeping it from staying on top of the box office charts this past weekend, but no one expected the sequel to have such a historical second weekend in theaters. Meanwhile, David Cronenberg returned with his first new movie, "Crimes of the Future," after years away from directing, and Sony decided all of those internet memes were enough to justify a wide re-release of "Morbius," and that went about as well as you might expect. Plus, a couple of big blockbusters crossed big milestones. Let's dive into the numbers, shall we?
Top Gun: Maverick just did something truly remarkable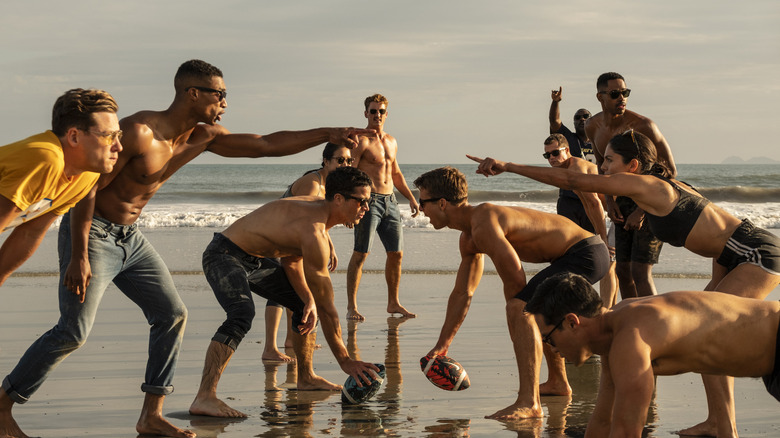 Paramount Pictures
According to Box Office Mojo the unlikely critical darling "Top Gun: Maverick" made $85.9 million in its second weekend, easily good enough for number one on the charts. That represents a mere 32.1% drop and let us be very, very clear for a second here: it is downright rare for any movie that makes over $100 million in its opening weekend to drop less than 50% in its second frame, let alone hardly dropping more than 30%. But what's truly amazing is that no chart-topping Memorial Day weekend release has ever had a drop that small in its second weekend, which is truly amazing.
The Joseph Kosinski-directed sequel now stands at a stunning $548.6 million globally, and it is all but assured to join the $1 billion club, making it one of the most successful movies of the pandemic era when all is said and done. It seems likely that "Top Gun: Maverick" will overtake "Doctor Strange in the Multiverse of Madness" (more on that in a minute) before the end of its run, providing one heck of a win for Tom Cruise this late in his career. After literal decades of movie stardom with almost no lull, Cruise is about to have his biggest hit ever and, amazingly enough, it's a sequel to the 80s classic that turned him into a superstar in the first place. Just amazing stuff.
Multiverse of Madness passes $900 million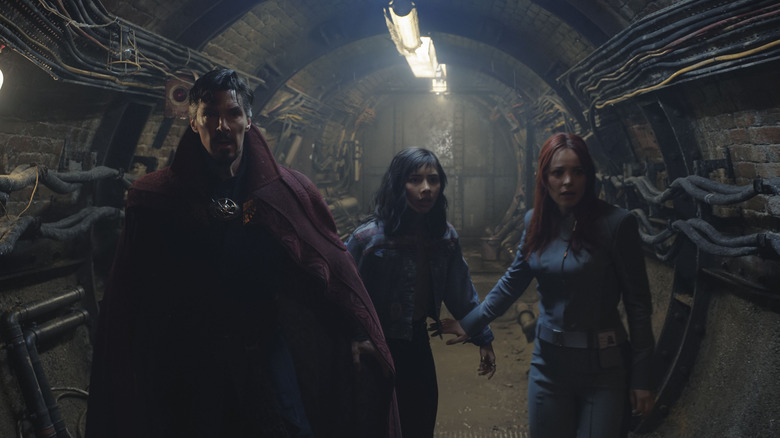 Marvel Studios
Marvel's "Doctor Strange in the Multiverse of Madness" came in second place this weekend, adding another $9.2 million to its domestic total. As we can see, it was a rather distant drop to second place. In any event, the MCU's latest entry now has $388.7 million to its name domestically, as well as $520.7 million internationally, for a grand total of $909.4 million. That is a damn good milestone for a movie about a character few people in the general public cared about prior to 2016. It is, however, starting to run out of gas (especially with its streaming release just around the corner), and it is doubtful that it will get to the $1 billion mark. That is by no means something to be held against the film, which is an out-and-out hit for Disney and Marvel Studios, it just may not get to put that feather in its cap.
Morbius absolutely tanked in its re-release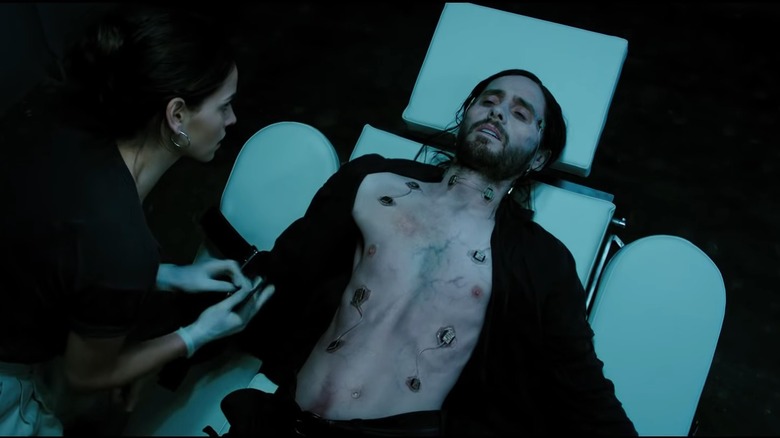 Sony Pictures
Well, well, well, if it isn't Sony making a very bad decision in relation to Dr. Michael Morbius. After an utterly ridiculous couple of weeks of people getting "Morbius" to trend on social media with various memes and/or s**t posts mocking the Marvel Comics adaptation, the studio decided to re-release the film on 1,000 screens this weekend, thinking all of this chatter must mean people actually want to see the movie. Spoiler alert: it did not mean that at all! Jared Leto's critically-panned superhero flick earned a mere $300,000 for an absolutely lousy $289 per-screen average. It was not, in fact, Morbin' time. The question is, will Sony actually learn anything from this mess?
As I've argued well before this ill-fated re-release, Sony's "Spider-Man" spin-off universe has some big problems to address and "Morbius" proved that. "Venom" was the one character in Spider-Man's rogues gallery that had enough juice to be able to lead a solo film. That's not to say that other characters connected to Spidey can't lead films, it just means that their loose connection to Spider-Man won't be enough to generate a great deal of interest from the moviegoing public on its own. There has to be more meat on those bones. So let's just hope that "Kraven the Hunter," "Madame Web," and, most importantly, "El Muerto," have something more to say than, "Look, I'm a superhero movie!"
Crimes of the Future attracts a small crowd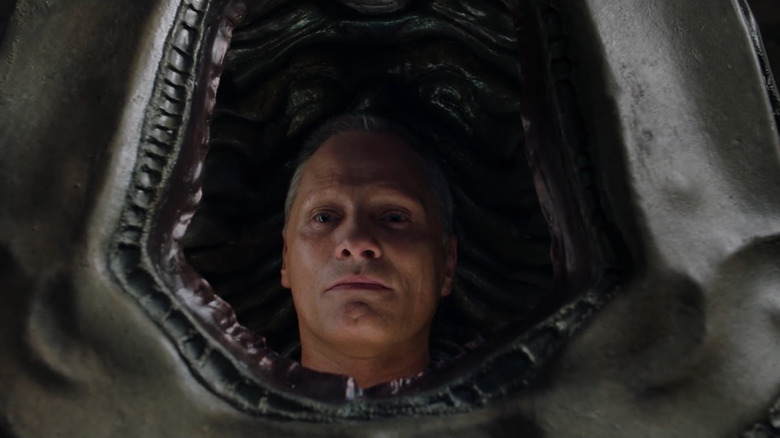 Neon
It brings me no joy to report that "Crimes of the Future" opened with a pretty soft $1.1 million, taking the 10th spot on the box office charts this weekend. Neon rolled the film out in 773 theaters, giving it a $1,423 per-screen average. David Cronenberg, the director of revered films such as "The Fly" and "A History of Violence," has been met with a warm welcome in his return to the director's chair from film lovers, but the bizarre body-horror film was always going to be a tough sell to mainstream audiences. The hope, at this point ,is that the film didn't cost an arm and a leg to make, so it can maybe make its money back on VOD after doing what it can for the arthouse crowd in theaters for the next few weeks.
And the rest...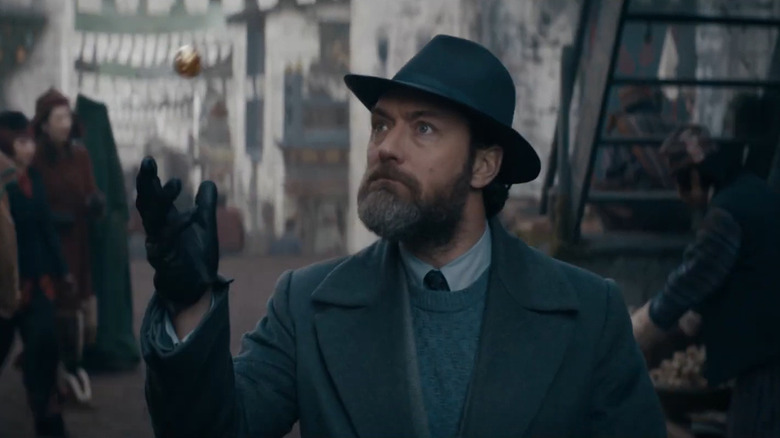 Warner Bros.
"The Bob's Burgers Movie" is fading very fast, dropping 63.8% this weekend with $4.5 million. That's pretty rough for a second weekend, even if it did finish in third place. It now stands at $22.2 million domestic. It remains to be seen what the appetite will be for this one overseas, but needless to say, this is far from a hit for Disney and 20th Century Studios.
"The Bad Guys" continued to be the animated movie that could with another $3.3 million, and it now has $218 million to its name worldwide. A sequel would not be out of the question at this point. "Downton Abbey: A New Era" rounded out the top five with just shy of $3 million in its third weekend for a grand total of $76.7 million worldwide. Its legs aren't going to be overly long, but it still could be a modest hit for Focus Features if it can hang around for a few more weeks.
Meanwhile, "Everything Everywhere All at Once" added $2 million to its fairytale total and crossed the $60 million mark domestically. With $78.1 million worldwide to its name, this movie has a shot at $100 million, which is truly amazing and is one of the feel-good stories of the year thus far. Just behind that, the Indian film "Vikram" snuck in at seventh place with $1.7 million from just 465 screens.
Lastly, "Fantastic Beasts: The Secrets of Dumbledore" managed to inch past the $400 million mark worldwide. While that round number at least helps a little bit for the sake of appearance, it's still going to put an end to this iteration of the Wizarding World, concluding a pretty amazing fall from grace for the "Harry Potter" spin-off series.
This weekend will see the release of "Jurassic World Dominion" which will undoubtedly unseat "Maverick" in the top spot and has a chance of being the biggest movie of the year overall, if all goes well.