Everything Everywhere All At Once And Tar Were Originally Written For Male Leads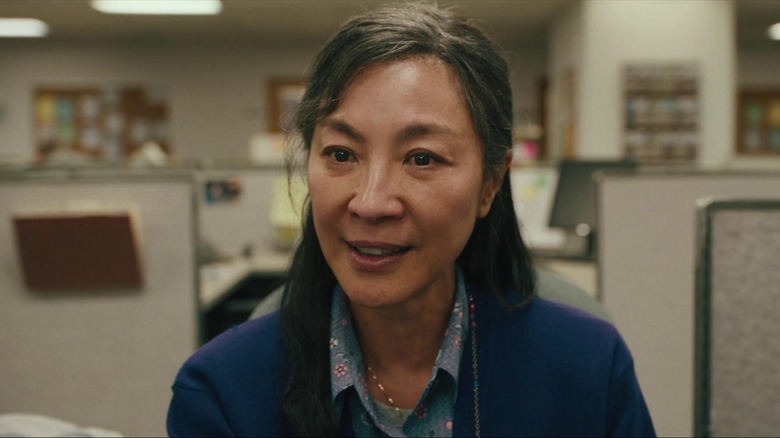 A24
Two of this year's most discussed awards season contenders, Daniel Kwan's and Daniel Scheinert's (aka the Daniels') crowd-pleasing "Everything Everywhere All at Once" and Todd Field's provocative "Tár" might not initially seem to have a lot in common. One is a maximalist tale of a Chinese-American immigrant mother trying to save her daughter with her newfound ability to traverse the infinite multiverse, and the other is a slow-burn character study of a renowned maestro's career imploding with the changing modern culture around her. What these roles share, however, is the fact they both are wonderfully elevated by the performances of the actors who play them and lean into their real-life Hollywood personas.
There's a universe in "Everything, Everywhere" where Michelle Yeoh's character, Evelyn, dedicates her life to kung-fu and essentially becomes a fictionalized version of herself, including a meta moment that incorporates real red carpet footage. In a similar vein, Cate Blanchett and her character, Lydia Tár, share a sense of outspoken sophistication that permeates their successful, long careers. When Lydia's world starts unraveling, however, Blanchett expertly lifts her character's façade of confidence to reveal her inner rage.
In their best moments, it's hard to imagine any other actors portraying Evelyn and Lydia. For Variety's 2022 edition of Actors on Actors, however, Yeoh and Blanchett sat down together to talk about each other's methods, performances, and more. In discussing their respective films, the two shared that "Everything Everywhere" and "Tár" were both originally penned for male leads.
Michelle Yeoh is thankful to be playing the lead once again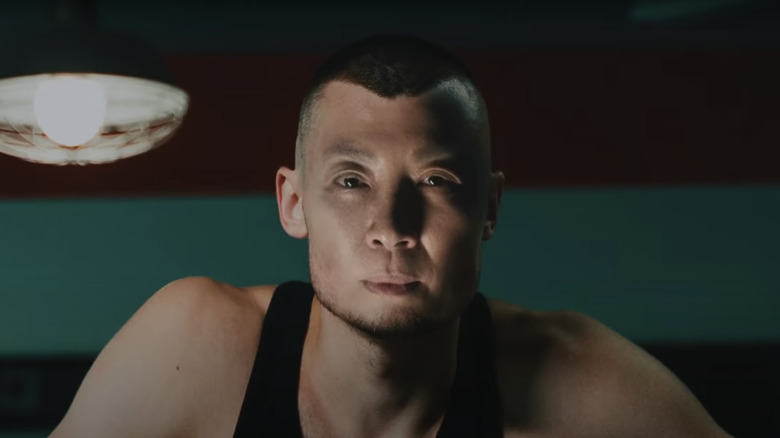 A24
In the case of "Everything, Everywhere," this might come as a shock, especially since the theme of motherhood and how intergenerational trauma is passed down to daughters is at the forefront of the film. Yeoh explained that usually conceptually ambitious stories like this center men first when the creative team is trying to finance the project:
"They initially wrote it for a man [...] and I think it's the norm, because it would be easier to finance. Right, it would be easier to understand that a guy would multiverse and jump and all those kind of things [... .] But then they came back and realized it didn't work. And so they changed into a mother role, which actually suits the Daniels so much more because they are surrounded by very strong smart women. And the two of them are kinda dopey, adorable, but you know — in a genius kind of way."
In March, The Hollywood Reporter revealed Jackie Chan was in consideration at first, but choosing Yeoh opened up the story in more unconventional, refreshing ways. It was also an emotional experience for Yeoh, who was pleasantly shocked when she read a script that had her playing a strong and complex mother in a business that is often dismissive of women at Yeoh's age. "When I received the script it was a little overwhelming because I've been in the business for a while now," Yeoh told Blanchett. "And the opportunities get a little narrower and narrower with time, because you're getting past your prime time. I just turned 60 this year, so the box sort of gets bigger and you're getting put into that. And it's been a while since I've been offered like, the lead role."
Female leads offered new perspective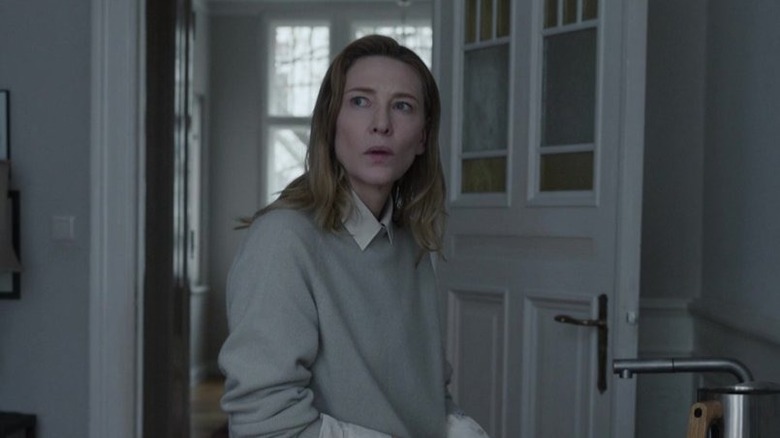 Focus Features
When it comes to Todd Field's audacious "Tár," it makes sense why a man would be considered to embody the lead character. It's a story about the way praise and deification corrupt morality, and it follows a conductor who commands an orchestra with the same precision and ease that they conduct every aspect of their personal life. But while it would have been easy to write this movie from a male perspective, it possibly wouldn't have been as complex as the final film. In their Variety discussion, Blanchett related to Yeoh's experience:
"When Todd was thinking about it, 'Tár' was originally for a male role. And in a way because the film is like a meditation on power you would've had a much less nuanced examination of that if you had [a man] — because we understand what the corruption of male power looks like [...] but we need to unpick what power is itself."
Curiously, on an episode of IndieWire's Filmmaking Toolkit, Field admitted that when working on his initial drafts of "Tár" during the lonely heights of the pandemic, Blanchett felt like the only choice for the character. "I had no backup plan," he said. "I'd met Cate 10 years ago and I knew coming out of that meeting that I had just been in conversation with somebody that had one of the great brains I ever met. And it was someone that I was really, really desperate to be able to collaborate with."
Perhaps Field wrote the screenplay with a man in mind first, then re-tooled it with Blanchett in mind later. Either way, we're relieved the roles ended up with Yeoh and Blanchett. The result is films that are more inspired and bring something genuinely new to the screen.