Cate Blanchett Was Terrified To Conduct The Orchestra In Tar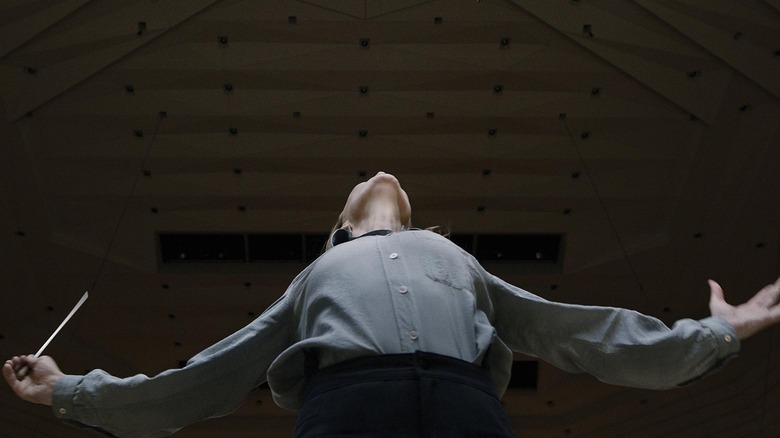 Focus Features
In Todd Field's new film "Tár," Cate Blanchett plays Lydia Tár, a powerful, steely, threateningly talented orchestra conductor who is always eager to discuss the philosophies and fineries of orchestral music. Lydia is not only the chief conductor of the Berlin Philharmonic but is, as audiences see in an opening lecture, an active professor at Julliard and an EGOT. She is deep in the midst of arranging a performance of Mahler's fifth symphony when a dark shadow from her past re-emerges. One of her previous protégés, an unseen young woman named Krista, has taken her own life, and Lydia is quick to carefully and surreptitiously delete some personal e-mails. She also asks her hard-working assistant Francesca (Noémie Merlant) to "take care" of anything related to Krista. It certainly seems like something untoward has been happening. 
A lot of "Tár" is devoted to Lydia's everyday work, scouring through carefully filed reams of sheet music, talking with large groups of musicians — Lydia's wife Sharon (Nina Hoss) is the concertmaster — and actually conducting. There is no doubt that Lydia Tár is a genius, which is one of the more incredible aspects of "Tár" itself. 
Playing a genius is, of course, an intimidating prospect. An actor has to convince an audience that they know more than they do, and Blanchett certainly felt the pressure. On a recent appearance on "Hot Ones," Blanchett — through hot sauce-induced tears — admitted to being terrified of conducting, knowing that many in the audience would recognize if she did anything inaccurate. Up until that point, Blanchett had only played piano, a far cry from conducting. Still, she took what little musical theory she did know and apply it to Lydia. 
Mahler's 5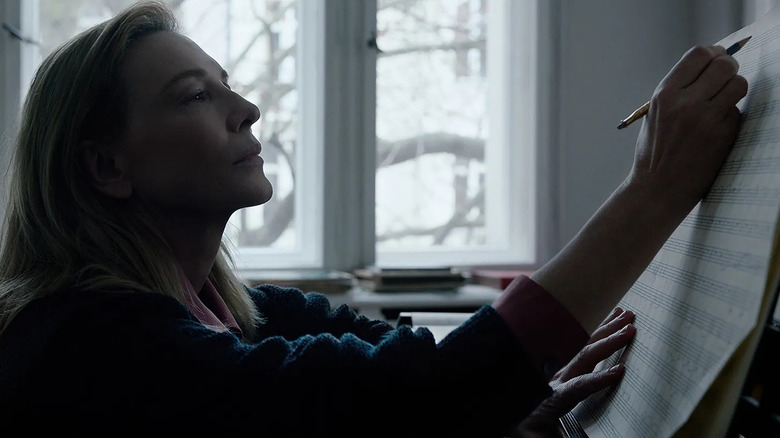 Focus Features
Blanchett, although a little overwhelmed, quickly sinks deep into enthusiasm for Mahler. It seems that, despite being threatened by a massive job like pretending to conduct Mahler's Fifth Symphony, it all starts with appreciation. The actress clearly did research, careful to actually appreciate the work presented to her. She even encouraged her interviewer to delve into the music, to get to know it, and to get excited about it. Ironically, a deep appreciation for music is largely achieved at times when you're not listening to it. As Blanchett said: 
"It was absolutely terrifying. I mean, I played the piano as a girl, so I sort of understood an instrument that way. But, you know, a conductor's instrument is the orchestra. And so the weirdest thing is — and I don't know why, it seems so obvious — but you prepare in silence. Because you have the score in front of you, and you imagine the music in your head. And Mahler's 5 ... For those of you who haven't listened you must listen to it. It's a massive, massive, exciting work.
Very briefly, Mahler's fifth symphony was composed in 1901 and 1902 when the composer retired to his remote Austrian villa to recuperate from a hemorrhage. Mahler was elated to own a villa, glad that he had finally made enough money to buy a home, a stark contrast to his impoverished beginnings. This story will, a keen viewer might note, parallel Lydia Tár's. It was during the composition that Mahler would also marry Alma Schindler, and come to expect his first child with her. It was a happy time in the composer's life, and the music can be seen as a reflection of his bliss. Musically, the Fifth is notable for its trumpet solos. 
The opening of the Trauermarsch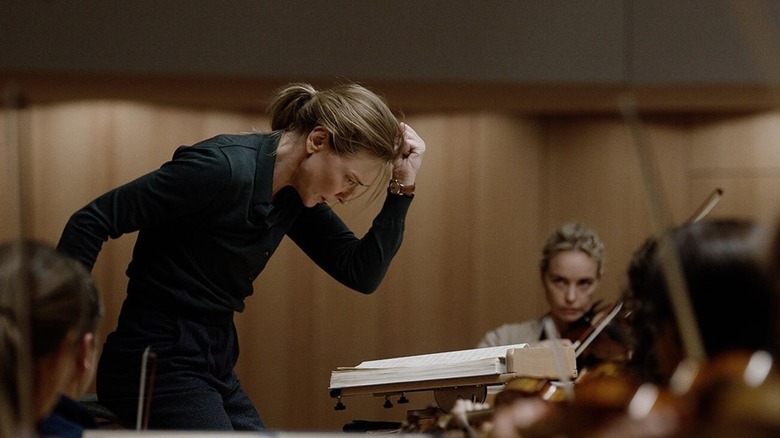 Focus Features
Blanchett continued describing Mahler's Fifth in glowing terms, referring to the first part of the first movement, the Trauermarsch, or funeral march. When handling such an impressive opening, the actress admits that it was a rush. She fully understood the power a conductor has. 
"And when he gave the downbeat, the trumpet started and then that Trauermarsch opened up. It was like an electric charge. Because that's your instrument. And you hear the sound that you'd kind of imagined. But when you have an orchestra like that it's just, it was better than I imagined it. It was really addictive, actually."
It was at this point in the interview that Blanchett was entreated to eat a chicken wing slathered in Saini Gourmet's Tropiquante, a fruit-based hot sauce measured at 4,000 on the Scoville scale. That's about as much as a slightly strong jalapeño pepper, so not nearly as challenging as other hot sauces that would be featured later on the same show. Both Blanchett and host Sean Evans immediately note that balancing the flavors of sauces and heat is a conducting job unto itself. As the interview progresses — as is typical on "Hot Ones" — Blanchett has more and more difficulty answering questions due to the increasingly spicy condiments. 
The Apollo hot sauce — Scoville measurement unknown — was enough for her to trip over the title of her movie.
"Tár" has been playing in limited release since October 7, and will be opening wide starting on October 28. It's one of the best films of the year.