The Daily Stream: RRR Is A Maximalist Epic That Puts Hollywood Blockbusters To Shame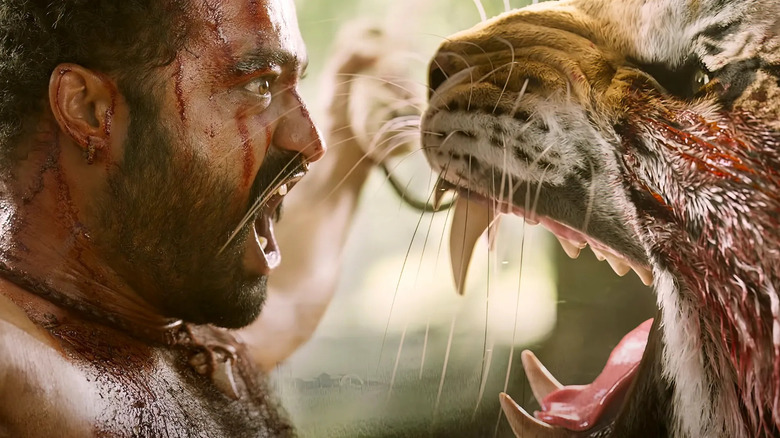 Variance Films
(Welcome to The Daily Stream, an ongoing series in which the /Film team shares what they've been watching, why it's worth checking out, and where you can stream it.)
The Movie: "RRR"
Where You Can Stream It: Netflix (in Hindi), ZEE5 (in original Telugu)
The Pitch: Alluri Sitarama Raju (Ram Charan) and Komaram Bheem (N.T. Rama Rao Jr.) were two real-life revolutionaries in colonial India who probably weren't best friends in real life. But "RRR" asks the important question: What if they were? The even more important question: What if they were the best of friends, who never knew that they were hunting each other, and got caught up in a web of betrayal, deceit, superhuman violence, and superhuman dance sequences, culminating in a fiery rebellious crescendo that threatens to topple British imperialism? You have S. S. Rajamouli's smash-hit Tollywood (Telugu-language) action epic that has taken the western world by storm.
Why it's essential viewing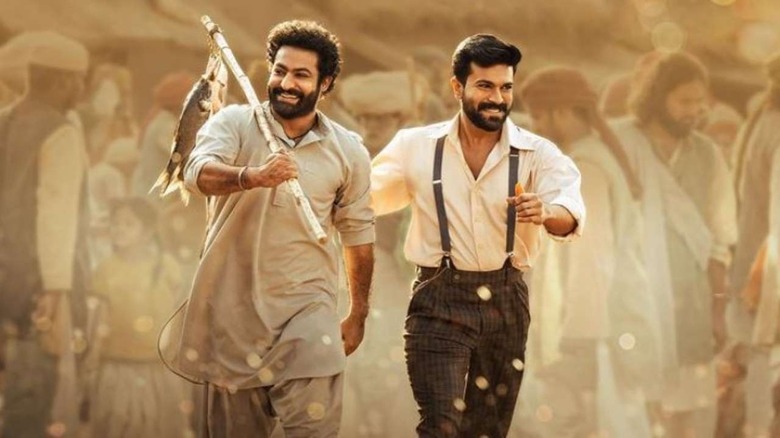 Variance Films
"RRR" is the reason that movies are made. That may sound hyperbolic, but there's no such thing as hyperbole when it comes to S. S. Rajamouli's maximalist action masterpiece.
"RRR" is a historical epic, an action movie, a musical, a melodrama, a propaganda film, and a romantic comedy all in one. This is a movie that brings together one of the biggest directors in Tollywood with two of the industry's biggest superstars, Charan and N.T.R. Jr. — the three of their names even made up the movie's working title before it got its acronym of "Rise Roar Revolt." This is a movie where director Rajamouli throws every cinematic technique at the screen for the first 40 minutes, resulting in some of the most face-melting spectacles to grace the silver screen, before the title card rolls into frame.
This is a movie where two men bond through the sheer force of their shared machismo (saving a boy from a fiery demise without uttering a word to each other before grasping their arms together like that meme from "Predator"), the same two men mock British imperialism through an exuberant dance-off, and yet again the same two men defeat an army of British soldiers by morphing into one ultimate superman — like some kind of testosterone-fueled mech — through the power of shoulder rides. (You can skip leg day if you have a bro.)
A cartoonishly heightened work of historical fiction, "RRR" is a movie where every scene plays like a hypermasculine fever dream. Pecs ripple, sandbags are smashed to a pulp, a single man takes down an entire army of protestors with only a stick and pure force of will (and pure force of his insanely ripped bod). And yet beneath all that glistening machismo, there is a sincere melodrama that feels so pure and out of step with Hollywood blockbusters. When you look at our current Hollywood landscape, it feels clinical in comparison — so afraid of emotions that we have to undercut everything with a snarky joke, so afraid of femininity that melodrama (and by extension, delicious homoerotically charged scenes) is all but a distant dream. And yet "RRR" basks in emotion and melodrama and color and power and cinema.
When mythmaking gets melodramatic and musical (and homoerotic)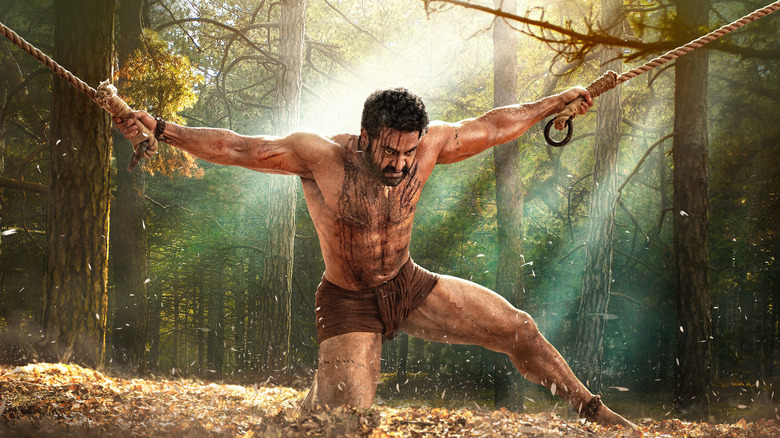 Variance Films
It's been two months since I first saw "RRR" but it's been burned in my brain ever since. In the moment, it felt like one of those life-altering cinematic experiences — the kind where the whoops and wolf-whistles of the audience only enhance the pure filmic power that I was witnessing on screen. I've wondered whether it's because I'm starved for this kind of hypersaturated, hyper-everything blockbuster movie that "RRR" felt like finding an oasis in the excessive superhero desert, but it's not just the novelty of it. "RRR" is making its own superhero movie, one divorced of the Hollywood myth-making machine.
Rajamouli has spoken about his disinterest in crossing over to Hollywood and making that obligatory Marvel movie — he's more interested in "the sensibilities of Indian superheroes, Indian mythologies, Indian historicals" that he grew up on. And indeed, "RRR" draws from Indian myths in ways both glorious and mystifying — Charan's Raju (simply "Ram" in the film) at one point basically transforms into a god, wielding a bow and arrow against British guns like Lord Rama from Hindu scripture — but it uses those myths to bolster its own myth-making. Ram and Bheem will go down in the annals of cinema as two of the baddest, coolest bros to ever grace our screens. And best yet, they love each other so much. We are only so lucky we got to experience that love on the big, and now small, screen.