Everything Everywhere All At Once's Ke Huy Quan-Naissance Begins Now [Interview]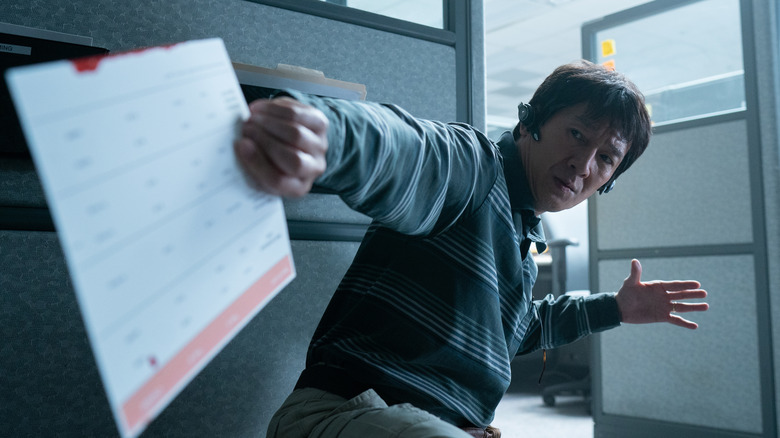 A24
Yeah, I'm thinking he's back. 
"He," in this instance, is actor Ke Huy Quan, who played Short Round in "Indiana Jones and the Temple of Doom" and Data in "The Goonies." But as the story goes, when his proximity to stardom was at its highest point, he vanished. And he stayed out of the spotlight for years — so much so that when I would mention Ke Huy's name in conversation, it sometimes felt like he was never here at all.
Then, in a welcoming move, filmmakers Dan Kwan and Daniel Scheinert threw a wrench into this depressing narrative. Within the 50-year-old actor, they found their Waymond, one of the principal characters in their time-linking, space-bending, and downright rip-roaring yarn "Everything Everywhere All At Once." Unlike the movie's lead, Evelyn (Michelle Yeoh), Waymond is more passive (at times, overly so) and isn't thoroughly attentive when it comes matters of laundry, taxes, or caring for her father, Gong Gong (James Hong), and guiding their daughter, Joy (Stephanie Hsu). That would have been the extent of his character without his Alphaverse version, a motivated and confident variant who can weaponize a fanny pack with the best of them.
I had the chance to chat with Ke Huy Quan about exiting his hiatus, overcoming a "Crazy Rich Asians"-induced FOMO, and the prep work required to embrace Daniels' gonzo everything bagel of a movie.
This interview has been lightly edited for clarity and brevity.
'I thought that was done. That was over. It was a dream that was maybe never meant to be.'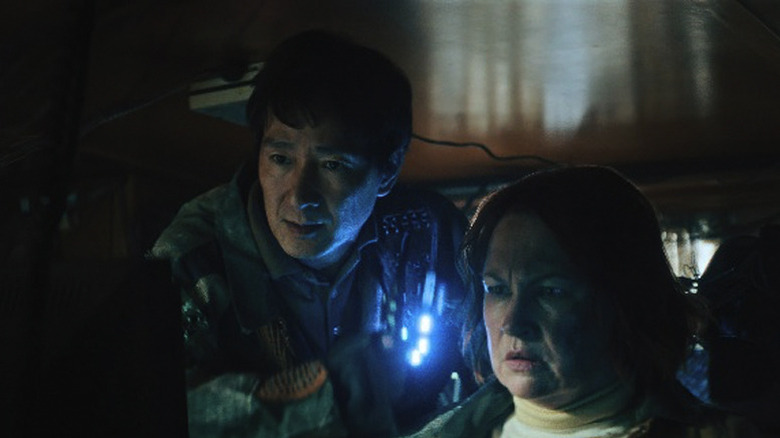 A24
How do you feel about coming back and interacting with the audience, sometimes just sharing the auditorium and seeing you on screen with them?
Well, first of all, last night at the IMAX screening was incredible. And I really think all movies should be experienced on as big a screen and with the best sound system as you can, because that's what the moviegoing experience is all about. It's to be enjoyed and shared with your friends and family, with your community. And it was just incredible to see how responsive they are to our movie.
Reading and hearing all those positive comments on our movie, it's really heartwarming. And also, I mean, I was very nervous because before our movie came out, I didn't know how the audience would respond to my return to acting.
Right.
They're very embracing, and I'm overwhelmed with emotions. By the way, watching myself up on the screen after more than 20-something years, I've got to say I'm really happy. I'm still processing how this moment came to be. I have a lot of questions. I have very little answers, but I'm enjoying the moment and I'm so happy to be back, to be acting again, and to be a part of this amazing movie, amazing cast.
I'm just happy that it's a positive experience for you. I can tell you now that a lot of us, we have been waiting for you to come back, and so it's just like a wish granted. Speaking for myself, I have been waiting for you to come back.
Oh my God. I mean, thank you. I really appreciate that. I think over the last week, week and a half, just hearing comments like that, and reading on the internet has brought tears to my eyes many times. I remember the time when I had to make the difficult decision to step away from acting because there were just not many opportunities for an Asian actor at that time.
When I made that decision, I never thought I would step in front of the camera again. I thought that was done. That was over. It was a dream that was maybe never meant to be. I'm so grateful for the Asian representation that we have seen the last few years. And honestly, I mean, my return to acting is a true testament to how important it is not just for Asians, but all groups of people to be represented in entertainment.
You want yourself up there, or watching somebody that looks like you up on the screen. It really gives you hope, and gives you dreams, and dares you to dream the impossible dream. I'm overwhelmed with emotions, like I said, and I'm also very grateful to the Daniels, who took a distant dream of mine and made it into a reality. I'm here now, and it's unbelievable.
'Had I not decided to step back into acting, what would this movie be like?'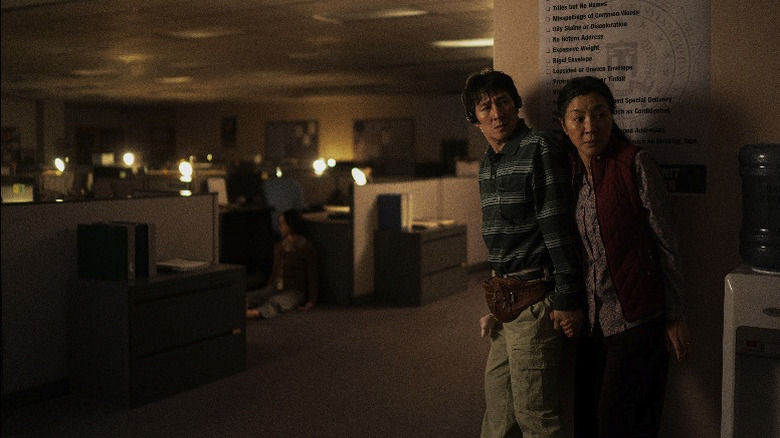 A24
This is going to be a little embarrassing to admit, but like many others, I "met" you first through "Indiana Jones and the Temple of Doom," and back when I was, well, skinnier and younger, seeing you made me want to go into acting. You showed me that it's possible for someone like me to be in a film like that. Again, I have been waiting for your return. People have. Now that you're back, there's no word for it. The best word that I can think of now is "wonderful," but even that sounds like an understatement.
First of all, thank you so, so much for that beautiful comment. You have no idea. And you're absolutely right. I am speechless, too. There are no words to explain where I am right now, my state of mind. I've cried so many times reading all these wonderful comments and hearing that, what you just said, brought tears to my eyes. And yeah, it's ... wow. All I can say is that I'm very happy to be here. I remember stepping in front of the camera again after decades being away. It felt really good, and it felt like that's where I belong, and that's where I want to be.
Honestly, I'll add one more thing, too: Over the years, I have met a lot of Asian talents working in Hollywood today, they always come to me and they always say, "Hey, Ke, you're the OG, man! Thank you for paving the way for us to be here." Honestly, it is also you guys who are paving the way for my return. And I am grateful because over the years, you guys have been relentlessly chipping away all the roadblocks. You guys never gave up, and that's why I'm here today.
I want to flip the question of your return around a little bit, and I'm basing this on Sir Sean Connery's statement about him not coming back to acting because "I'm enjoying my retirement too much." So, was there at any point during your break from acting where you felt the same way, where you felt that this retirement is good and what you wanted? Or has the plan for you always been, at some point, to come back?
I wish I can say that was the plan, but it wasn't. When I decided to step away, it was a painful decision, and I think I lied to myself. I lied to myself that I don't enjoy it anymore. I kept telling myself that I don't enjoy acting anymore. Even over the years, when that passion, that urge to return seeps through all the deep layers, I would continue to lie to myself that, "No, I don't want to do that anymore."
But all the times I was working behind the camera, even as content as I was, there was something missing. And I didn't know what it was, but something felt empty in me. It was not until I stepped in front of the camera again that I realized what it was. It was because I have not been honest with myself all these years. Suddenly, when I realized that stepping back into acting again could be a possibility, all those passions, all those feelings that I had all these years started coming up to the surface. It wasn't until then that I was happy. I was truly happy.
I'm just glad that you finally found that missing piece. Because some people, they would go about their entire lives not knowing what it is. Or just like you, they used to know what it is, then they drop it, but then they would come back to it, and then they still feel a black hole. Congratulations again.
That's why our movie, "Everything Everywhere All at Once," is so fascinating, because our directors brilliantly created all these multiverses for us to have a really interesting conversation, a conversation about what ifs. "What if we make different choices in our life? Where would that lead us?"
Had I not given up acting, what would've happened? And had I not decided to step back into acting, what would this movie be like? And what would it be like for me to see this movie up on the screen and Waymond being played by somebody else? Because I remember "Crazy Rich Asians," I cried so many times watching that movie, not only because it was a really moving story, but it was just because I had serious FOMO watching so many Asian actors up on the screen. And knowing how I started so early in the '80s, I went, "Wow, gosh. Why can't I be up there with them?" You know?
Right.
So it's a conversation that can take forever. We can talk about it endlessly. But this is something that, when people go watch our movie, they would have fun discussing that.
'I feel like I didn't make one movie, but I made three movies.'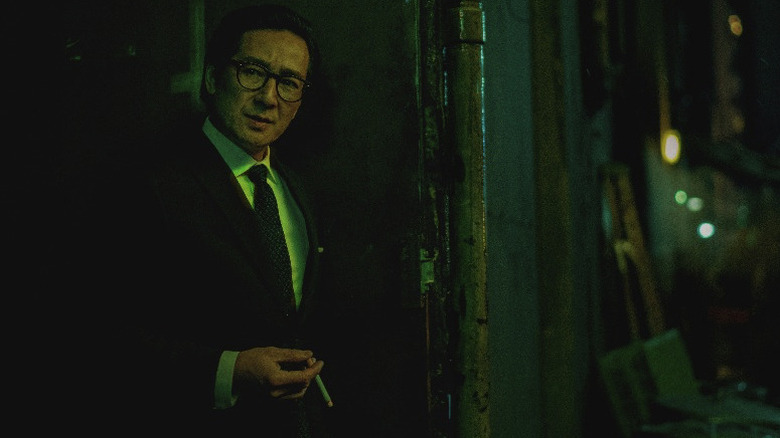 A24
Because of that multiverse concept, this return to the screen of yours isn't singular. You play an everyman, the leader of a resistance group in the future, and even an unrequited lover. How was it realizing and then acting out different personas?
First of all, I was really happy when I got the call that I got the role, and at the same time, I was also very nervous because I haven't done it for so long. And not only am I playing one character, like you said, I'm playing three different versions of the same character. So from the get-go, it was very important to me that the audience is able to distinguish each version of this character just by how he walks, how he moves, and how he talks.
So I did a lot of homework. I did a lot of research, and I had a lot of help. I hired an acting coach, a voice coach, a dialogue coach, and a body movement coach to teach me how to move differently. And it was really fun to do. I feel like I didn't make one movie, but I made three movies.
Exactly. And of course, you're not just only doing dramatic acting in this film, but you're also doing action, physical acting as well. I bet you had to tap into your stunt experience for that. I'm just wondering, did you impart any knowledge to the younger stuntpeople? Or did you receive any wisdom from them?
They didn't need any wisdom from me because they're so good at what they do. Our action team, our stunt coordinator Tim Eulich and our Martial Club boys Andy [Le] and Brian [Le], they're so good at what they do. And honestly, they are huge fans of the action genre, especially the older Hong Kong movies, which also are the movies I grew up watching, from Jackie Chan, Sammo Hung, to, of course, Michelle Yeoh, too. I've seen all of her movies!
For this, I mean, because I haven't done acting in so long, I really wanted to enjoy just that process. So when I walked on set, I only had my actor's cap on, and because I trusted the Daniels, and the action team wholeheartedly, I just placed myself in them. It was a really physically demanding role. We had three months to prep, so I trained with them every day, and I was on the treadmill learning my lines and then getting my endurance and all of that. It was a lot of fun to do.
"Everything Everywhere All at Once" opens in theaters everywhere on April 8, 2022.