Glass Onion Has Some Of The Best Cameos In Recent Memory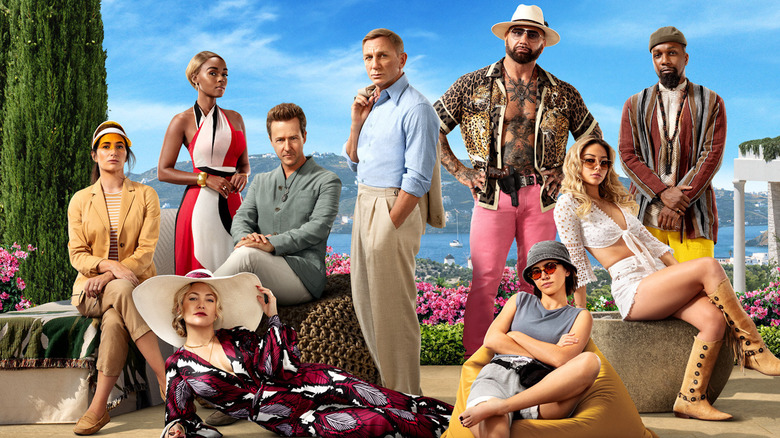 Netflix
Major spoilers for "Glass Onion" follow.
After the success of "Knives Out," you can imagine Rian Johnson had the ability to rope in just about anyone he wanted to be a part of the latest case for the brilliant detective Benoit Blanc, "Glass Onion: A Knives Out Mystery." Just look at the people on the poster. Edward Norton, Janelle Monáe, Kate Hudson, Dave Bautista, and more fill out the latest slate of potential murder mystery suspects, and when the cast for the inevitable third film gets announced, I do not doubt that its ensemble will be just as eclectic and exciting.
But this doesn't just stop at the main cast. Oh, no. Even though the film is mostly confined to a secluded private island off the coast of Greece, "Glass Onion" is peppered with a string of delightful, and in a couple of cases bittersweet, cameos that each got massive reactions from the crowd I saw it with. One of them even made me instantly burst into tears, but we'll get into that in a second.
What separates the cameos in "Glass Onion" from a lot of other films that utilize the gimmick of bringing in famous faces for a bit is how well it fleshes out the world of Benoit Blanc. Nobody is anonymous. Think about "Knives Out." Harlan Thrombey's attorney could have been played by any stuffed shirt, but Johnson brings in Frank Oz to play that part. Same goes for the security guard of the property, a part with just a couple of lines in one scene. He's played by the great M. Emmet Walsh. "Glass Onion" takes this principle and takes it to the next level.
Stephen Sondheim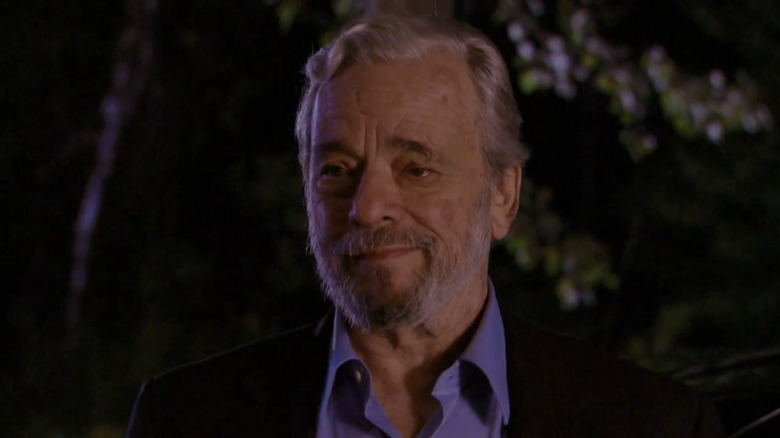 IFC Films
I consider Stephen Sondheim to be the greatest artist of the last 100 years in any medium. Period. Point blank. When the titan of musical theatre behind "Sweeney Todd: The Demon Barber of Fleet Street,"Into the Woods," and "Sunday in the Park with George" (my favorite) died the day after Thanksgiving in 2021, it was the sharpest gut punch to any person who has loved the form he perfected. I had assumed that the brief vocal appearance he made in Lin-Manuel Miranda's "tick ... tick ... BOOM!" would be his final contribution to any form of art. Color me utterly shocked when Benoit Blanc's introduction in "Glass Onion" is accompanied by him on a star-studded Zoom call, one of whom is Stephen Sondheim. Naturally, seeing the face of this man who I thought I had seen the last of was enormously emotional.
Of course Rian Johnson would want Sondheim if he could get him. If you have seen a documentary about the composer, such as "Six by Sondheim," you will know that Sondheim was obsessed with puzzles. He loved puzzles so much that he, along with Anthony Perkins, started throwing incredibly elaborate murder mystery parties. These parties became so intricate and spectacular that Sondheim and Perkins decided to write their own whodunnit, which turned into the absolute corker of a picture called "The Last of Sheila." While Agatha Christie is the urtext for what Rian Jonhson is going for, no story has more influence on "Glass Onion" than "The Last of Sheila," which is about a murder mystery party thrown by a wealthy man that turns deadly itself. While Johnson intended for this cameo just to be a tribute to that movie, he ended up with a tribute to the man himself.
Angela Lansbury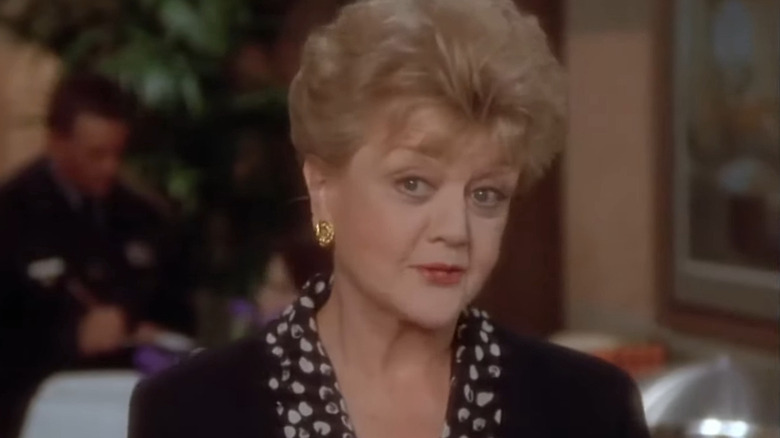 NBCUniversal Television Distribution
Another bittersweet cameo appears on that same Zoom call, and she also just happens to be a frequent Stephen Sondheim collaborator. Angela Lansbury, who we lost just a little over a month ago, brings another legend of the murder mystery genre to the table. Over the course of her many decade-long career, Lansbury found herself in murder mysteries on screens both big and small. This is most obvious in her 12-year stint as mystery writer and civilian sleuth Jessica Fletcher on the CBS series "Murder, She Wrote."Admittedly, I have not watched a ton of episodes of the show, but this is a comfort favorite of so many people out there.
But Lansbury's connection to the murder mystery genre predates that series by a number of years. In 1978, she was amongst the star-studded cast of "Death on the Nile," which starred Peter Ustinov as Agatha Christie's Hercule Poirot. Playing Salome Otterbourne, Lansbury is adorned in the wildest costumes and has a ton of fun playing to the cheap seats. Two years later, she would get to take on the role of Christie's other signature sleuth Mrs. Marple in "The Mirror Crack'd." Marple is the obvious inspiration for Jessica Fletcher, so this film, directed by frequent James Bond helmer Guy Hamilton, was the perfect training ground for that show. So, like with Stephen Sondheim, paying homage to the genre greats was clearly an important thing for Rian Johnson to do. Unfortunately, their appearances now are fairly bittersweet.
Natasha Lyonne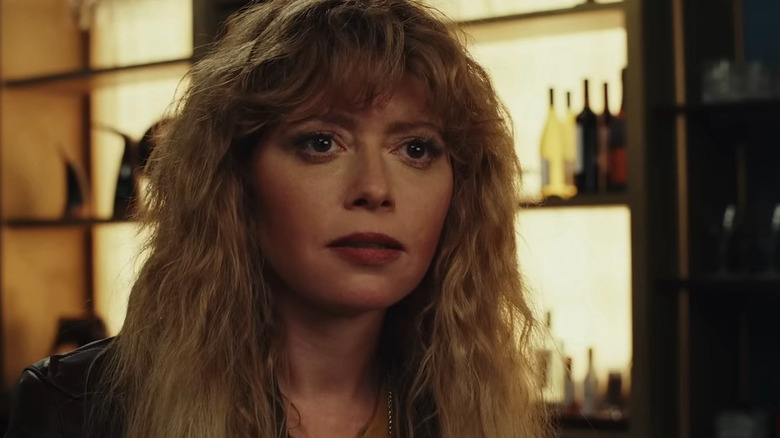 Peacock
While the previous two figures spotlighted the history of the murder mystery, the next one spotlights its future, which will also be spearheaded by Rian Johnson. Natasha Lyonne is the third member of that Zoom call, and she will be the star of "Poker Face," the forthcoming mystery series created by Johnson that will debut on Peacock on January 26, 2023. While Benoit Blanc is more in the mold of Hercule Poirot, being an eccentric private detective, "Poker Face" looks like it will be Johnson's Mrs. Marple, where Lyonne's Charlie Cale is more of a civilian with a keen eye to spot when people are lying. The teaser trailer for the series gives us very little to go on, aside from another all-star cast that includes Adrien Brody, Chloë Sevigny, and Johnson regular Joseph Gordon-Levitt (who, like in "Knives Out," makes a voice-only cameo in "Glass Onion"). It's unclear what Cale's true profession is or how she is connected to the law, but I know I cannot wait to find out. If Rian Johnson can deliver this strongly with the two Benoit Blanc films, his case-of-the-week series should be just as entertaining.
Kareem Abdul-Jabbar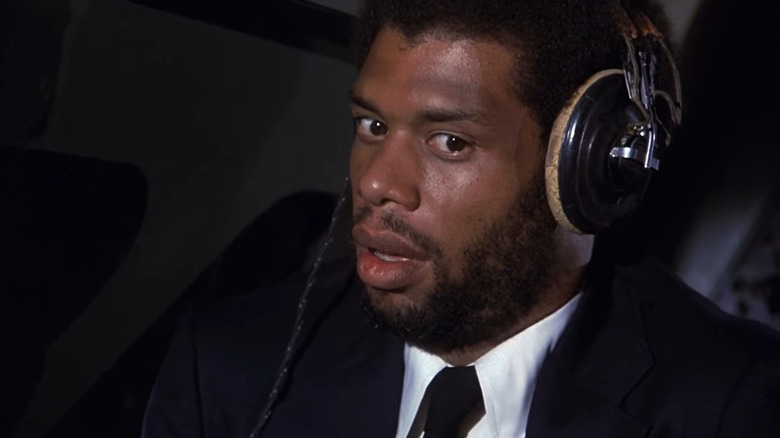 Paramount
We reach the fourth and final member of this absolutely loaded Zoom call with basketball legend, incredibly thoughtful writer, and definitely not a co-pilot Kareem Abdul-Jabbar. Unlike the other three members of this call, Abdul-Jabbar doesn't have any clear connection to the murder mystery genre or Rian Johnson's other work. I think he's thrown in there as icing on the cake for who Benoit Blanc can call his posse, but what icing it is. Plus, since his time playing basketball, Abdul-Jabbar has pursued a life of information and learning. It would not shock me in the slightest if someone like that would also be delighted by the intellectual stimulation that comes along with a murder mystery game.
What I would have given to be a part of this Zoom.
Hugh Grant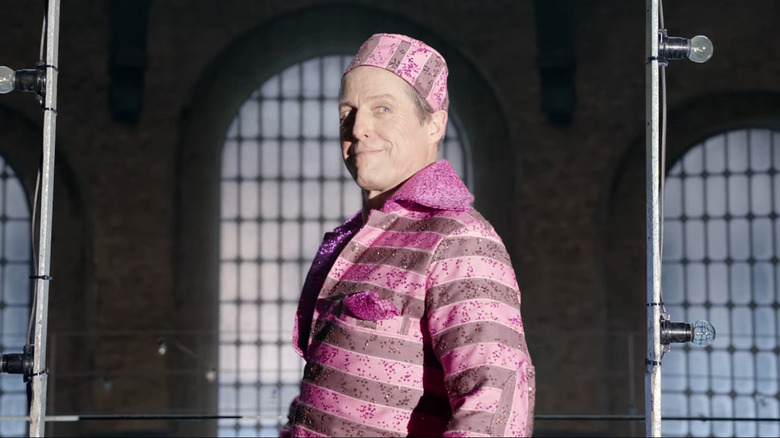 Warner Bros.
When Rian Johnson announced in the press cycle for "Glass Onion" that Benoit Blanc was "obviously" queer, I know I was fairly skeptical about just how explicit this would be. Hollywood films for the last decade have been awash in queer characters that we only know are queer through one tossed-off line, one touch of the shoulder, or just a vague hint. A kiss is even too much. Now, "Glass Onion" isn't some paragon of representation. It falls into a space of acknowledging Blanc's queerness without fully depicting it on screen. But it does give him a partner, and that partner is played by none other than Hugh Grant. He probably doesn't have 30 seconds of screen time, but when he opens their front door and you see him adorned in an apron, you are suddenly awash in imagining the life that he and Benoit Blanc have together. You can't help but be tickled by it. I hope that in the third film we get to see just a little bit more of him. Perhaps even see them within the same frame!
Ethan Hawke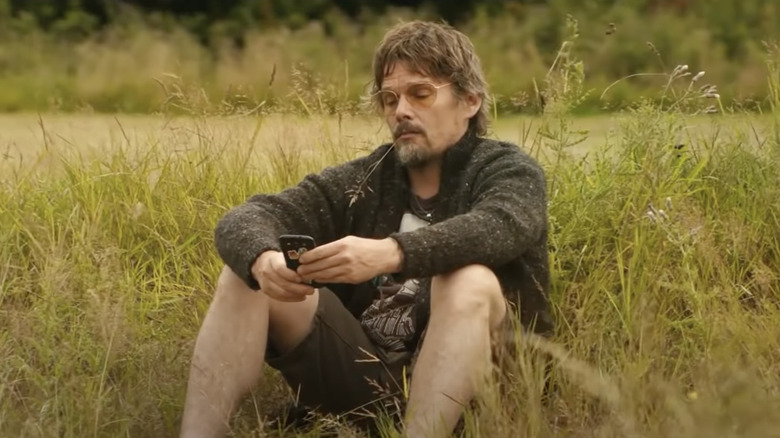 Lionsgate
This is a cameo that I was both delighted and disappointed by. I love Ethan Hawke. He's one of my favorite actors. When he showed up as the man giving every member of the cast a COVID disinfectant spray in the mouth before they head off to Edward Norton's private island, I was excited that they had kept this character a secret. He was going to be this weird, ponytailed concierge for the film. Unfortunately, he does not make an appearance beyond that one scene. It's a great performance in a great scene. However, I would have loved to see him as a proper, main character of one of these Benoit Blanc mysteries. I love that Hawke will seemingly just do whatever if it seems fun, and I bet that this was. I just am bummed that they burned such a great actor on this small role.
Granted, Noah Segan does show up in "Glass Onion," playing a different character than he did in "Knives Out," but I don't think that's a trick you can pull twice, especially with someone as famous as Ethan Hawke. Noah Segan, like Joseph Gordon-Levitt, appears in every single Rian Johnson project, and I suspect in the third film that he will be playing someone entirely new again. Ethan Hawke, however, I don't think we will see again.
Yo-Yo Ma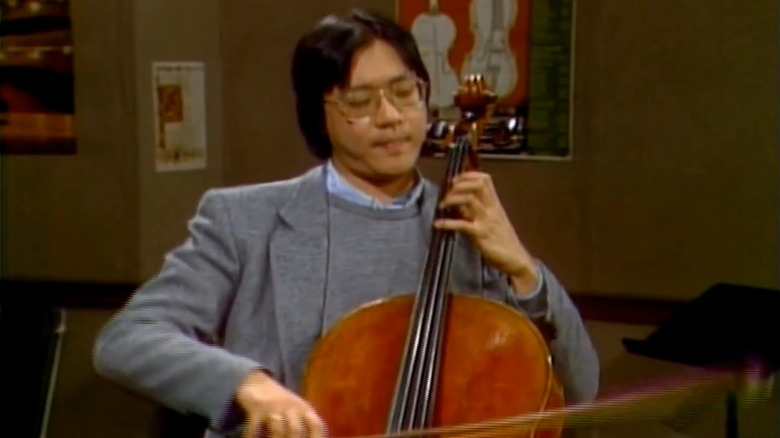 American Public Television
This one is just wild. At a party thrown by Kate Hudson's Birdie Jay, which is not Covid-safe in the slightest, one of the attendees is renowned cellist Yo-Yo Ma. I do not know how this man would have found himself crossing paths with the extremely problematic fashionista, but I am glad he did. Out of all the cameos, this was the one that made me laugh the most just because of how completely unexpected it was. Even the folks like Hugh Grant and Ethan Hawke who aren't tied to the murder mystery genre in any way, you could imagine them being fans of "Knives Out" and wanting to participate. You don't think of Yo-Yo Ma being in a movie period. In fact, "Glass Onion" is the first non-documentary feature film he has appeared in ever. A total swerve of a cameo, and I loved it.