Hugh Grant Joined Dungeons & Dragons: Honor Among Thieves Because It Reminded Him Of Monty Python [Comic-Con]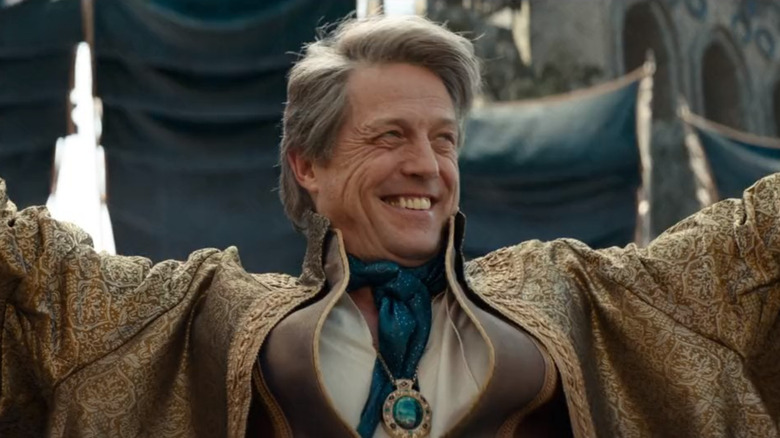 Paramount
"Dungeons & Dragons: Honor Among Thieves," due in theaters in 2023, will be the fourth feature film to be based on Gary Gygax's zeitgeist-altering, fantasy-based role-playing game. In 2000, director Courtney Solomon released a widely razzed film starring Jeremy Irons, Thora Birch, and '90s It-boy Justin Whalen. Despite being a massive bust, the strength of the D&D name was strong enough to warrant two straight-to-video sequels: "Dungeons & Dragons: Wrath of the Dragon God" (a.k.a. "Dungeons & Dragons: The Elemental Might") was released in 2005, and "Dungeons & Dragons: The Book of Vile Darkness" was released in 2011. 
The subtitle of the newest film — a big-budget, high-profile production starring Chris Pine, Hugh Grant, Michelle Rodriguez, and Justice Smith — was announced back in April, and a new trailer was made available online today. The film is directed by John Francis Daley and Jonathan Goldstein, who previously wrote the "Vacation" remake, "Vacation Friends," "Horrible Bosses," "Cloudy with a Chance of Meatballs 2," and were two of the six credited screenwriters on "Spider-Man: Homecoming." They also directed the very good comedy "Game Night."
In "Honor Among Thieves," Grant plays a character named Forge Fletcher, a rogue. Grant, speaking at this year's San Diego Comic-Con, revealed that his interest in "Dungeons & Dragons" was whetted when he realized that the script resembled "Monty Python and the Holy Grail," often considered one of the funniest films ever made. 
A Monty Python vibe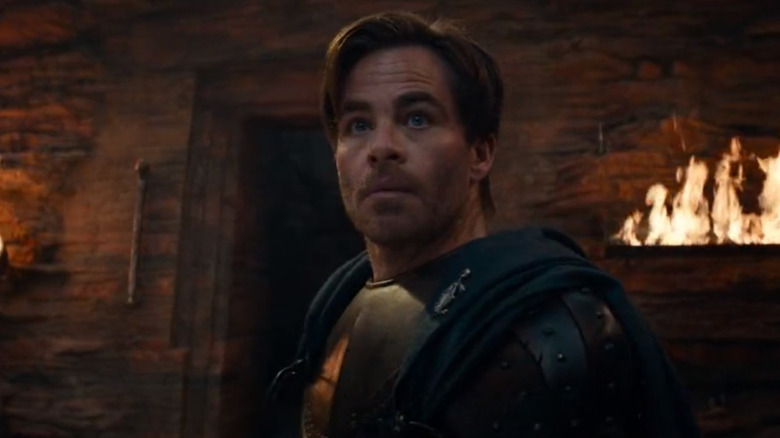 Paramount
At Comic-Con, coming from the convention hall's enormous Hall H, the panel's moderator asked Grant what the appeal about appearing in a movie based on "Dungeons & Dragons," and Grant, in his usual effusive fashion, declared that the screenplay presented to him was merely funny. A contrast to his usual reaction to reading screenplays which, he said was typically unpleasant for him: 
"The appeal was: I found the script incredibly funny. I hate all scripts. I'm notoriously negative. And, to my astonishment, I was sent this thing that really made me laugh. I thought it had a real Monty Python vibe to it ... I think that was a main thing. And [it was] quite a juicy role for me. Nice costumes!" 
Grant also pointed out that he would be granted the opportunity to work with a notable cast of co-stars, and would be given a chance to visit a nearby country for the first time in his life. One might be able to sense a bit of a sardonic wink at the end of the following comment, however" 
"I've lived in the UK all my life, and I've never been to Northern Ireland. It was fascinating. And then this amazing cast! I didn't like the directors very much."
The directors in attendance, equally winking, shot back at Grant with a mock-bitter "Feeling's mutual." After that, Grant playfully reneged. One might be assured that "Dungeons & Dragons" will certainly skew away from the turgid fantasy seriousness of a "Lord of the Rings," and into far more playful comedy/fantasy territory in the vein of, from the look of the preview, the short-lived 2015 musical program "Galavant."
"Dungeons & Dragons: Honor Among Thieves" is due in theaters March 3, 2023.