TV, Interrupted: Galavant Was A (Glorious) Fairy Tale Cliché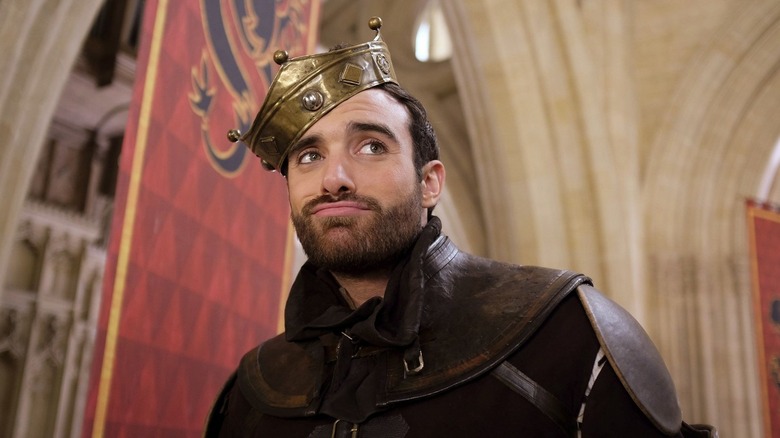 ABC
(Welcome to TV, Interrupted, a series where the /Film team remembers, eulogizes, and makes a case for the revival of TV shows we loved that were canceled far too soon.)
The theme calls it out from the jump: ABC's "Galavant" is a fairy tale cliché. Created by Dan Fogelman, who reunited with "Tangled" collaborators Alan Menken and Glenn Slater, the comedy-musical series was set to move into ABC's replacement slot halfway through the fifth season of its hit fantasy show "Once Upon A Time." 
"Galavant" stars Joshua Sasse as Sir Gary Galavant, the beloved knight looking for his happily ever after, along with all that a medieval fantasy show promises. Jousts! Sword fights! Speeding tickets given to horseback riders! For a full synopsis, check out the lyrics to its opening song:
Way back in days of old

There was a legend told

About a hero known as Galavant

Square jaw and perfect hair

Cojones out to there

There was no hero quite like Galavant

Tough, plus every other manly value

Mess with him, he'll disembowel you

Yay, he ruled in every way

A fairy tale cliché

And people called him Galavant
As the tune goes on, it tells the story of how Galavant's love, Madalena (Mallory Jansen), is whisked away by King Richard (Timothy Omundson). Galavant's rescue (during the King's wedding to Madalena) goes south when she dismisses her former lover in favor of the high-falutin' lifestyle she's found within the castle walls. His ego crushed and finding solace in at the bottom of a bottle, Galavant is aimless until summoned by Princess Isabella (Karen David) to repel the land-stealing king and win back his lady in the process. With Menken writing the tunes and Slater writing the lyrics, Galavant begins his quest with musical backup to cheer him on along the way.
"Galavant" was unceremoniously axed after its second season, right as everyone's voices and dancing muscles were just warming up. The show made magic in its short run, though, boasting a wide cadre of talent who could carry a tune, deliver a joke, and keep in step for eighteen episodes of musical mayhem.
Why Galavant was great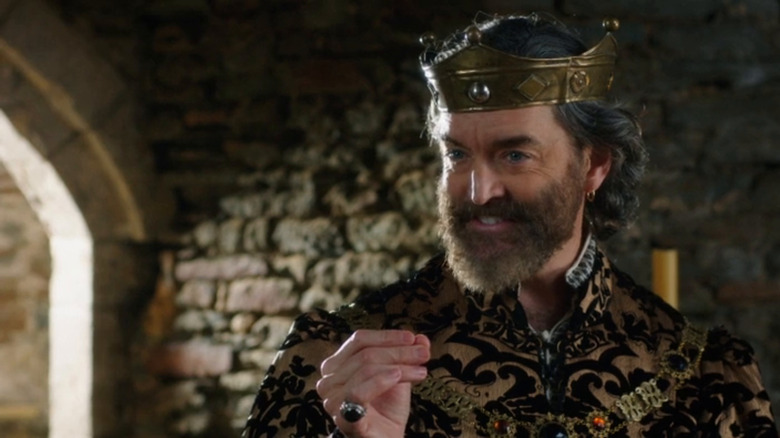 ABC
For four glorious weeks in 2015, audiences were treated to four pairs of back-to-back episodes filled with goofiness and gallantry, each week upstaging the last with increasingly hilarious and elaborate plotlines and musical numbers. Composing legend and EGOT earner Alan Menken has long been a fixture in pop culture due to his work penning the "Little Shop of Horrors" musical and writing songs for Disney's animated films during their Rennaissance era, and his pen remains just as sharp on "Galavant." Songs like "My Dragon Pal and Me" add whimsy to the Arthurian slapstick, making for a one-two punch of entertaining escapism. /Film's Hoai-Tran Bui sang its praises in the Daily Stream column last year, calling it "one of the great undersung shows of 2015."
As fun as the good guys are, it's the baddies that put a twinkle in the show's eye. Horror fans might recognize Timothy Omundson from the CW series "Supernatural," where he played the murderous Cain in a memorable guest role. On "Galavant," Omundson is a vicious king who lists the ways he'd like to murder Galavant while traipsing through his castle like a psychotic Gene Kelly. He told a Supernatural Seattle audience in 2016 that his audition process took five months, and it shows. Omundson is clearly having the time of his life as the fragile King Richard, whether he's spectacularly failing at stealth in the "Secret Mission" song, or bragging to a love interest that he "killed the bad guys and everything" at war.
Omundson's Richard is tethered by his right-hand man, Gareth, played by a steely-eyed Vinnie Jones. Even playing the thug (as he often does), the former midfielder and "Midnight Meat Train" villain has such a varied resume that it's not that much of surprise to see him throwing jazz hands and making death threats in a period-satire TV series. Anyone familiar with Jones' aggressive football history will find it a treat to see him do a demi-pointe, and that upending of expectations extends throughout the entire series.
Why Galavant was canceled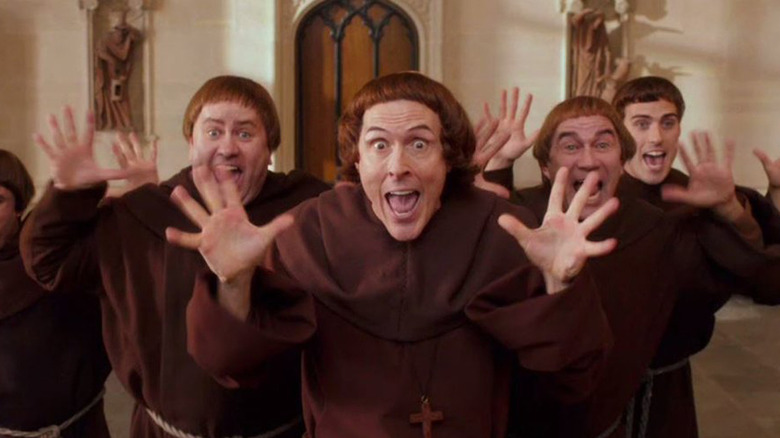 ABC
Like so many shows ahead of their time, "Galavant" didn't last long. Despite poor ratings in its first season, the show got a miracle renewal for a second (the cast even sang a song about its premiere, "this year's least expected big event"). 
With numbers spoofing the likes of "West Side Story" and more (and even releasing the soundtrack on streaming platforms, as "Glee" did), the second season was bigger and better in every way. Nevertheless, viewers seemed to prefer watching the NFL playoffs and event programming like The Golden Globes, both of which took in far higher ratings than "Galavant." The show was given the boot in 2016.
Unfinished business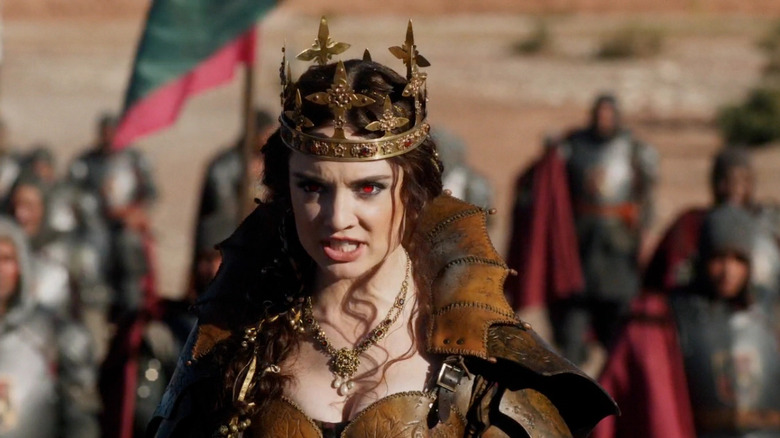 ABC
As with so many shows cut down before the third season, there is a wealth of neglected potential surrounding a climactic Battle of the Three Armies. "Galavant" season 2 began with the (former) King Richard left without a throne or a queen, as the scheming Queen Madalena got a taste of the high life and refused to go back. She named henchman Gareth as her king, and while the two eventually got along and even shared a kiss in episode 4 (titled "Bewitched, Bothered, and Belittled"), Madalena soon dabbles in the dark arts and commands an army of the undead against the rest of the characters, eventually vanishing after defeat at the hands of a liberated Princess Isabella. Her upgrade to sorceress would have been sure to cause trouble for the entire Seven Realms, and the final episode observes her striking an alliance with (and gaining mentorship from) the Evil Dark Lord to grow her powers.
Richard (who inadvertently scored a magical sword that revealed him as the one true king of the Seven Realms) never got to have a healthy relationship with the wife he kidnapped. But over the course of the second season, he links up with a childhood friend and after the battle, the pair have married and settled down together along with Richard's pet lizard Tad Cooper, who has grown into a massive dragon. I say again: ABC has denied us a season with a royal fire-breathing dragon named Tad Cooper.
Our hero Galavant survives the battle and reunites with Isabella, and both have declared their love for each other. They marry (with Weird Al and some monks officiating) and put down roots in a seaside home, while her parents ascend the throne of Valencia (again). In short, nearly everyone got their happy ending — but only briefly.
Will Galavant ever return?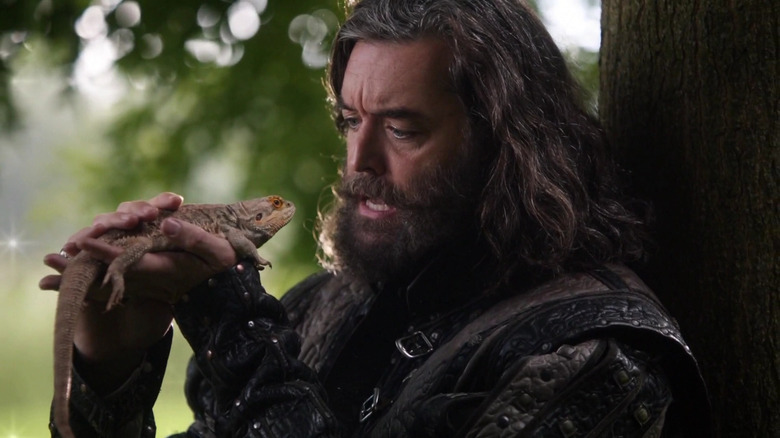 ABC
Will we ever see the hero known as Galavant again? It's unlikely. Speaking to CinemaBlend, star Karen David revealed that showrunner Dan Fogelman was ready for at least five more seasons:
"I will say right now, full disclosure, all of us are up for more 'Galavant.' There's a lot of things that happen when a show gets canceled that can be a bit political too, and it's really tough to explain to the fans, that sometimes it's not always what you think of why a show gets canceled. There's a lot of reasons behind it, and we all feel that there was so much more to tell. Dan Fogelman had a Bible of the story arcs for seven seasons, so there were so many stories to tell. And that was just the start."
But fans and potential viewers can still rejoice, for realsies: the entire series is currently streaming on Hulu.