Tick, Tick... BOOM! Review: Lin-Manuel Miranda Turns An Artist's Lament Into A Joyous Love Letter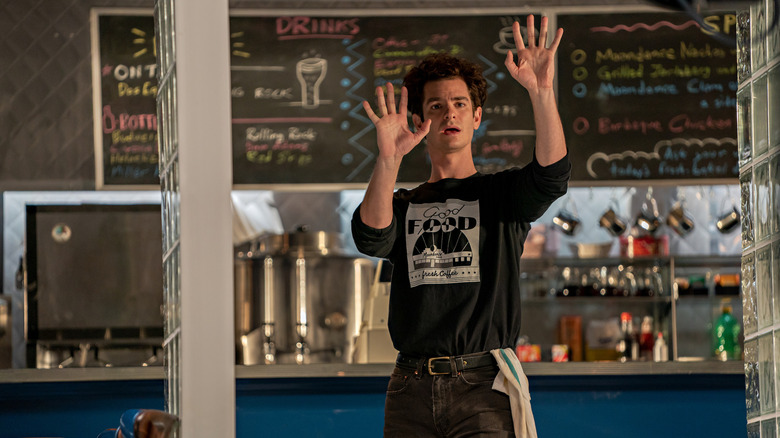 Netflix
You might not know his name, but you've heard his music. Jonathan Larson's "Rent" shaped the modern Broadway scene, popularizing the rock musical and becoming one of the longest-running shows on Broadway — something that Larson never got to see, having died at the young age of 35 on the day of the show's first Off-Broadway preview performance. It casts a pall of tragedy over Larson's legacy, as he became just another one of those artists who was gone too soon. But "Tick, Tick... BOOM!", Lin-Manuel Miranda's feature directorial debut and the feature film adaptation of Larson's autobiographical show of the same name, has none of that doom hanging over it. On the contrary, despite the urgency in its name and in the premise, "Tick, Tick... BOOM!" is bursting with life.
In Miranda's hands, what might have been a melancholic character study becomes a rapturous celebration of art, of theater, and of that all-too universal feeling of chasing that impossible dream. And of course, an ode to every theater kid who spent hours practicing "La Vie Bohème" in the mirror.
There's an inherent self-indulgence to the one-man show, which is what "Tick, Tick...BOOM!" began as. Before "Rent," before he became the face of the rock musical movement, Larson was a struggling artist pushing 30, and dreading it. So he did what any grown theater kid would do: he turned it into a rock monologue. But whatever pretension was present in the original work, whatever un-relatable principles of the artiste might have spurred on the show, fall away as soon as Andrew Garfield's Larson steps up to the piano and sings the electric opening number, "30/90."
Andrew Garfield Takes Center Stage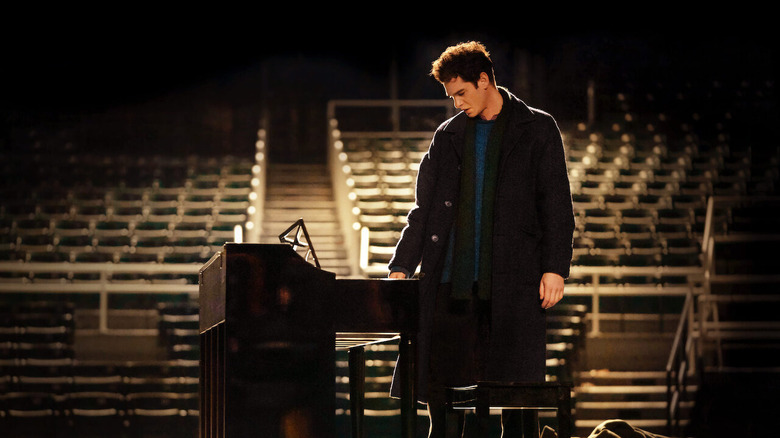 Netflix
This movie is inarguably Garfield's movie. The actor attacks the role with such enthusiasm and zeal and grace that it's impossible to dislike him, even as Larson makes mistake after mistake. It's a dazzling performance that is almost eye-opening in the way that Garfield, who already boasts so many fantastic performances in his resume, gleefully pushes against our brooding leading-man expectations for him. And god, the man can sing.
Larson has spent the last eight years perfecting what he believes to be the Next Great American Musical, a futuristic rock opera called "Superbia," and things are finally falling into place. He's got a producer, he's got a workshop on the horizon, and he's got the memory of Stephen Sondheim paying him a compliment five years ago. The only problem: he needs to write a pivotal new song for the musical's second act and he's coming up empty. Also his agent won't call him back. Also his girlfriend Susan (Alexandra Shipp) wants to take a cushy new dance teaching job and move them to the Berkshires. Also his roommate and longtime best friend (a spectacular Robin de Jesús) has sold his soul to corporate and moved out, leaving him with mounting bills and no way to pay them (at least, no way that the dignified artiste Larson could pay them without similarly selling his soul). And amidst all this, the AIDS epidemic looms, mercilessly taking the lives of many of Larson's friends.
Penned confidently by Steven Levenson, "Tick, Tick... BOOM!" gracefully leaps from past to future as his story is all narrated by Larson, performing his rock monologue for a small crowd. Miranda deftly plays with format here — paying homage to that grainy '90s video through which many people first saw Larson's work by opening the film with a home video of Larson opening his rock monologue on stage. Then, Larson steps to the piano and the screen opens up — we're in his world now.
And what a world it is. There's a near-constant hum of music in the background as Larson's life unfolds, and a musicality to which the camera moves to keep up with Garfield and the rest of the acrobatic supporting cast. Garfield and de Jesús leap through a cramped Manhattan apartment as if it were a spacious dance studio, painted lines in a pool become musical notes, walls fall down to turn a diner into a raised stage — when Larson and his friends sing, it's as if the world opens up. During many of these fantastical musical sequences, Miranda adds a gauzy layer to the screen: everything is brighter, dreamier, more beautiful when Larson makes music. The film toggles back and forth between these fantasy sequences and Larson's drab, grey reality — often smash cutting to reality to comedic effect, but moreso using these two versions of Larson's life to illustrate just how wonderful the world can be with art in it. There's an almost magical realism quality to the way that the film dances so cheekily across that line between reality and fiction. Don't let it be said that Miranda doesn't know how to direct a movie musical.
The Magic of Music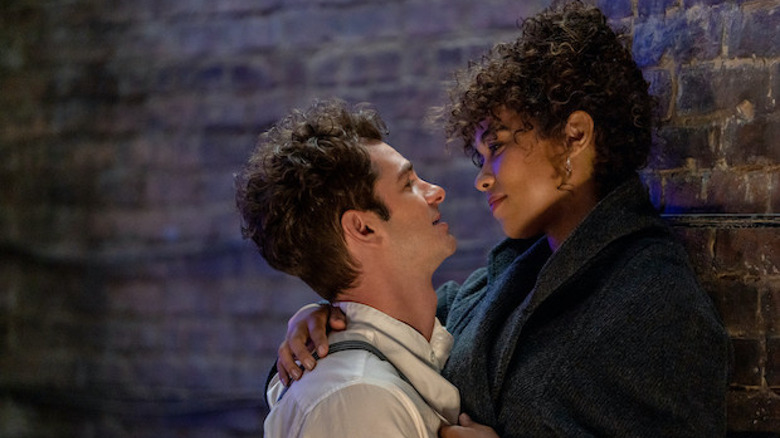 Netflix
Of course, the music wouldn't be as magical without incredible performers to back it up. Garfield's talent and star charisma is without question, but a sly MVP of this film is de Jésus, who imbues the character of Michael with so much wry warmth that he becomes the unexpected heart of the film. Shipp does her best with a rather thankless role as the frustrated girlfriend — though she does get to shine in a duet with Vanessa Hudgens that is the glowing emotional crux of the film — and supporting players Vanessa Hudgens, Joshua Henry, MJ Rodriguez, and Ben Levi Ross add a chattering energy (and pipes to match) to the film that grounds and humanizes it. Bradley Whitford also makes a welcome, solemn appearance as Stephen Sondheim.
Perhaps one drawback of "Tick, Tick... BOOM!" is that it gets so caught up in the majesty of art that it forgets some of its rough edges. It's overwhelmingly earnest in its adulation of the anxious creative — something that Miranda has often been criticized for — that it can't quite tap into the grimy reality that Larson's original work so often embodied. But maybe that's fine. Maybe that's what we look for in a musical: flashy, show-stopping numbers where reality is something to escape, and the most relatable thing is the flashing of the cursor on a blank screen.
Painfully earnest and positively exuberant, "Tick, Tick... BOOM!" isn't counting down to some kind of tragic fate. It's an explosion of life, energy, the ecstasy of being alive and making something. It's an ode to the creatives who fear they'll never reach the greatness they've been grasping at. It's a promise that they might. And Miranda's love letter to his theater hero, who may have been gone too soon, but made every moment count.
/Film Rating: 8 out of 10