Glass Onion: A Knives Out Mystery Review: Rian Johnson Outdoes Himself With A Hilarious New Benoit Blanc Whodunit [TIFF]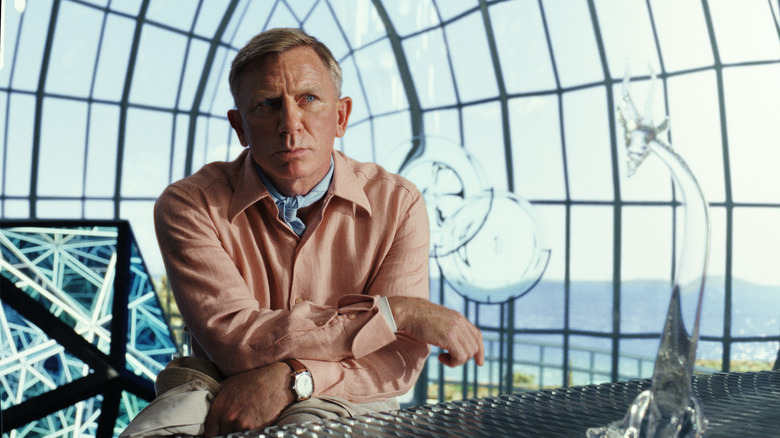 Netflix
Rian Johnson's "Knives Out" was a wonderful breath of fresh air — an original film with a stellar cast and a funny, engrossing mystery with twists and turns. It reminded us that movies could be, ya know, fun. Seemingly the moment the movie ended, audiences wanted more. Specifically, they wanted the return of Benoit Blanc, the gentleman sleuth with the deep-fried accent, played to perfection by Daniel Craig. Sure enough, Netflix came calling, plunking down a huge chunk of change for Johnson to make not one but two more Benoit Blanc movies. But could Johnson ever match the mystery magic he created in the first film?
The answer is a resounding yes. With "Glass Onion: A Knives Out Mystery," Johnson has brought back Blanc for an even bigger, funnier, twistier whodunnit. Not only does Johnson recapture what made the first flick so special, he actually outdoes himself. Yes, "Glass Onion" is even better than "Knives Out." The key ingredient to that success is that Johnson doesn't try to remake the first film. Yes, Benoit Blanc is once again knee-deep in a murder mystery and surrounded by a cast of suspects, but Johnson isn't interested in giving us the same old same old. Instead, he goes bigger, building a complex mystery that towers over the first film's crime.
But best of all, Johnson has ramped up the humor. "Knives Out" was plenty funny, but "Glass Onion" is loaded with huge belly-laugh moments and the types of ultra-clever jokes that will make you want to cheer. What I'm getting at here is that this Rian Johnson fellow is very good at making movies. 
A new cast of suspects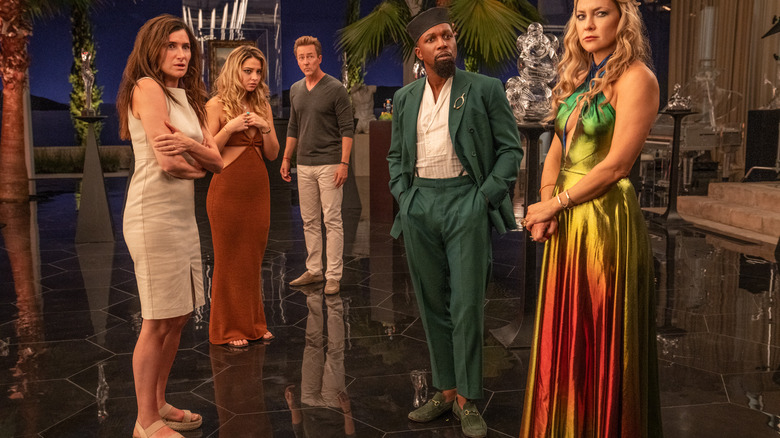 Netflix
"Glass Onion" begins by introducing us to our new cast of characters/suspects. There's high-strung Senate candidate Claire (Kathryn Hahn); immensely clueless model turned fashion designer Birdie Jay (Kate Hudson) and her assistant Peg (Jessica Henwick); Duke (Dave Bautista), a men's rights activist with a huge online following; Duke's girlfriend Whiskey (Madelyn Cline); and Lionel (Leslie Odom Jr.), a scientist who works for a billion-dollar tech company. The tech company is owned by billionaire Miles Bron (Edward Norton), who is connected to all of these characters. And then there's Andi (Janelle Monáe), Miles' former business partner who had a falling out with Miles that resulted in a nasty court case. 
All of these characters are invited to Miles' private island for a weekend getaway. This is something he does with this group of friends every year, and this year, he wants to stage a murder mystery party. And who better to invite along than Benoit Blanc? Johnson plops the film firmly in the midst of the COVID-19 pandemic, and Blanc, who has been sheltering in place (remember when we did that?) has grown restless. He needs a case, and he jumps at the chance of heading to Mile's island, even if it's for a fake murder. 
You can probably guess where this is going: the fake murder turns into a real one. But who gets bumped off, and how, I shall not say. The joys of "Glass Onion" involve the plot twists and shocking-but-hilarious revelations Johnson keeps throwing at us at breakneck speed. Every scene is loaded with lightning-sharp wit coupled with a genuinely engrossing mystery. Like Blanc, we're hooked on the idea of solving this mystery. 
Daniel Craig's best performance yet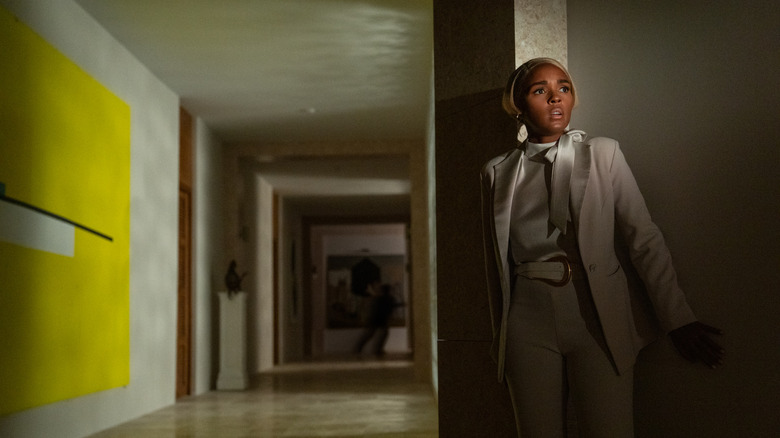 Netflix
In addition to the successful humor, Johnson also creates memorable set pieces that demand to be seen on the big screen. At one point, the lights go out at Miles' massive compound, with a nearby lighthouse flashing occasional beams of light in the darkness as various characters scramble about. 
Speaking of those characters, one of the draws of "Knives Out" was the ensemble cast, with Ana de Armas being a particular standout. But while the cast of that first film was swell, some of the characters felt undercooked or underused. With "Glass Onion," Johnson remedies that by giving everyone a moment to shine. Hahn is her usual wonderful self, chewing her dialogue with gusto. Monáe is a huge standout, with a particularly tricky role. But everyone around her is also firing on all cylinders. Norton is particularly grand as the billionaire, playing the character with just the right amount of smug self-righteousness. And Hudson garners huge laughs with her dimwitted character. But make no mistake: this is Daniel Craig's movie.
It might seem odd to claim that Craig's best performance is in a "Knives Out" sequel; in fact, you might consider that hyperbole. But I stick by it. I have always enjoyed Craig's work, but I have never enjoyed him as much as I did here. Blanc is even funnier this time around, and Johnson allows Craig to engage in some brief but uproarious slapstick. Forget James Bond — this was the role Craig was born to play. I can't wait to see what case Benoit Blanc gets mixed up in next.
/Film Rating: 9 out of 10