Poker Face Teaser: Natasha Lyonne Leads A New Murder-Mystery Peacock Series From Rian Johnson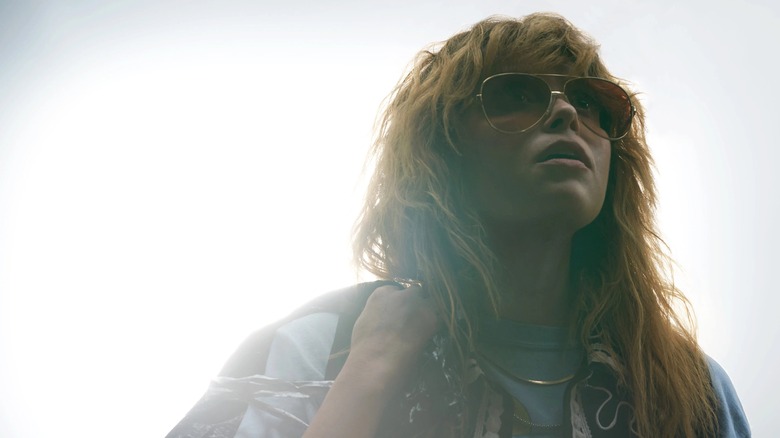 Karolina Wojtasik/Peacock
After carving out a path to success from various high-concept indies and hit original films to the biggest canvas of them all in "Star Wars: The Last Jedi," filmmaker Rian Johnson saw that he had no more worlds to conquer and wept. Just kidding! The writer/director promptly capitalized on his mainstream success by churning out "Knives Out," the star-studded whodunnit that lit the box office on fire and almost singlehandedly breathed new life into the murder-mystery genre, which had been stagnant for far too many years. Now, it seems like it's Johnson's mission statement to keep the good times rolling with a brand-new series, filled to the brim with all sorts of familiar faces.
We've known that Rian Johnson's grand return to television (after directing some of the absolute best episodes of "Breaking Bad," of course) would come in the form of a Peacock show titled "Poker Face," starring Natasha Lyonne ("Russian Doll") as the lead detective. Today brings us our first official look at the story with a teaser, which you can check out below.
Watch the teaser for Poker Face
"There's been a murder and I'm trying to figure out what happened."
Countless fictional detectives, from Sherlock Holmes to Hercule Poirot, have uttered similar statements along those lines and now it's Natasha Lyonne's turn as Charlie Cale. In a social media post earlier this morning, Rian Johnson excitedly revealed the first teaser footage for "Poker Face" after months of keeping the project under tight wraps. Described by Johnson as "an old school case-of-the-week mystery," the 10-episode series will take a case-of-the-week approach with Lyonne as the main recurring character, lending itself to an episodic mode of storytelling that feels right up the "Knives Out" and "Glass Onion" director's alley.
The breezy teaser gives us our first look at guest stars such as Adrien Brody (who previously starred in Johnson's "The Brothers Bloom"), Ron Perlman, Johnson's regular collaborator Joseph Gordon-Levitt, and more. The rest of the jam-packed cast will also include Angel Desai, Audrey Corsa, Benjamin Bratt, Brandon Michael Hall, Charles Melton, Chelsea Frei, Cherry Jones, Chloë Sevigny, Clea DuVall, Colton Ryan, Danielle MacDonald, Dascha Polanco, Ellen Barkin, Hong Chau, Jasmine Aiyana Garvin, Jameela Jamil, Judith Light, Leslie Silva, Lil Rel Howery, Luis Guzmán, Megan Suri, Niall Cunningham, Nicholas Cirillo, Nick Nolte, Reed Birney, Rhea Perlman, Rowan Blanchard, S. Epatha Merkerson, Shane Paul McGhie, Simon Helberg, Stephanie Hsu, Tim Blake Nelson, and Tim Meadows.
"Poker Face" will premiere exclusively on Peacock with four episodes at once, set to stream every Thursday starting on January 26, 2023.
Poker Face is a 10-episode mystery-of-the-week series following Natasha Lyonne's Charlie, who has an extraordinary ability to determine when someone is lying. She hits the road with her Plymouth Barracuda and with every stop encounters a new cast of characters and strange crimes she can't help but solve.