How Alfred Molina Put Himself In Robert Aldrich's Shoes For Feud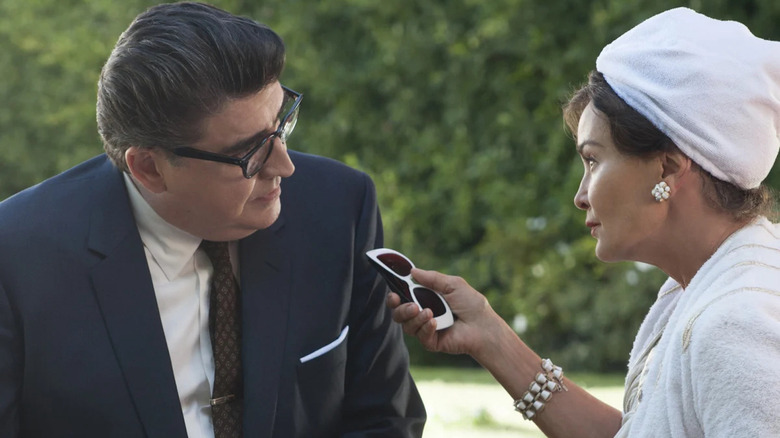 20th Television
Ryan Murphy may be best known for "Glee" and "American Horror Story," but my favorite thing he's done is "Feud: Bette and Joan" — though "Pose" is a close second. The FX series chronicles the long-running dispute between two of the finest performers who ever lived: Bette Davis and Joan Crawford. While the bad blood between these women began long before they starred opposite one another in the now-classic 1962 film "What Ever Happened to Baby Jane?" it was during the production of that movie that things came to a head, much of which unfolds in the show.
"What Ever Happened to Baby Jane?" centers on the relationship between sisters "Baby Jane" (Davis) and Blanche Hudson (Crawford). Baby Jane was a former child star who outshone her older sister until Blanche became an actress herself. After a mysterious car accident leaves Blanche in a wheelchair, Jane becomes her caretaker, though she's far more of a tormenter. This movie is utterly enthralling and the film's success undoubtedly hinges on the incredible performances of its two female stars, who famously hated each other. Davis has even been quoted as saying, "The best time I ever had with Joan Crawford was when I pushed her down the stairs in 'What Ever Happened to Baby Jane?'" 
Like the film it features, the greatness of "Feud" rests firmly upon the work of its leads, Jessica Lange and Susan Sarandon, who portray Crawford and Davis, respectively. They are quite possibly the only stars who could've done these legends justice. The always impressive Alfred Molina also stars in "Feud" as "What Ever Happened to Baby Jane?" director Robert Aldrich. Playing a real person always presents a new set of challenges for an actor. How did Molina prepare for the role?
Getting it right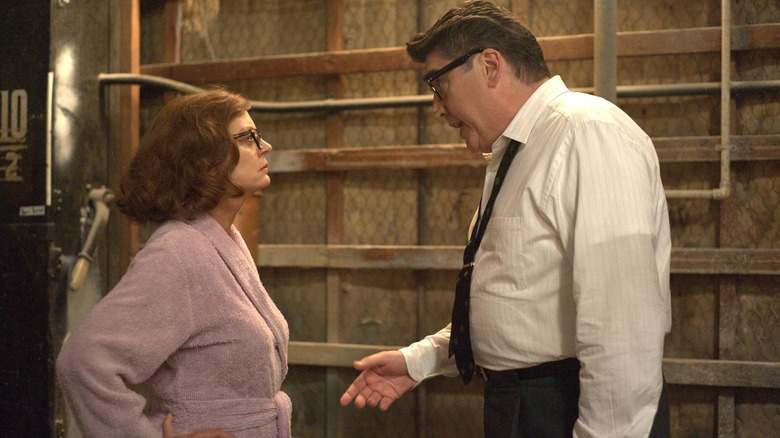 20th Television
Alfred Molina may have been playing a lesser-known filmmaker with Aldrich, but the actor did his homework. He told The A.V. Club:
"I watched as many of his movies as I could and there were two books that were available ... He was very very discreet about the whole issue between Joan and Bette during the making of Baby Jane. I saw lots and lots of photographs and some first-hand accounts of what it was like to work with him and so on. The impression I got was that he was very typical of men in [his] generation, men who had been through the war. He came from quite a privileged background. He was related to the Rockefellers. He had a relative who was a senator. He sort of bucked the trend in a sense and instead of taking advantage of his family connections he ended up in Hollywood working in the mailroom at a studio and then just kind of worked his way up through the industry."
Making sacrifices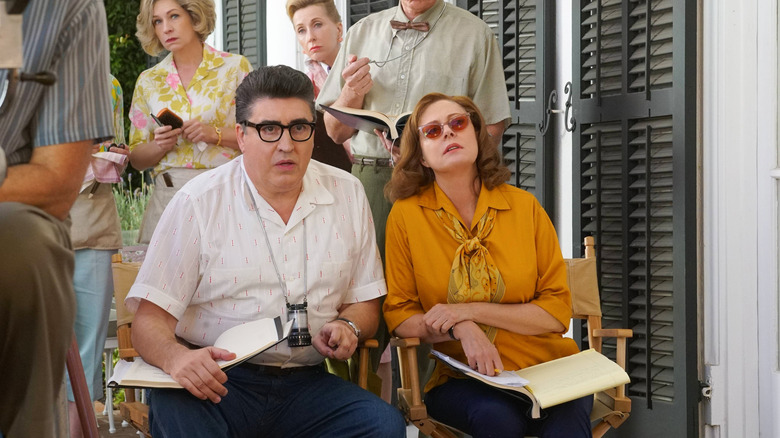 20th Television
Molina continued:
"He was very much a man of his time in the sense that, as men did in those days, he took a lot of things for granted. One of them being a sense that hard work and focusing on exactly what you wanted would get you there. Throughout his life he seems to have been willing to sacrifice a lot of things for the work and for the sake of getting the movie made: his marriage, his relationship with his kids, his relationship with friends. Toward the end of his life he seemed very honest about those things, he didn't try and pretend that they hadn't happened. He didn't try to sugarcoat anything. He said, 'Yeah, I made movies and that cost me a lot.' I got the feeling of a man who was very single-minded and he really just wanted to get the movie made. I think that was the overriding thing that I came away with."
There was so much on the line for Aldrich career-wise with "What Ever Happened to Baby Jane?" and he had to keep the vitriol between the film's leads from overtaking the movie entirely. Not to mention the difficulties in convincing an incredibly sexist system that the film was worth making in the first place. Crawford and Davis were huge stars, but sadly, Hollywood doesn't try to create roles for women over a certain age, even for performers of the highest caliber — an issue that still persists today.
It's impossible to take your eyes off of Lange or Sarandon in "Feud," but Molina shines in his role as well thanks to his nuanced performance. The actor has a varied resume that includes "Boogie Nights," "Spider-Man 2," and "Frida." Next up, see him star in "Three Pines," which is set to hit Prime Video next month.