Three Pines: Everything We Know So Far About Amazon's New Series Starring Alfred Molina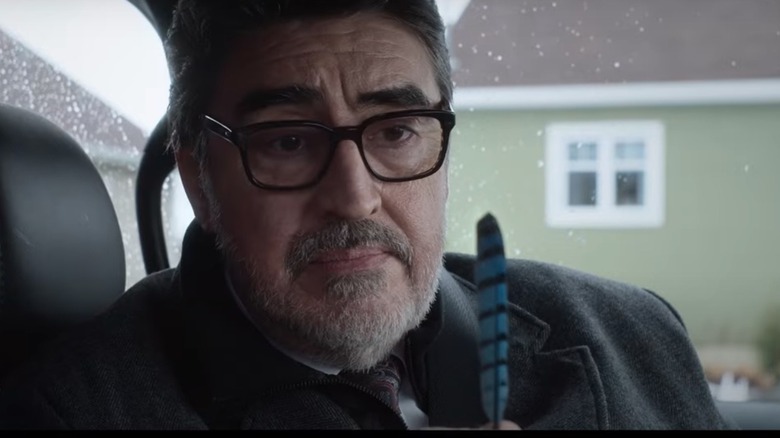 Prime Video
Alfred Molina is starring in the upcoming Prime Video series "Three Pines." It's an adaptation of the beloved and best-selling mystery novel series by Louise Penny, focused on Chief Inspector Armand Gamache. There are eight episodes in the season, though the novel series is 17 books long. That's a lot of story to mine from. It's set in Canada, and the production was filmed in both Montreal and rural Quebec. 
This is the first Canada-based production for Left Bank, which is the production company behind the Netflix series "The Crown," about the royal family of the United Kingdom. Production began on the Canadian Amazon Original drama series in September 2021. If you haven't heard of Armande Gamache, it's time to start reading, and watching when the series premieres. The Washington Post named Gamache the most beloved fictional detective in a 2021 reader survey. That puts him ahead of both Hercule Poirot from Agatha Christie and Sherlock Holmes from Sir Arthur Conan Doyle. 
What we think Three Pines will be about
It isn't clear if the series will cover just the first book "Still Life," which came out in 2005, or if it will include bits from the others. The books have been both popular and wildly award-winning. "Still Life" won the New Blood Dagger award, the Arthur Ellis Award, the Dilys Award, and the Anthony Award in 2007, with every single other one of the novels winning awards as well. Several of them have been on the New York Times Best-Seller list (some at #1). 
Gamache is a character who believes that light will conquer the darkness and that goodness can be found anywhere if you look hard enough. The stories about him also involve a lot of Canadian history and very little sex or intense violence. Christina Wayne, the head of Canadian Originals at Amazon Studios said in a statement that this is their "first locally produced scripted drama." 
Here is the official synopsis for the series:
The series follows Chief Inspector Armand Gamache (Alfred Molina) of the Sûreté du Québec, a man who sees things that others do not: the light between the cracks, the mythic in the mundane, and the evil in the seemingly ordinary. As he investigates a spate of murders in Three Pines, a seemingly idyllic village, he discovers long-buried secrets and faces a few of his own ghosts.
What we know about the cast and crew of Three Pines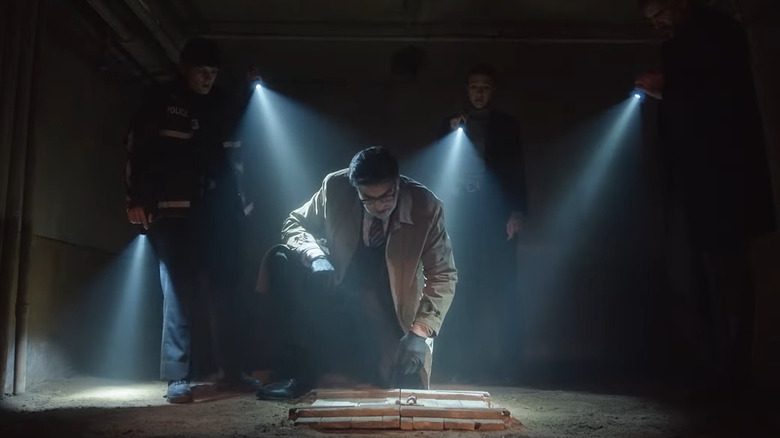 Prime Video
In addition to Molina, the cast includes Rossif Sutherland, Elle-Máijá Tailfeathers, Tantoo Cardinal, Clare Coulter, Sarah Booth, Anna Tierney, Julian Bailey, Frédéric-Antoine Guimond, Pierre Simpson, Tamara Brown, Marie-France Lambert, Frank Schorpion, Marcel Jeannin, Georgina Lynn Lightning, Crystle Lightning, Isabel Deroy-Olson, and Anna Lambe. If you watch the trailer, you can see there is also a very good duck named Rosa, the pet of one of the characters. 
The script for "Three Pines" comes to us from Emilia di Girolamo ("Law & Order U.K."), who serves as lead writer, with Catherine Tregenna penning two additional episodes. Series directors include Sam Donovan as the lead, with Mohawk director Tracey Deer and Daniel Grou. Deer will also serve as an Indigenous consultant along with Katsitsionni Fox. IllumiNative will also consult. John Griffin will produce. Executive producers include Andy Harries, Sharon Hughff, and John Phillips for Left Bank Productions, as well as Sam Donovan, Emilia de Girolamo, and Alfred Molina. 
In addition to Amazon Studios and Left Bank Pictures, Sony Pictures Television and Canadian company Muse Entertainment will produce.
The new series will be released on Prime Video in Canada, U.S., U.K., Ireland, Australia, New Zealand, Norway, Sweden, Denmark, Finland, and Greenland in December 2022. We'll keep you updated on the exact date.