Letterkenny Live: A Lesson In Canadian Hospitality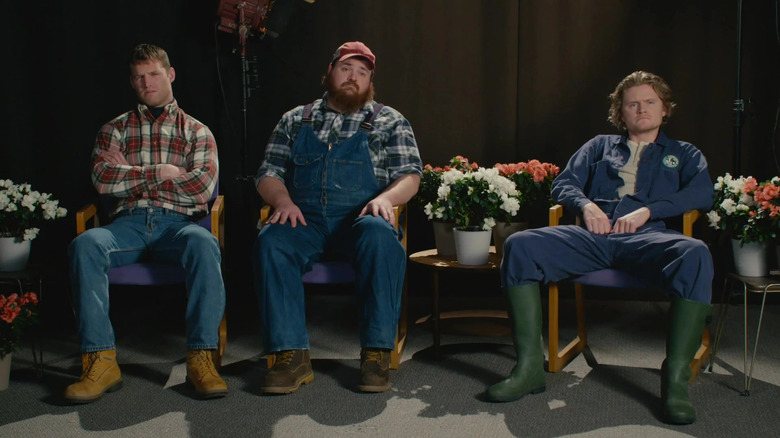 Crave
"So you laughed heartily throughout Letterkenny Live with your pals the other day ... and it was so rich with fan adoration you pitched an article."
No, that's not a direct "Letterkenny" cold open quote. The above describes my experience attending "Letterkenny Live" in Los Angeles. An event where game-day Shoresy jerseys and flannel button-downs colored a crowd of hootin', hollerin' Americans getting roasted by the quickest wits in Canada. I've witnessed network properties exploit their popularity — I've been in those icky, dollar-sign-driven crowds — but that's not "Letterkenny Live." "If you could be one thing, you should be efficient," Wayne would say. I'll forever respect the entire Letterkenny cast and crew for making its superfans feel as appreciated as they've made the show feel across the Northern American border.
Is the merchandise overpriced at, like, $40 per tee? Of course. Did I spend too much on exclusive tour novelties on the way out? Don't judge me — our tickets dated back to a January 1, 2020 purchase date, and we were vibrating with anticipation after an extended rescheduling hiatus. That's par for the course at similar events or convention atmospheres, which doesn't detract from the shared excitement.
My confession is that I've never attended a "live experience" for any favorite television series. Then again, I'm not sure I've ever obsessed over and rewatched an episodic program like "Letterkenny." Expectations for a 90-minute in-person iteration of "Letterkenny" were largely unknown. I wondered how the staple actors could recreate another fulfilling day of hard labor, Puppers lager, and fisticuffs should anyone act a fool. With lawn chairs arranged in front of a massive display screen on the theater's stage, a produce stand to the right, and two hockey player lockers next to a toilet stall on the left, I began to gather an idea.
We're doing it live!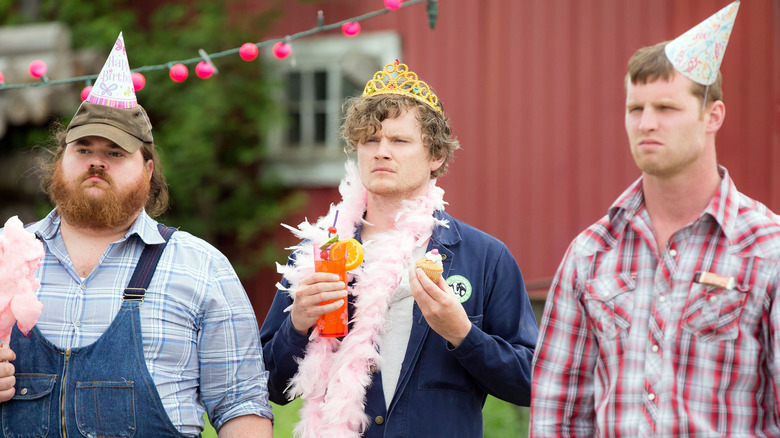 Hulu
What's endearing about "Letterkenny Live" is that all performers are out there to prove it's not just behind-the-scenes magic that imbues each episode with its trademark signatures. The show's machine-gun barrage of zippy wordplay, the Skids' dance moves, everyone's ability to (almost always) keep straight faces while jokes escalate — "Letterkenny Live" proves it's natural. Stewart (Tyler Johnston) and Roald (Evan Stern) start the show by getting groovy as they would in a convenience store parking lot, only for Roald to bust out competition-level breakdancing chops with flip-after-spin. That's just a taste before Wayne (Jared Keeso), Katy (Michelle Mylett), Daryl (Nathan Dales), and Squirrely Dan (K. Trevor Wilson) jive right back into their usual rhythm of building puns like Jenga towers that somehow never topple.
They're professionals — I get it. That's not what I'm commemorating. "Letterkenny Problems" started as this "hicks from the farmland" web series, and you can tell Jared Keeso is beyond overwhelmed by the show's success, from Canadian notoriety to international acclaim. That goes for the entire cast, some 10 seasons in and counting. Keeso incorporates attendees into "Letterkenny Live" by asking, "How are ya now?" and thrives off the fuel that is his audiences' laughter, primarily when localizing one-liners to trash whatever city's playing host that night. There's already an episode about jabronis from Los Angeles who can't stop talking about tacos and hiking, but the added UCLA potshots were a nice touch.
The entirety of "Letterkenny Live" revolves around giving back to the fanbase. Not only that, but COVID-19 derailed this particular redo "Letterkenny Live" journey (multiple times if memory doesn't fail). It almost feels like a Letterkenny talent show — minus Darry's line dancing — as actual stand-up comedians K. Trevor Wilson, Mark Forward (who punts trash cans as "Coach"), and Jeff McEnery (who cleans toilets as "Alexander") perform sets for the audience out of character. Wayne and the gang also unpack new goodies for "Letterkenny" lovers to gander (exclusives not to be spoiled). Everyone wants to contribute, not only by way of untelevised skits, making the whole production feel like a hug that stinks of sweat and Gus N' Bru. Per the show's strict no videos or photography policy, zero secrets will be spoiled.
As a "Letterkenny" fan myself, this personalized experience is unique because it's not an outright convention meet-and-greet, nor is it just a quick cash-in on additional content. Coach interrupts Wayne's banter to explain how audiences only want to hear bands play their hits — K. Trevor's the only one who broke in our show when Mark pronounced Van Halen's "Panama" as goofily as possible — and Wayne obliges without falling into clip show formulas. It's impossible not to feel the joy Keeso gets by making audiences beg for Wayne to hug pastor Glen (Jacob Tierney), or while assaulting puck buddies Reilly (Dylan Playfair) and Jonesy (​​Andrew Herr) with blazing takedowns about both their mothers as Shoresy. Immaculately, to no shock, these verbal gymnastics of crudeness never break stride or stumble over a single word. Keeso and company don't need to test themselves on stage, but they do anyway.
Do what you love, you'll never work a day in your life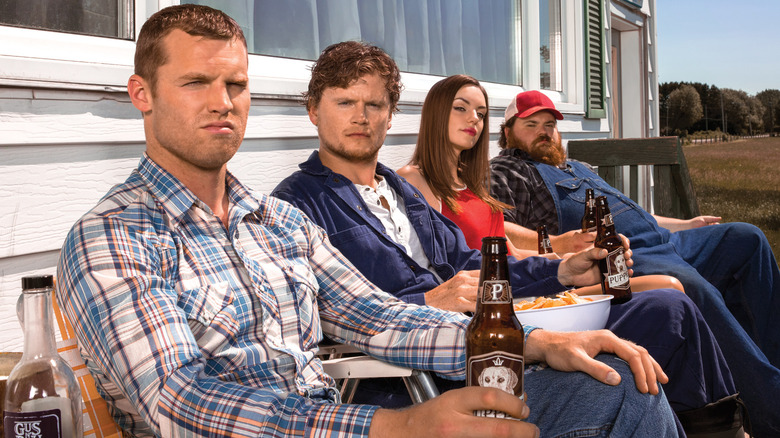 Hulu
It's the "anyway" that tickles my heart. There are 5,000 people in Letterkenny, but infinitely more "Letterkenny" fans who'd continue watching without additional tie-in opportunities. Keeso's traveling comedy show promotes "Letterkenny Live" as a thank you gesture (profitable to boot), which becomes evident during the outro curtain call where every attending player said something they love about Los Angeles. Their graciousness and generosity poured in ways that make you only want to root for the underdog program to succeed even harder, melting away the cynicism of Hollywoodized productions that never give back.
"Do what you love, you'll never work a day in your life." No second of "Letterkenny Live" feels like labor, just heroic showmanship in barn clothes that tightens a stronger sense of community.
Nowadays consumable media often feels corporate and churnable — but "Letterkenny Live" drives this homely warmth that guarantees it one of the most genuine shows on air. Who knew that not only some nonsense problems from Canadian nowheres could become such a cultural phenomenon, but that the creators and actors were such grade-A, grass-fed, Alberta beef champions. All the camaraderie Letterkenny's saints preach throughout rough-and-tumble episodes became an infectious perfume that wafted from the hilarious, creatively uncouth "Letterkenny Live" show in Los Angeles. Even if McEnery performed a bit about pretentious Los Angeles movie critics reviewing titles like "Battle Los Angeles" like their Oscar nominees that he might as well have told while locking eyes only with me and only me.
Maybe I'm biased, but what can I say? They just do it Betterkenny. All pitter-patter, no lack of gettin' at 'er.