Susan Sarandon Endured Trailer Fires And Pneumonia For The Rocky Horror Picture Show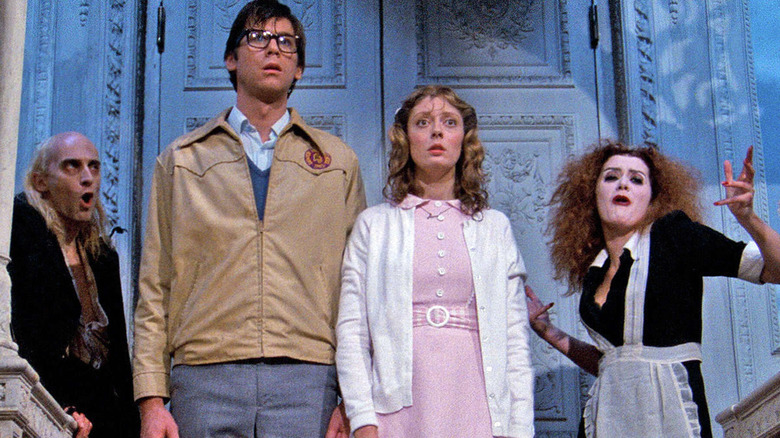 20th Century Fox
I was about 13 when I discovered the magic of "The Rocky Horror Picture Show." Honestly, I can't really remember how exactly I was introduced to the film, but I do recall how quickly I became obsessed with it. Not long after I went to a late night showing featuring live actors and from then on, I was hooked. Without fail, I attended annually, with my costume only growing more daring as the years progressed. To this day, I can sing every note of that soundtrack and can't help but shout out responses when watching the movie, regardless of who's around when it's on.
The experience of seeing "The Rocky Horror Picture Show," particularly when surrounded by a theater full of equally excited weirdos, is unlike anything else. After all, there's a reason why the film is still showing in theaters 47 years after its release! The actors look like they're having a blast, so it's easy to imagine that making this movie was a fun time. However, although Susan Sarandon looks back quite fondly on her role as Janet Weiss — insert expletive here! — the shoot was rougher than one might think. So what was Sarandon's time on set like?
Science Fiction Double Feature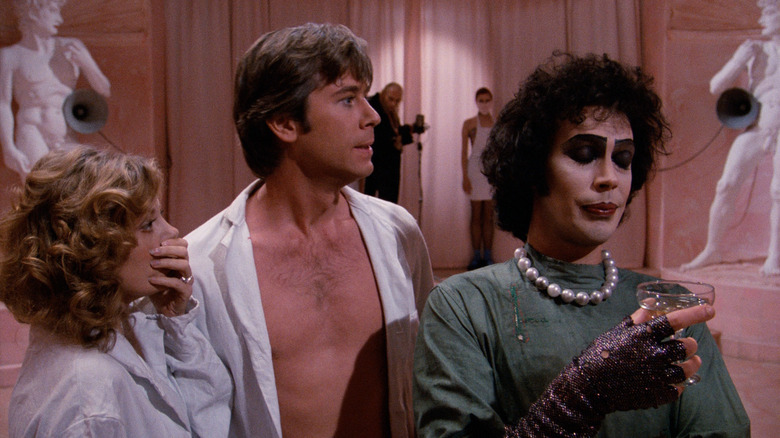 20th Century Fox
When speaking to Vanity Fair, Sarandon described her time on set during "The Rocky Horror Picture Show." She said:
"I loved hanging out with those people, but it wasn't a situation where we had a lot of downtime because the budget, I think, was a million dollars. A very, very tough shoot. It was freezing, and then there was no heat in the studio, and we were obviously half-dressed and wet a lot of times, so I got pneumonia. They put a heater with screens around it for us to get warm in between, and then that caught on fire. My trailer also caught on fire. I didn't have anywhere to live. They kept moving me every few weeks. When you're in these situations, you have to call your agent and have them do something, but my agents didn't really respond at that time. But anyway, it looked like we had fun, right?"
It sure did look like they had fun! Knowing that Sarandon got pneumonia and had to deal with putting out literal fires certainly casts her time as Janet in a new light. It does say a lot about the company she kept on set that she still thinks back on the experience with some affection. Who wouldn't have wanted to hang out with Tim Curry and everyone else bringing that delightfully demented cast of characters to life?
Dammit, Janet, I love you!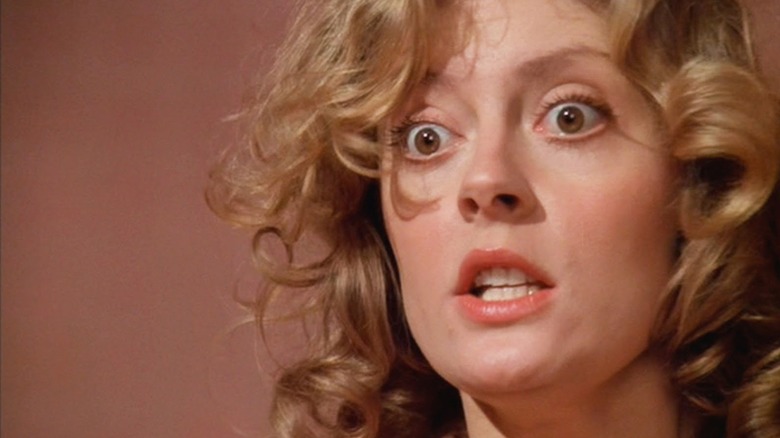 20th Century Fox
Sarandon may not have had many film credits when she starred in "The Rocky Horror Picture Show," but she's obviously built up quite an impressive resume in the decades since, starring in movies as varied as "Thelma and Louise," "Little Women," and "Dead Man Walking," among so many others. She was fantastic in all three of those films, though for my favorite Sarandon performances I would also add her part as Mimi in "Igby Goes Down," as well her unforgettable turn as Bette Davis in "Feud: Bette and Joan."
Ask any film fan for a favorite role and you'll likely get a lot of differing answers, but many (myself included) will always remember her most fondly from "The Rocky Horror Picture Show." The filmmaking process may not have been as fun as we all imagined, but honestly, that kind of only adds to the movie's many charms.