Salma Hayek Recalls Harvey Weinstein's Abusive Behavior On The Set Of Frida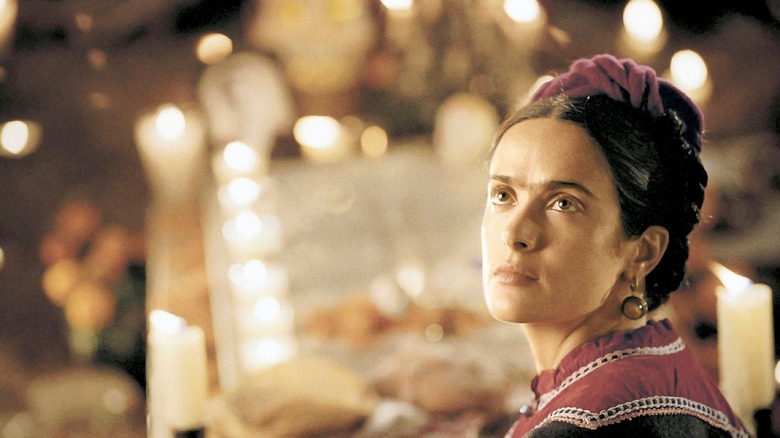 Miramax Films
Salma Hayek became a telenovela star in the late 1980s before moving to Los Angeles to pursue a career in Hollywood. After starring in "El Callejón de los Milagros" and "Mi Vida Loca," Hayek caught the attention of Robert Rodrigeuz and producer Elizabeth Avellan, who gave her a starring role in "Desperado" and cast her as the vampire queen Santanico Pandemonium "From Dusk Till Dawn." The rest, as we say, is history. Hayek's newest movie, Marvel's "Eternals," is in theaters now, fulfilling a career-long wish of Hayek's to play a superhero.
Even before her breakout role in "Desperado," Hayek had dreams of playing legendary Mexican artist, Frida Kahlo. After eight long years of trying to get the biopic made, Hayek's true passion project came to fruition in 2002. Unfortunately, the production came with one of Hayek's most negative experiences, as "Frida" was produced by infamous sex-pest and garbage troll personified, Harvey Weinstein.
In a recent interview with Hadley Freeman of The Guardian, Hayek opened up about her experiences with Weinstein, elaborating even more than what she'd already graciously provided in her scathing 2017 op-ed with The New York Times. Weinstein's harassment of Hayek lasted years, but in addition to his inappropriate sexual behavior, he was a mercilessly abusive bully. "If you really look at my piece, you'll see that I really focused on the bullying [rather than the sexual harassment], and I do think women got it worse [from him]," she tells The Guardian. "Weinstein is not the only man to reassure himself by knowing he can destroy women."
Weinstein's Harassment on Set
Miramax Films
Freeman asks Hayek in the interview if Hayek believed she normalized his bullying as a coping mechanism. It's important to note that victims of all matters of abuse frequently normalize or "accept" their circumstances as a protection measure and coping mechanism, so Freeman's question isn't out of pocket. Hayek responded saying:
"To a degree. And I did feel alright [when he bullied me]. OK, I would shake [afterwards] and it did depress me, but there was a cartoon aspect about the whole thing. When he would call me up [during the making of Frida] and scream, 'Why do you have a [monobrow] and moustache? I didn't hire you to look ugly!' I was like, 'But didn't you ever look at a picture of Frida Kahlo?"'If a man was playing Cyrano de Bergerac, he wouldn't say, 'What's with the nose?'"
In her NYT piece, Hayek claims that the reason Weinstein never sexually assaulted her was likely due to her close relationships with Robert Rodriguez, Quentin Tarantino, and George Clooney. When Freeman pressed on this claim, Hayek interrupted to say, "Also I was very strong." This comment is not to insinuate that any of those harmed by Weinstein are "weak," but that Hayek is very aware of her intimidating nature. "I didn't just say no. I'm a force to be recognized," she told Freeman. "He never saw me weak. It's not that I'm not afraid, but you're not going to see it. I can be almost intimidating in my calm strength, you know?"
Hollywood's Systemic Problem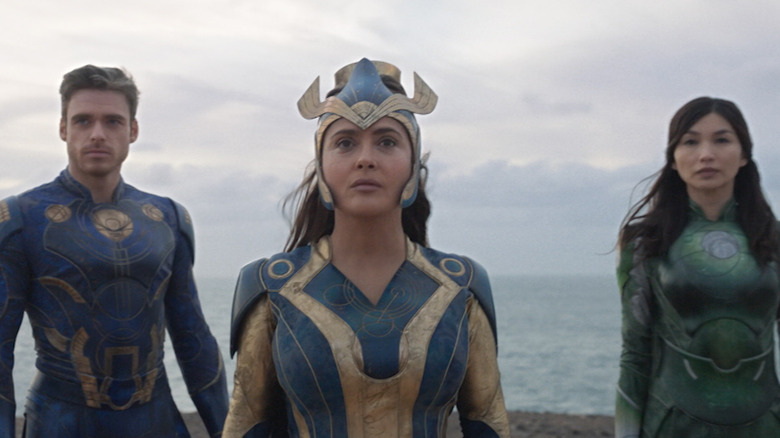 Marvel
Hayek went on to say that Weinstein was "not the first or last one" in Hollywood to treat her poorly, and painfully accepting that many of the men who have bullied or harassed her are likely still working in the industry today. "I'm sure — it was systematic. But one of my strengths is I don't hold a grudge," she said. "I also believe people can change ... I'm not interested in shaming anyone. I just want it to stop."
In addition to the misogyny she experienced, as an immigrant, Hayek has also dealt with a great deal of xenophobia and racism. "When they disrespect your background, they feel you're weaker and they prey on weakness," she said. Hayek also admitted that she has lost roles due to her background, confessing that director Ivan Reitman wouldn't even let her audition for the lead in "Six Days, Seven Nights" because the part "wasn't written Latin."
Hayek has successfully overcome the adversity set in her way ,as two of the most anticipated releases of the year are out this month and she has starring roles in both. "Eternals" debuts in theaters November 5, 2021 and "House of Gucci" premieres in theaters November 24, 2021.