Star Trek: Lower Deck's California Class Climax Was A Metaphor For The Show's Success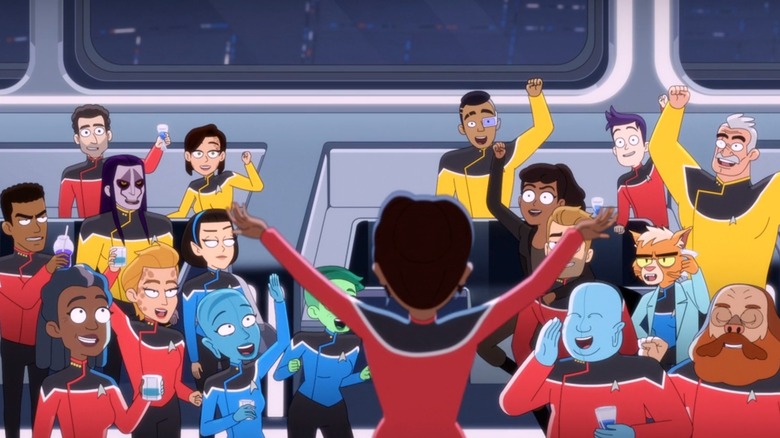 Paramount
The third season of "Star: Trek: Lower Decks" wrapped up on Paramount+ recently with its explosive finale, "The Stars at Night." The automated Texas class starships sent out by Admiral Les Buenamigo's (Carlos Alazraqui) that have become hostile were destroyed thanks to the help of Mariner (Tawny Newsome), who made a heroic return to the U.S.S. Cerritos after a moment of disillusionment.
Fighting alongside Mariner was a gigantic fleet composed of every California class ship, from Fresno to San Diego, to defeat a misguided use of technology that put the livelihood of many Starfleet workers in danger — a classic, Star Trek signature sci-fi dilemma. Instead of ending its season with a traditional cliffhanger, season 3 of "Lower Decks" concludes on a moment of unity and celebration.
According to an interview with showrunner Mike McMahan with ComicBook.com, he sees this moment of catharsis in the show as a metaphor for the trajectory "Lower Decks" has had in the "Star Trek" fandom, going from an underdog to one of the more beloved "Star Trek" shows currently on air.
Indeed, though we love and have followed our group of ensigns throughout many trials and tribulations, they have always equally matched the show's underdog status from the beginning.
Underdogs, on-screen and off-screen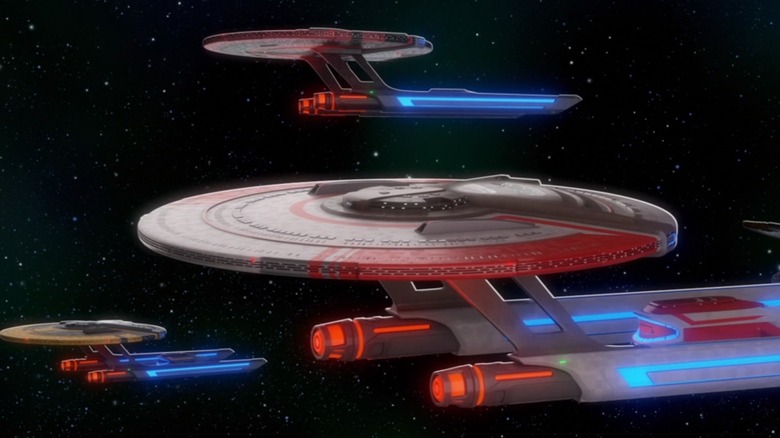 Paramount
In the opening episodes of "Lower Decks" season 3, the Cerritos' Captain, Carol Freeman (Dawn Lewis) was falsely accused of treason. While our main crew of ensigns were stationed back on Earth during Freeman's trial, they eventually learned the social status of their starship was not the most glamorous. "In some of the very first episodes, you see Captain Freeman being exonerated," McMahan explained, "then the Cerritos crew finds out that they thought that they were the joke of the California class."
When "Lower Decks" was first announced, many did not know what to make of the show's unique direction for the franchise. "Star Trek" is largely defined by its cool, capable characters going off on big and grand adventures. It's lore heavy, dramatic, action-packed — and "Lower Decks" is deliberately much more humble in comparison. McMahan is of "Rick and Morty" fame, and so his vision of "Lower Decks" as this meta, adult cartoon that parodies "Star Trek" tropes and concepts whilst still showing a lot of genuine love for the world was something that did not immediately grab audiences. Sometimes, the show's direction was even quite controversial in its crass and comedic presentation of the universe.
"It's a mirror to Lower Decks where I was like, 'Hey look, here's a brand new Star Trek show that nobody wanted.'" McMahan jokes, "then the trailer came out and all of these people were sighing on YouTube and putting their faces in their hands dramatically until they moved on to the next thing."
'They didn't know they've become the cool kid'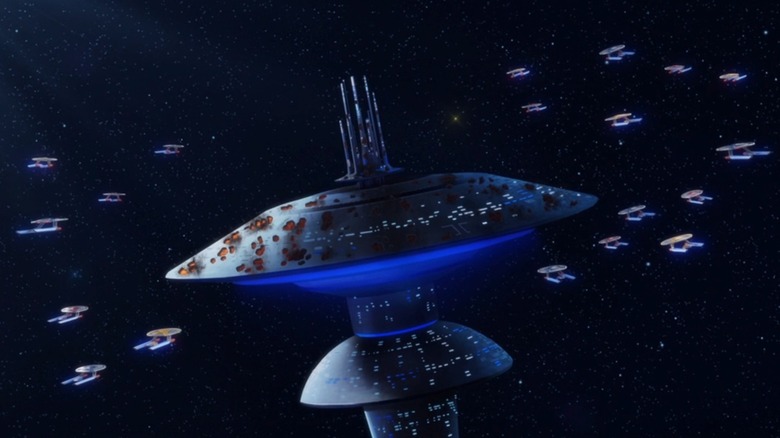 Paramount
In true Starfleet spirit, McMahan and the cast and crew of "Lower Decks" persisted. Sometimes, greatness is born from integrity. If this series was going to grow and find its audience, it was going to do so from staying true to the show's original vision and not trying to put itself in a creative box that fans think they want to see. "Slowly, we just kept doing whatever we wanted to do and we found our fans," McMahan continued, "we found people who loved the show, and it happened without us noticing because we just kept our heads down and did what we wanted to do. So there's a little bit of that."
By the release of season three of "Lower Decks," the show had finally found its stride — perfectly balancing humor, heart, fanservice, and all the essential ingredients that makes "Star Trek," just in a lovely, new adult animation package. A loyal audience fully caught on by this point, and many "Star Trek" alumni have gleefully joined the show for guest appearances and cameos thanks to the push from "Next Generation" star, Jonathan Frakes.
The U.S.S. Cerritos was once the laughing stock of Starfleet, and now, in the middle of their battle with Buenamigo's ships, it's the role model for all other California class comrades. Thanks to the help of Mariner, the Cerritos got all the support they needed. "They're finding out that, oh, they're actually the most popular, they're the coolest of the California class, which they didn't know. "McMahan added, "They didn't know they'd become the cool kid."
In the action-packed climax of the "Lower Decks" finale, the show expressed its success in an emotional and meta way that only "Lower Decks" could.