Star Trek: Lower Decks Finally Reveals The Full California Class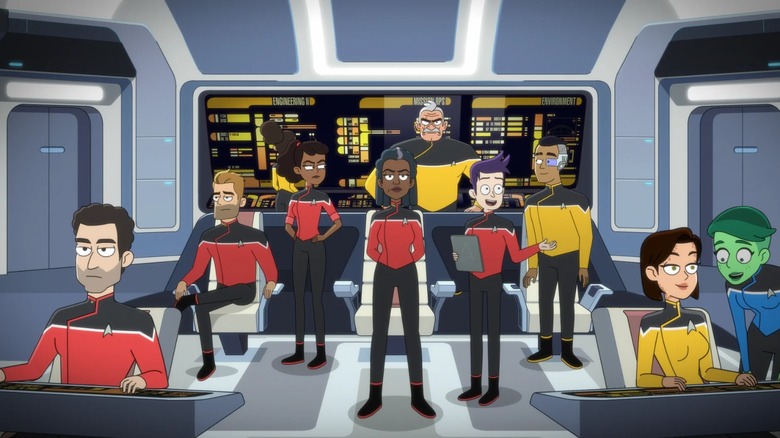 Paramount
This post contains spoilers for the season finale of "Star Trek: Lower Decks."
When it comes to the world of "Star Trek," I've never been one for fan service. For whatever reason, even the coolest Easter eggs and guest appearances often won't elicit much more than a nod and a smile from me. But if you want to see me cheering at the TV, there's at least one way to do that, and its an unorthodox method that "Star Trek: Lower Decks" employed during its third season finale this week: just list the names of places in California!
This week's finale of "Star Trek: Lower Decks" was jam-packed with action, heart, and some classic U.S.S. Cerritos adventures, but it also did something the show has never done over the course of its three season: introduced viewers to the entire California class of starships. The big reveal came during the climax of the episode, when Mariner (Tawny Newsome) made her triumphant return to save the Cerritos crew, bringing the entire California class with her as reinforcements. It was an impressive show of support, and also, inevitably, an opportunity for West Coast viewers to cheer on their cities and hometowns as they popped up among the armada.
The California class line-up was revealed rather quickly, as Boimler (Jack Quaid) rattles off the names of the ships as fast as he possibly can. In addition to the Cerritos, which is named after a city on the south edge of Los Angeles, we now know the Cali class Federation starships include the Oakland, Alhambra, San Diego, San Clemente, Sherman Oaks, Vacaville, Burbank, Fresno, Santa Monica, San Jose, Sacramento, Culver City, Anaheim, Riverside, Vallejo, West Covina, Pacific Palisades, Redding, Eureka, Mount Shasta, Merced, Carlsbad, and Inglewood. A shot of the Cali class approaching shows around 30 total ships, so there are few whose names Boimler didn't even catch.
Star Trek has a history of creatively named starships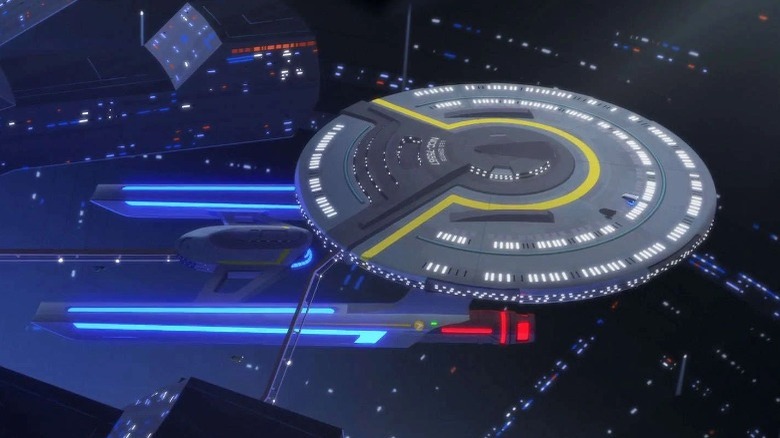 Paramount
Past episodes of "Star Trek: Lower Decks" have mentioned a handful of these ships before, in addition to the U.S.S. Rubidoux and U.S.S. Solvang, but this is by far the most of Cali class we've ever seen. It's a great mix of Northern and Southern California cities, as well as rural and urban locations. The Cali class ships also follow a long tradition in Trek history, in which classes of starships often follow a naming theme. The Danube class ships, for example, are all named after rivers on Earth, while the Oberth class ships are named largely for historical figures with an interest or expertise in space exploration. Even the most famous starship, the U.S.S. Enterprise, is part of the Constitution class, which includes several ships named after real-life naval vessels.
In an interview on the web show Trekyards, "Star Trek: Lower Decks" creator Mike McMahan once explained that it was important for the series to create a new class of ships to differentiate itself from past Trek series. "If you watch 'Lower Decks' and you're like, 'That doesn't feel like my type of Star Trek,' then it's like, well guess what? We're doing it with California class, we're not trodding all over your other classes of ships." As for the choice to build the class around cities in California? Apparently, it was inspired by a jingle the showrunner heard when he first moved from Chicago to Los Angeles.
Cali class for life!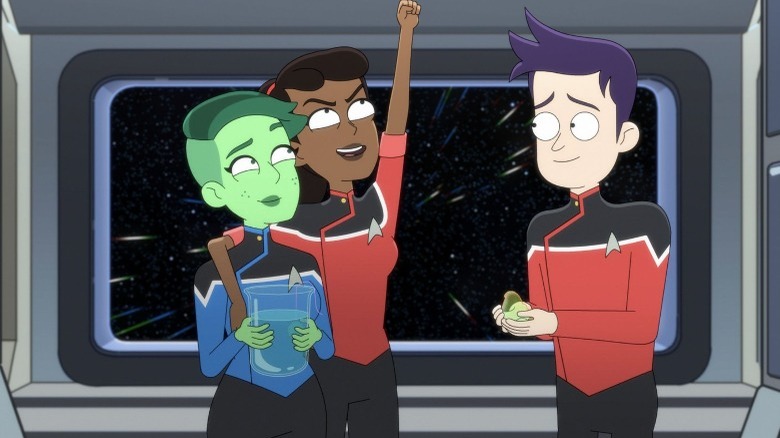 Paramount
"There was a radio ad that would play all the time for a car dealership in the Cerrito auto square," McMahan told Trekyards. McMahan revealed that Cerritos' status on the outskirts LA felt like a good fit for the humble starship where the series is set, and he "decided it would be cool to give a less noble name to a starship, and then expand it from there."
By that measure, it's hard not to personify each ship and wonder whether or not the crew reflects public perceptions of each city and town. Is the U.S.S. Sacramento always overheating? Does the U.S.S. Pacific Palisades have way more resources than the rest of the Cali class? Do people actually board the U.S.S. Fresno, or just travel past it? The jokes pretty much make themselves, but now that we know about all of these ships, it'll be exciting to discover the personalities of each distinct crew as some of them, hopefully, make appearances in the future.
While the extensive California shout-outs may seem like an inconsequential moment, they're a great reminder that, despite being set in space, "Star Trek" has always been rooted in love and respect for the places people call home. Sometimes that's a starfleet ship, sometimes it's far away planet, and sometimes it's a California city that's most-known for its car dealership.