How Jonathan Frakes Set The Stage For Lower Decks' Best Star Trek Cameos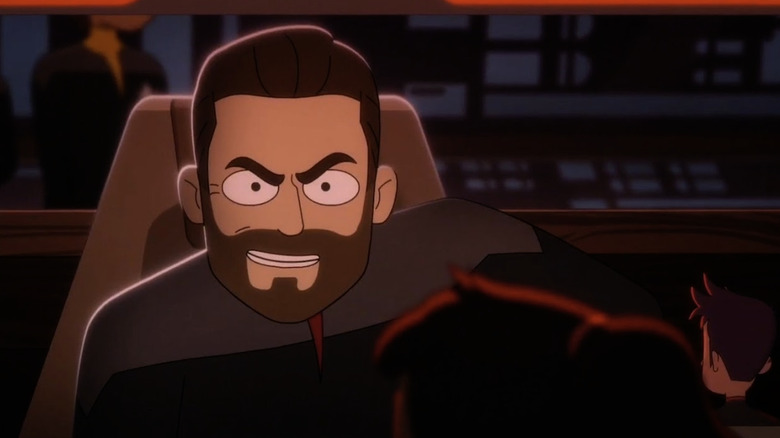 Paramount
"Star Trek: Lower Decks" exists in its own humble, chaotic space in the "Star Trek" canon. As a zany adult animated series, its tone is far different from the rest of the franchise. One would think this would be a detriment to how the show would be perceived, and yes, there are some detractors — but "Lower Decks" has its loyal fans, not just within the fandom but also notably within the legacy cast of the franchise.
Despite its main cast being a wacky group of underdogs, "Lower Decks" has seen an impressive amount of cameos from "Star Trek" alumni, including notable fan favorites like J.G. Hertzler as General Martok, James Cromwell as Zefram Cochrane, and Alice Krige as the Borg Queen. But one of the first and most substantial cameos came in the return of "The Next Generation" alumni Marina Sirtis as Deanna Troi and Jonathan Frakes as William Riker in season 2.
According to "Lower Decks" creator Mike McMahan, Frakes was really the one who opened the floodgates, and helped set the precedent for future cameos.
Jonathan Frakes enthusiasm for Lower Decks opened the floodgates for other cameos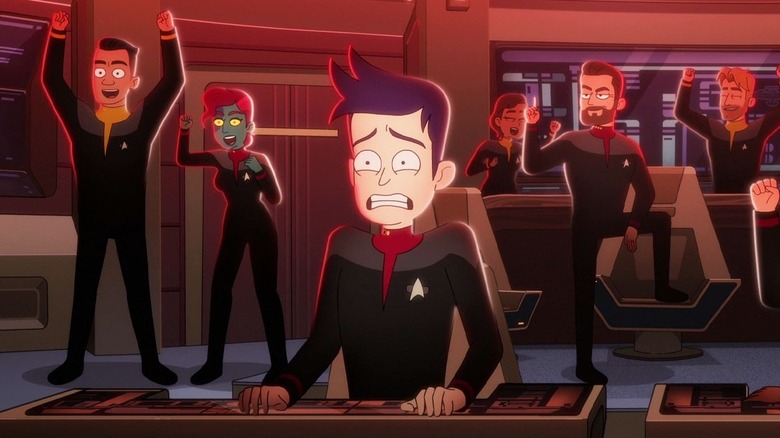 Paramount
In an interview with Fangirlish, McMahan shared his experience with approaching legacy cast members for cameos: 
"So far it's been great! I think because Jonathan Frakes set the tone for the whole thing. I hung out with him before we made the first season in Toronto while I was up there shooting 'The Escape Artist,' the 'Short Trek' that I wrote. And I kind of pitched him 'Lower Decks' and showed him the pitch art before I sold it... He was like, so excited to be on 'Lower Decks.' He came in and was so fun. But he set the tone for all the other legacy actors who then saw his work, saw how much fun it was, saw that they could be those characters and then, get to be them in a way they had never been before."
Frakes is a proud nerd and still very much involved in "Star Trek" to this day, even making time to direct a few episodes of "Star Trek: Picard." It's easy to see why he enthusiastically stepped up to the challenge of revisiting Riker in a new form. In "Lower Decks," Riker has his own ship, the USS Titan, which Jack Quaid's Brad Boimler serves on for a short chunk of season 2. Riker still ultimately functioned as a guest star for those few episodes, but it colored his current whereabouts in the timeline as well as added a new brand new perspective on this character: How a lackey like Boimler would view Riker's sometimes reckless enthusiasm.
A new medium offers interesting challenges for returning Star Trek alumni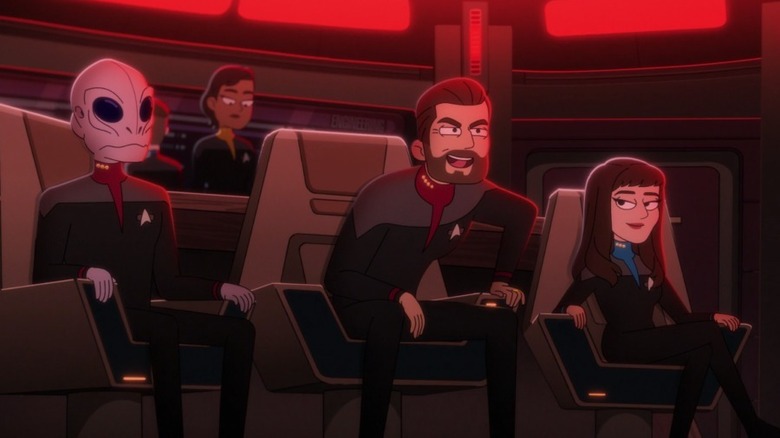 Paramount
This is the hidden treasure of revisiting the same characters in a different medium. In animation, there's room for exaggeration and huge swings of sentimentality, and it ultimately makes the return of iconic "Star Trek" characters feel fresh and exciting instead of tired nostalgia bait.
"It still protects the work that they had done because they love it so much. We kind of went from me having to be like, 'Hey so we have this show. I swear that it's really Star Trek,' to I went to Comic Con this year, I walked into a room and Gates McFadden came running up to me and said, 'I'm such a fan of the show! I'd love to be in it sometime!' Tawny [Newsome] and Gates and I hung out for like half an hour, and I was like, 'Wow! This is amazing! We've been so embraced by everybody!' I never would have predicted it."
It's heartwarming to see so much support for such a black sheep show in the "Star Trek" franchise, and judging by how season 3 is going so far, there's no sign of the cameos slowing down. If you've been in a fandom, you know that enthusiasm is infectious, and Jonathan Frakes' admiration for "Lower Decks" helped validate its little niche in the fictional universe's vast world.