Brooklyn Horror Film Festival 2022 Announces Its First Wave, Presented By Shudder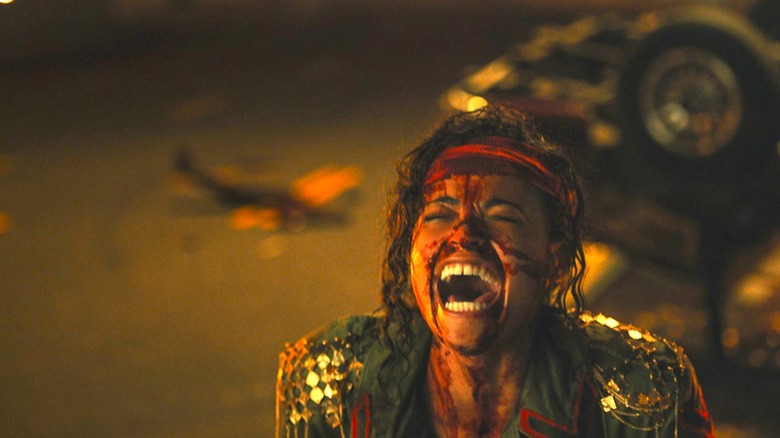 Prime Video
The seventh annual Brooklyn Horror Film Festival is coming soon, and it runs from October 13-20 with screenings held at Nitehawk Cinema Williamsburg and Williamsburg Cinemas. The festival has announced its first wave of titles for 2022, and we've got the complete lineup presented for the first time by your favorite home for horror, Shudder. 
Opening the festival is Irish filmmaker Lorcan Finnegan's film "Nocebo" starring Eva Green, his highly anticipated follow-up after the Imogen Poots and Jesse Eisenberg film "Vivarium." Finnegan is a BHFF alumni after his debut feature "Without Name" swept the 2016 festival, nabbing the awards for Best Feature, Best Director, Best Cinematography, and Best Editing.
BHFF will be the home of the world premieres for four awesome new horror films including the Kyle Gallner ("Dinner in America," "Scream 6," "Jennifer's Body") starring "Mother, May I?," the directorial debut of Laurence Vannicelli known for co-writing the horror comedy "Porno." Christopher Denham took time out of his busy schedule appearing in "Oppenheimer" to crank out his third feature, "Old Flame," which will also debut alongside the anthology "Sinphony," a horror film birthed out of the horror community on the social media app Clubhouse. Rounding out the world premieres is "Summoners," the latest film from Terence Krey ("An Unquiet Grave") starring Christine Nyland, McLean Peterson, and indie horror treasure, Larry Fessenden.
Brooklyn Horror Film Festival 2022 first wave programming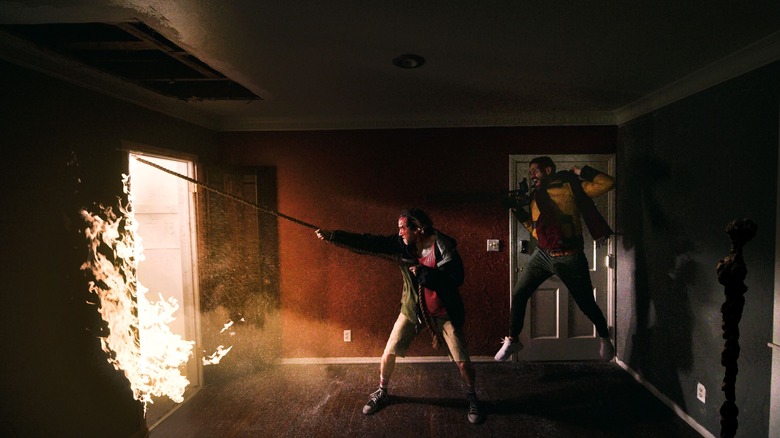 XYZ Films
BHFF 2022 will also showcase Joko Anwar's "Satan's Slaves 2: Communion," Joe Begos' holiday-horror flick "Christmas Bloody Christmas," The COVID-19-inspired "The Harbinger" from Andy Mitton, SXSW hit "Jethica" from director Pete Ohs, Karim Ouelhaj's award-winning "Megalomaniac," the Stephen King documentary "King on Screen" from Daphné Baiwir, the satirical "Sick of Myself" from Kristoffer Borgli, the upcoming Prime Video release "Run Sweetheart Run" with director Shana Feste and lead Ella Balinska in attendance, Shudder's latest addition to the "V/H/S/" franchise, "V/H/S/99," and the genre-bending latest from Justin Benson and Aaron Moorhead, "Something in the Dirt."
This year's festival will also feature a repertory program in collaboration with Grindhouse Releasing, Blue Underground, and AGFA called "The Gates Of Hell And Beyond: A Lucio Fulci Retrospective." The program includes eight of Fulci's most classic titles including a brand new 4K restoration of "The Beyond" featuring a new score from original composer Fabio Frizzi. The screening will be complemented by a special live event from The Miskatonic Institute of Horror Studies, focusing on the life and works of Fulci's career.
Special events also include an episode of the Certified Forgotten podcast hosted by Matt Donato and Matthew Monagle along with a screening of 1993's "Jack Be Nimble" co-presented by Dark Sky Films. The Matts™ will be joined by Caryn Coleman and Ron Magliozzi of "Messaging the Monstrous at MoMA" to discuss the lost New Zealand film starring Alexis Arquette.
From Christmas horror to King on Screen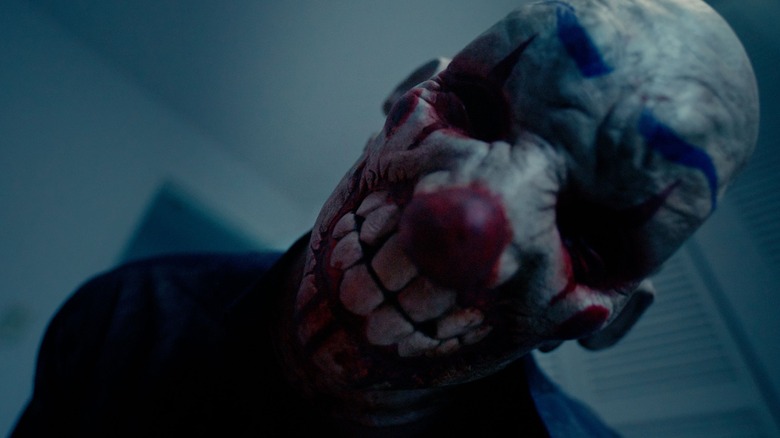 Dark Sky Films
"Christmas Bloody Christmas" East Coast Premiere USA | 2022 | 81 Min. | Dir. Joe Begos
All that record store owner Tori wants to do this Christmas is drink and hook up—simple enough, right? Apparently not, thanks to a decorative, human-sized robotic Santa Claus that's come to life for a nonstop rampage of murder and destruction. Picking up where he left off with his 2019 double bill of "Bliss" and "VFW", modern exploitation maven Joe Begos returns with a relentless and stylish Yuletide adrenaline rush that's part slasher and part ode to '80s techno sci-fi/horror like "The Terminator."
"The Harbinger" East Coast Premiere USA | 2022 | 86 Min. | Dir. Andy Mitton
While quarantining outside the city with her brother and father at the height of COVID, Monique defies their stay-at-home wishes to visit an old friend in Queens who's suffering from nightmares of a plague-mask-clad demon. Before long, the demon latches onto Monique, sending her already-present fears and anxieties about COVID into hyperdrive. Writer-director Andy Mitton ("The Witch in the Window") delivers a haunting and clever look at our traumatic, collective pandemic experience through a supernatural, "Elm Street"-tinged lens. An XYZ Films Release.
"Jethica" New York Premiere USA | 2022 | 70 Min. | Dir. Pete Ohs
An impromptu reunion between old high school friends Jessica and Elena (Callie Hernandez, "Blair Witch") in New Mexico is rudely interrupted by the implausible arrival of Jessica's relentless stalker with a lisp, Kevin (Will Madden, "The Wolf of Snow Hollow"). Super funny yet highly respectful of its serious subject matter, this paranormal comedy/noir thriller-hybrid represents the combined creative efforts of the main cast who helped devise the script as they went along. An exciting example of indie filmmaking ingenuity.
"King on Screen" East Coast Premiere USA/France | 2022 | 105 Min. | Daphné Baiwir
It's no mystery that horror literature icon Stephen King has also been the engine behind some of the genre's most memorable films, from "The Shining," to "Carrie," "Misery," and the recent one-two punch of "IT." In this insightful and engaging documentary, filmmaker Daphné Baiwir sits down with several of the directors behind your favorite King adaptations, including Frank Darabont, Mike Flanagan, and Mick Garris, to examine why the legendary author's works translate so well in visual form.
Dark and twisted features await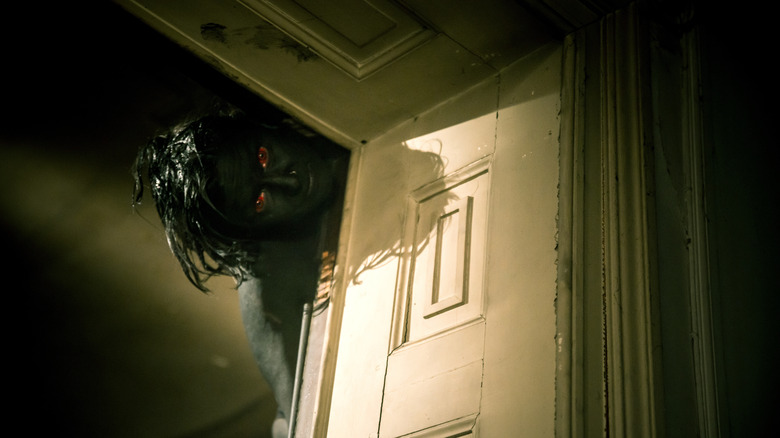 Les Films du Carré
"Megalomaniac" US Premiere Belgium | 2022 | 100 Min. | Dir. Karim Ouelhaj
An uncompromising vision exploring the grimiest recesses of humanity, "Megalomaniac" presents a tale of darkness in its many f***** up forms. With undeniably stunning composition, violence, and performances, Director Karim Ouelhaj shows off his next-level craftsmanship with this toolbox of horrors inspired by the true life and never caught Belgian serial killer, The Butcher of Mons.
"Mother, May I?" World Premiere USA | 2022 | 99 Min. | Dir. Laurence Vannicelli
Emmett (Kyle Gallner, "Jennifer's Body," "Dinner in America") enters into a nightmarish game of therapy with his wife Anya (Holland Roden, "Teen Wolf," "Channel Zero") who has inexplicably taken on the persona of his estranged and recently-deceased mother. Bizarre and creepy in equal doses, this psychological thriller from director Laurence Vannicelli (co-writer/EP of 2019's "Porno") will keep you guessing if this is truly possession or just a twisted battle of wills?
"Mother Superior" International Premiere Austria | 2022 | 71 Min. | Dir. Marie Alice Wolfszahn
Sigrun Fink, an anesthesiologist-in-training, agrees to work as in-home nurse for an aging Baroness in her dilapidated manor. The old woman, once director of an Aryan maternity ward, might be able to help Sigrun locate her real parents—a mystery she's been tormented by her entire life. Although answers quickly begin to reveal themselves, they come at a high price, one of dangerous folk magic and insidious occult ideals. From the incredibly stylish opening credits to the gorgeous gothic imagery and dynamic storytelling, you'd never guess this is director Marie Alice Wolfszahn's first feature. A remarkable debut.
"Old Flame" World Premiere USA | 2022 | 91 Min. | Dir. Christopher Denham
A horrible secret from the past can no longer be contained when two ex-lovers meet up at a college reunion. Tension mounts and slowly builds over a series of conversations told in a theatrical three-act structure before boiling over into violence. Accomplished actor Christopher Denham ("Shutter Island," "Argo"), directing for the first time since 2014's "Preservation," puts truth, memory, and perspective dangerously into question in a compelling and challenging two-character thriller.
"Repulse" North American Premiere Czech Republic | 2022 | 86 Min. | Dir. Emil Křižka
The lives of two families with nothing in common —other than heavy emotional dysfunction — randomly collide and spiral into a web of abduction, filth, terror, and death in this disturbing and unique knockout. With its minimal dialogue and off-kilter lack of narrative chronology, writer-director Emil Křižka's stunning mystery box of a debut upends familiar tropes and horror imagery as it seeps into your mind and leaves its grimy mark. It's the kind of discovery that film festivals are all about.
"Run Sweetheart Run" New York Premiere USA | 2022 | 103 Min. | Dir. Shana Feste
What starts off as a promising client meeting for single mom Cherie devolves into a fight for her life throughout the streets of Los Angeles in writer-director-producer Shana Feste's slick, must-see thriller. Originally launching at the 2020 Sundance Film Festival, this Blumhouse, Prime Video-backed horror film will make its New York debut in Brooklyn. A Prime Video Release.
The return of Joko Anwar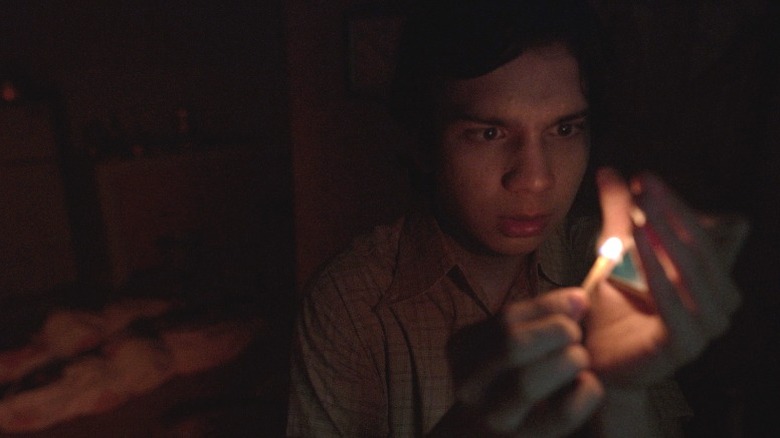 Rapi Films
"Satan's Slaves 2: Communion" North American Premiere Indonesia | 2022 | 119 Min. | Dir. Joko Anwar
In this direct sequel to his terrifying instant classic "Satan's Slaves," director Joko Anwar re-introduces us to the same family now living in a doomed high-rise apartment building. After a night of terrible floods traps them inside, the dead return to terrorize them once again. Anwar continues to build out an exciting mythology with this gory and demented follow-up that is appointment viewing for all fans of the current wave of Indonesian horror.
"Sick of Myself" New York Premiere Norway | 2022 | 97 Min. | Dir. Kristoffer Borgli
Everything in their relationship is a competition for Signe (Kristine Kujath Thorp, "Ninja Baby") and her boyfriend Thomas. When Thomas finds success in the modern art world, Signe scratches for a way to put the spotlight back on herself. She finds her answer in sympathy baiting, ultimately landing on a new pill with a dangerous side-effect. Body horror by trojan horse, "Sick of Myself" sees the fantastic Norwegian actress Kristine Kujath Thorp create a literal attention-seeking monster. A must-see. A Utopia Distribution Release.
"Sinphony" World Premiere USA | 2022 | 88 Min. | Dir. Jason Ragosta, Steven Keller, Haley Bishop, Sebastien Bazile, Nichole Carson, Wes Driver, Kimberley Elizabeth, Michael Galvan, Mark A. Pritchard, Jason Wilkinson
Ghosts, witches, parasites, and more populate the nine segments in this ambitious and uniquely conceived anthology. Born out of the social audio app Clubhouse, "Sinphony" introduces a new crop of horror filmmakers who pack as much energy and unpredictability as possible into their respective shorts, resulting in a lively omnibus that never lets up. A Dark Sky Films Release.
"Something in the Dirt" New York Premiere USA | 2022 | 116 Min. | Dir. Justin Benson, Aaron Moorhead
Two neighbors in a future Los Angeles join forces to record and document an otherworldly phenomenon taking place in one of their apartments. Now major players in the Marvel Universe sandbox, genre film darlings Justin Benson and Aaron Moorhead ("Spring," "The Endless") have returned to their independent sci-fi roots, adding another cosmic mindf*** to their resume. An XYZ Films Release.
"Summoners" World Premiere USA | 2022 | 88 Min. | Dir. Terence Krey
Former witch Jessica Whitman hasn't cast a spell in almost ten years. When her childhood friend Alana Wheeler desperately seeks her help in performing a dark spell, Jessica is plunged back into a world of witchcraft more dangerous and powerful than ever before. Terence Krey and Christine Nyland, the filmmaking team behind 2020's indie gem "An Unquiet Grave," followed their witchy hearts with this deeply humanistic chiller co-starring indie icon Larry Fessenden.
"V/H/S/99" New York Premiere USA | 2022 | 99 Min. | Dir. Maggie Levin, Johannes Roberts, Flying Lotus, Tyler MacIntyre, Vanessa & Joseph Winter
Experience the pandemonium of Y2K all over again with the latest entry in the iconic V/H/S found-footage horror anthology franchise, featuring a collection of the series' most impressive segments to date. With directors Joseph and Vanessa Winter ("Deadstream") hosting an insane New Year's Eve party, Flying Lotus' ("KUSO") gross-out game show, Johannes Roberts' ("47 Meters Down") sorority hazing ritual, Maggie Levin's ("Into the Dark") punk rock terror, and Tyler MacIntyre ("Tragedy Girls") voyeuristic freak-out, "V/H/S/99" is a nostalgic trip through the past laced with '90s rock, spiders, and lots of blood. A Shudder Release.
The Gates of Hell And Beyond: A Lucio Fulci Retrospective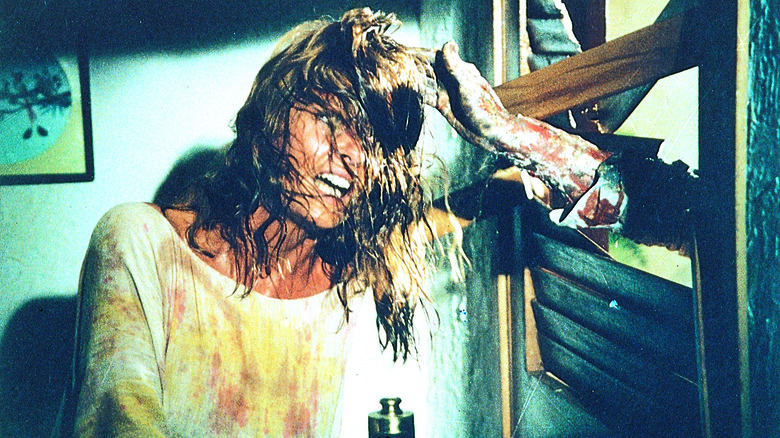 Anchor Bay
The Beyond: Composer's Cut (1981)
The second entry into Fulci's "Gates of Hell" trilogy, this may be the director's true magnum opus, a disorienting and, let's face it, narratively confusing but nevertheless wonderful piece of nasty dream logic horror. An unlucky woman inherits a rundown Louisiana hotel that just so happens to be the doorway to Hell and its zombie masses. For the film's latest edition, original composer Fabio Frizzi has arranged a brand-new score that brings new life to Fulci's undead classic.
A Cat in the Brain (1990)
For one of his last forays into hard-R-rated genre filmmaking, Fulci went full meta, starring as a horror director whose mentally unstable visions of homicide may or may not be evidence that he's moonlighting as a murderous lunatic. Complete with clips from Fulci's earlier films and leveled out by plenty of self-aware black comedy, "A Cat In The Brain" is a delightful, albeit oft-overlooked, bookend to the filmmaker's horror legacy.
City of the Living Dead (1980) | 35mm Screening
The plot of the first in his "Gates of Hell" trilogy is vintage Fulci: A priest opens a portal to Hell that unleashes an endless horde of puss-covered, goo-oozing zombies onto the world, starting in New York City. With its NYC story ties, this H.P. Lovecraft-inspired and hyper-violent gem also exemplifies the filmmaker's ongoing fascination with New York as a hotbed for horror storytelling.
Don't Torture a Duckling (1972)
One of Fulci's earliest forays into corpse-riddled giallo cinema, this brutal serial killer mystery, surrounding a homicidal maniac who targets children through potentially supernatural means, features an unruly and hugely entertaining stew of bloodshed, voodoo, gypsy occultism, and decapitated Donald Duck toys. It's also considered to be Fulci's first wall-to-wall gorefest.
The House by the Cemetery (1981)
The final installment of Fulci's "Gates of Hell" triptych, this waking New-England-set nightmare has everything you'd want from the filmmaker: visually revolting zombies, agonizingly long sequences of pain and suffering, uncomfortable child peril, and, of course, largely incoherent storytelling. Also featuring scenes set in New York City, "The House By The Cemetery" is a venerable cinematic checklist of Fulci's most fascinating predilections.
Manhattan Baby (1982)
Because stories centered around buildings that harbored the undead had become old hat at this stage of Fulci's career, the filmmaker dabbled in even loftier supernatural shenanigans in this underrated slice of gore-laden horror. After an archaeologist opens an Egyptian tomb, his daughter is given a talisman that kick-starts all kinds of otherworldly mayhem that follows them back to their New York City home, where the body count quickly rises.
The New York Ripper (1982)
Fulci's most controversial stalk-and-slash giallo film is also home to one of the strangest story beats in the Italian horror subgenre's colorful history. A detective and a college professor hunt down an eight-fingered serial killer who's offing young Big Apple women in exceedingly perverse ways, but that's not what makes "The New York Ripper" such a bizarre effort. That honor goes to the fact that the killer speaks in a
hilarious Donald Duck voice, quacks and all.
Zombie (1979)
Also known as "Zombi 2," Fulci's living dead opus was originally conceived as a kinda-sorta sequel to George A. Romero's "Dawn Of The Dead," although any narrative connections to Romero's mall-set classic are, well, non-existent. Taking place nowhere near a shopping mall, this gruesome masterwork, punctuated by an amazing Fabio Frizzi score, revolves around a walking dead outbreak on a Caribbean island and features, among other sights, horror's nastiest eyeball gag, an epic "zombie vs. shark" fight scene, and a great Brooklyn Bridge cameo.
The complete programming line-up of features, shorts, repertory programming, and events will be announced in mid-September, so keep your eyes peeled for the full announcement. Festival badges are on sale now so get your passes to the Brooklyn Horror Film Festival by clicking here.