Dispatches From The Overlook Film Festival: Four Horror Films To Look For In 2023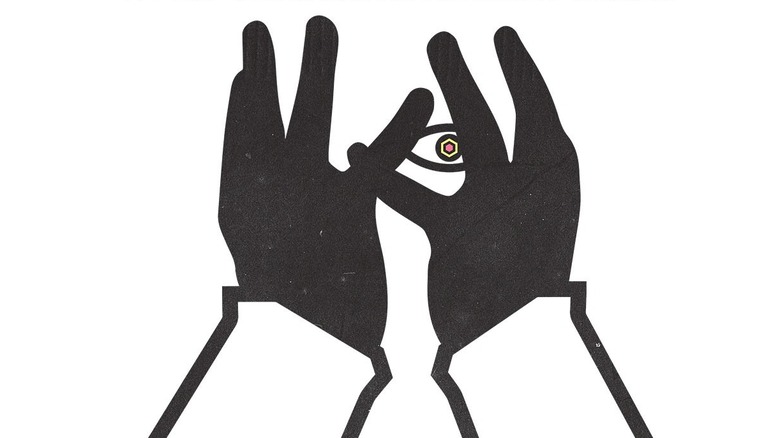 Overlook Film Festival
Each June, fans of things that go bump in the night gather in New Orleans' haunted French Quarter for a four-day film festival. Now in its fifth year of operation, The Overlook Film Festival excels at crafting an intimate space for filmmakers and cinephiles to watch new and classic independent horror films together. The Overlook Film Festival's co-founder Landon Zakheim described the festival best as a place for "like-minded individuals, be they filmmakers, industry people or fans, telling ghost stories around a campfire."
Amongst a lineup of current festival darlings like "Deadstream," 2022's The Overlook Film Festival also included several notable world premieres for horror cinema — "Who Invited Them," "Swallowed," "Shaky Shivers," and "The Summoned." From the comedic terror of a stalker ghost to loving homages of '80s-era monster flicks, here's a list of several unique films to keep an eye out for in the coming year as they search for a new creepy home.
Who Invited Them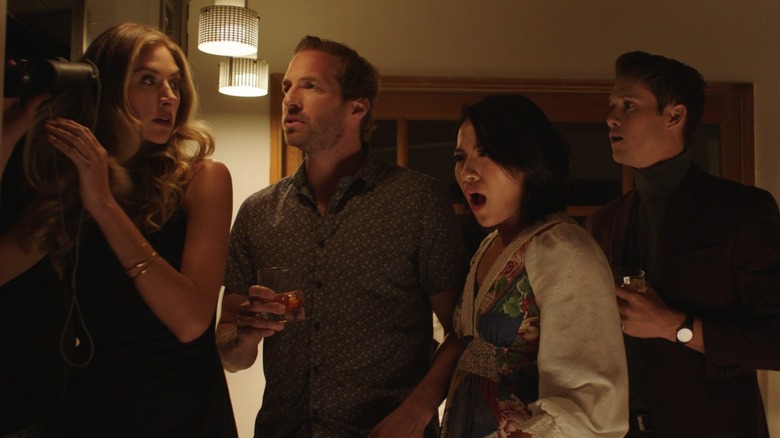 Shudder
Written and directed by Duncan Birmingham, "Who Invited Them" mixes the best cringe-worthy beats of an indie romantic drama with a home invasion thriller. "Who Invited Them" focuses on a young married couple, Adam (Ryan Hansen) and Margo (Melissa Tang), who've just upgraded their suburban lives to live in The Hills of L.A. While Adam aspires to be an elite, Margo struggles with how this move will bring conflicting lifestyle changes into their home. Of course, Margo can't tell Adam this because her feelings emerge on the eve of their stuffy (and snobby) housewarming party. If this sounds a bit too soapy, fear not! Enter Tom (Timothy Granaderos) and Sasha (Perry Mattfeld): a stylish couple who soon manipulate the shaky couple into revealing their deep-seated resentments for one another.
If you approach this film anticipating more psychological stabs than gore, you'll have a bloody good time. Mattfeld's sinister smiles and pitch-perfect timing are a particular highlight of the film, making the "In the Dark" star one to root for in future horror roles. Ahead of the film's premiere at The Overlook Film Festival, Shudder acquired its streaming rights. "Who Invited Them" is slated to arrive on the streaming platform sometime in 2023. 
Jethica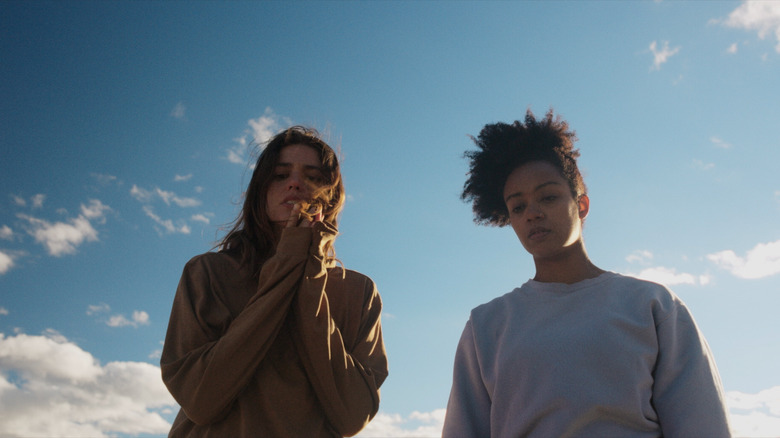 Visit Films
Debuting at 2022's SXSW film festival, "Jethica" gains a second life at this year's Overlook Film Festival. Written and directed by Pete Ohs, the 70-minute deadpan horror-comedy brings an inventive tale that thoughtfully explores our need for human connection. "Jethica" follows two friends, Elena (Callie Hernandez) and Jessica (Ashley Denise Robinson), who've drifted apart. However, a surprise visit from Jessica's stalker ends up pushing these two women together to find their own paths towards healing and survival.
Ohs' work is a moody slow-burn, taking its time to wander across gorgeous visuals of New Mexico's landscape as its minimal cast carefully unveils their dark secrets. What works best about "Jethica" is that its horrors are rooted in real-world concerns — dangers of toxic masculinity, denial, existential dread — while having fun with its supernatural touches. By the time the film ends, it's easy to be charmed by its eerie and melancholy ghost story. 
Impressively shot on a budget under $10,000, Visit Films' "Jethica" is still searching for distribution. Since its March 2022 debut, "Jethica" has earned a 95 percent critic score on Rotten Tomatoes.
Mona Lisa and the Blood Moon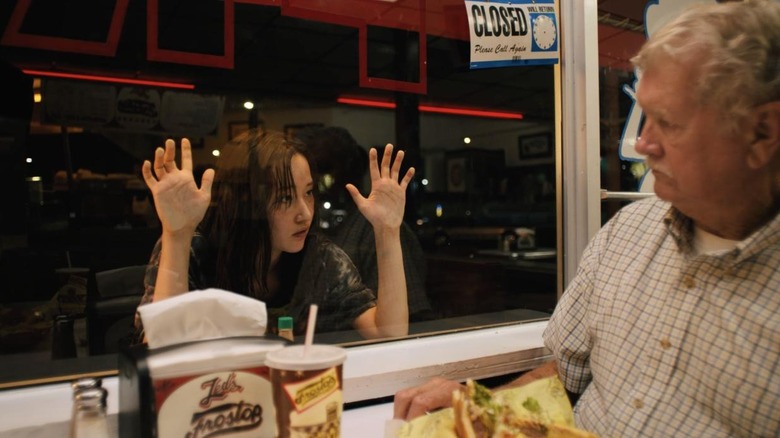 Saban Films
It's been almost a decade since Ana Lily Amirpour's feature film debut "A Girl Walks Alone Home at Night" won over the hearts of horror fans with its inventive blend of a vengeful vampire tale turned Spaghetti Western, cementing Amipour's status as a horror director to watch. Horror fans hungry for more of Amipour's genre-blending talents will find a lot to love in her third feature film, "Mona Lisa and the Blood Moon," a fantastical neon-lit adventure. 
Making its North American premiere at 2022's Overlook Film Festival, Amipour's latest feature follows a superpowered mental asylum escapee named Mona Lee (Jeon Jong-seo) fleeing the cops in the streets of New Orleans — namely Craig Robinson's Officer Harold. Her unique power ends up enfolding her into a con with an exotic dancer named Bonnie (Kate Hudson). Although horror critics have been divided over whether or not the central story of "Mona Lisa and the Blood Moon" is "flimsy," Amipour's feature deserves a watch for its beautiful visuals, fresh premise, and Jeon Jong-seo's impressive acting range. Horror fans who delight in watching the psychological toll that Mille Bobby Brown's Eleven goes through in "Stranger Things" will find it hard to look away from Mona Lee's wily journey. 
In March 2022, Saban Films purchased the distribution rights to "Mona Lisa and the Blood Moon." Amirpour's film is expected to be released theatrically sometime in the coming year.
Shaky Shivers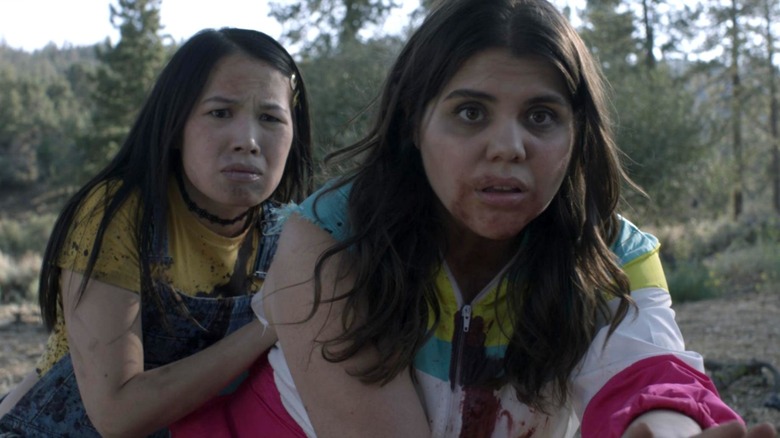 Overlook Film Festival
While some horror fans are tired of '80s nostalgia, others still flock to Stephen King-homaging properties like "Stranger Things." If you fall into the latter camp, buckle in for Sung Kang's directorial debut, "Shaky Shivers." The 2022 horror-comedy delivers a bonkers monster battle that's well-aware of the films it's alluding to throughout its tight runtime. "'80s horror films were a big part of my childhood," Kang posted on his Instagram ahead of the film's world premiere at 2022's Overlook Film Festival. "But so were comedies that made us laugh. 'Shaky Shivers' is my feature directing debut that is an homage to a particular era." 
"Shaky Shivers" follows two friends, Lucy (Brooke Markham) and Karen (VyVy Nguyen), who travel to the woods with a book of magical spells. Luci and Karen think this book will save them from a curse. Of course, things take a Darkhold-like turn fairly quickly. Fans of "Evil Dead 2" and "Return of the Living Dead" will rejoice at Kang's playfully bloody scenes filled with charm, werewolves, and zombies. In the best possible way, "Shaky Shivers" feels like a cousin to Steven Kostanski's "Psycho Goreman" for how it delights in showcasing a range of creatures. Horror fans lamenting this era's lack of movie monsters will have a blast with Kang's debut. At the time of this writing, Kang's "Shaky Shivers" has yet to find a distributor.