How Stranger Things Changed Millie Bobby Brown Forever
Netflix
Since its 2016 debut, "Stranger Things" has dominated pop culture. The massively popular sci-fi series just debuted seven episodes of its ambitious fourth season on Netflix, with two more still to come. Just six years ago, before Eggo waffles were costume props, unsuspecting audiences didn't know the Upside Down from their elbows.
"Stranger Things" was one of the streamer's first massive original hits, with fans worldwide eating up this supernatural story that felt like a Stephen Spielberg classic for a new generation. With its reportedly blockbuster-sized budgets and crowd-pleasing penchant for '80s nostalgia, "Stranger Things" has continued to grow each season, and has undoubtedly changed the pop cultural landscape. But it's also changed its young stars, many of who began the series as kids and are now driving and going to college.
Few "Stranger Things" stars were immediately launched into the spotlight like Millie Bobby Brown. The eighteen-year-old actor took on the role of superpowered runaway test subject Eleven, also known as Jane, when she was just twelve. Her memorable turn as the angry, emotionally wounded young girl who joins the teen world of Hawkins, Indiana has earned her two Emmy nominations to date. The actor is excellent in the series, whether she's learning about simple concepts like the term "friend" or dealing with the complex trauma of her past.
Brown often calls the role "life-changing," and says that its impact on her life became clear immediately after the show's first season premiere. "The premiere was kind of crazy," she told W Magazine in 2017, saying:
"Everybody was like, 'The show is really good' and I was like, 'Okay,' like I don't know what you're talking about, this is just a little show in Atlanta, Georgia. And then three days later my whole life changed."
Actor, producer, ambassador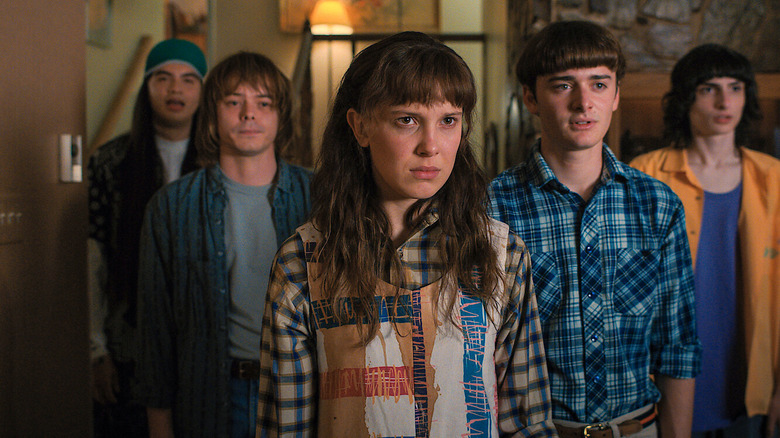 Netflix
Although living in the spotlight means Brown's social media posts, style, and personal life are constantly scrutinized, the actor has still managed to tune out the noise and take on plenty of projects that are meaningful to her. In 2020, she starred in Netflix's "Enola Holmes," a film based on a book series by Nancy Springer. "Enola Holmes" follows the precocious younger sister of famed detective Sherlock Holmes as she looks for her missing mother and uncovers more mysteries along the way. A teenaged Brown not only starred in the project, but produced the film, bringing the adaptation idea to Legendary Pictures with her dad's help.
While Brown has taken roles in other projects, including two "Godzilla" films and the upcoming "Enola Holmes" sequel, the massive success of "Stranger Things" has also afforded her plenty of interesting off-screen opportunities. In 2019, Brown launched her own vegan beauty product line, called "Florence By Mills." She's also been appointed a UNICEF Goodwill Ambassador, and is the youngest person to ever take on the role. In an interview with Netflix Queue, the actor spoke about her work with UNICEF, saying:
"It hurts my heart knowing that there are children out there, there are young people out there, that can't do what they love — or that can't get nutrition or get shelter or just be warm and have their family around them. And I'm so grateful to have that myself. Being awarded the youngest-ever Goodwill ambassador is one of the best achievements I'll ever have in my life. Every day, I'm very thankful for that."
The power of a haircut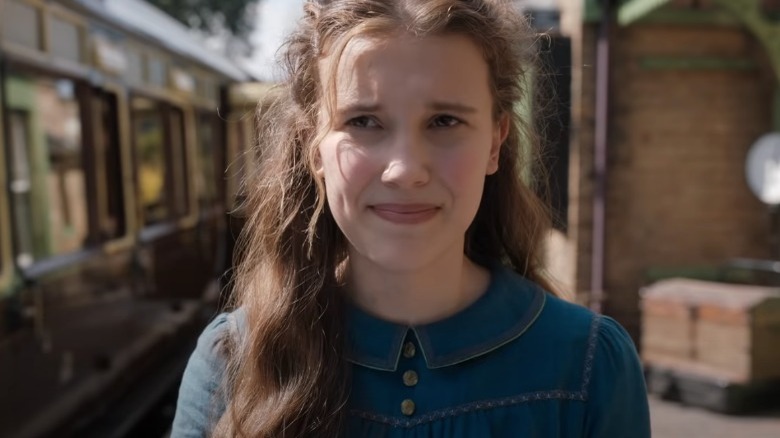 Netflix
Though "Stranger Things" undoubtedly changed Brown's life in a lot of ways, there's one change in particular that resonated with the actor from day one: her hair. To play the character of Eleven, Brown had to shave her head, an experience that she says was eye-opening and empowering. In a Twitter post in 2018, the actor remembered the transformation, saying that shaving her head "was the most empowering moment of my whole life." The actor continued, saying, "The last strand of hair cut off was the moment my whole face was on show and I couldn't hide behind my hair like I used to."
The actor told W Magazine that she relished having a shaved head, especially the joy of feeling the rain, but also admitted that strangers laughed at her or thought she was sick. Still, it sounds like Brown wouldn't trade that experience for anything in the world. "In the end," she told W Magazine, "being bald was the best thing I ever did — being different changed my life."
The life-changing roller coaster ride that is "Stranger Things" isn't quite over yet. The show will debut the last two episodes of its fourth season on July 1, 2022, before the fifth season wraps up the Netflix series for good.