Year Of The Vampire: A Girl Walks Home Alone At Night Is A Beautiful And Genre-Bending Bad Dream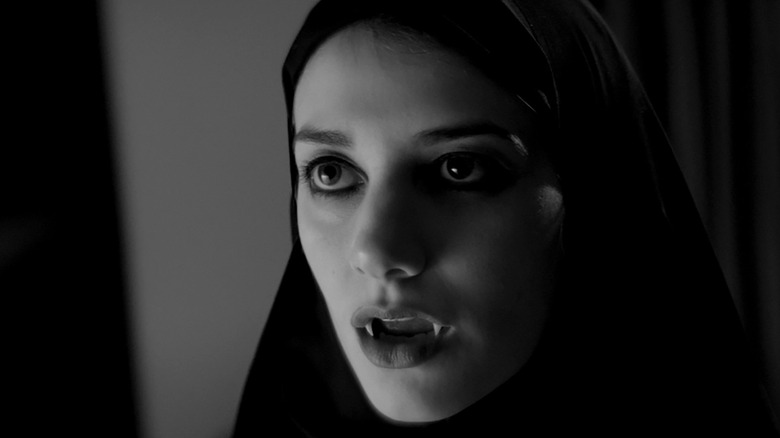 Kino International
(Welcome to Year of the Vampire, a series examining the greatest, strangest, and sometimes overlooked vampire movies of all time in honor of "Nosferatu," which turns 100 this year.)
There is no other movie on this planet quite like "A Girl Walks Home Alone at Night." The feature directorial debut of Ana Lily Amirpour is a Persian-language Spaghetti Western about a skateboarding vigilante vampire who wears a chādor and finds love with a broken but hardworking young mortal man. It's shot in black and white, has a post-punk soundtrack, and is simply a singular thing, a film that sinks its fangs into its viewers as surely as The Girl (Sheila Vand) sinks hers into her often-deserving victims. 
Vampires have captured my imagination since I was a child reading Jerry Piasecki's "Teacher Vic was a Vampire... Retired" and James and Deborah Howe's "Bunnicula," so by adulthood, I thought I had seen it all. "A Girl Walks Home Alone at Night" debuted in 2014 and showed me (and many other vampire fans) that there were still brand new stories to be told within the genre. Amirpour's debut is effortlessly cool, with a feminist heroine who doesn't fall victim to stereotypes, and a love interest worth fighting for. The fictional ghost town of "Bad City" in contemporary Iran could really be any forgotten town on the outskirts of a metropolis. Though the story is so deeply specific, its themes are universal, and it's almost impossible not to get sucked into this rich, deeply metaphorical tale. 
What it brought to the genre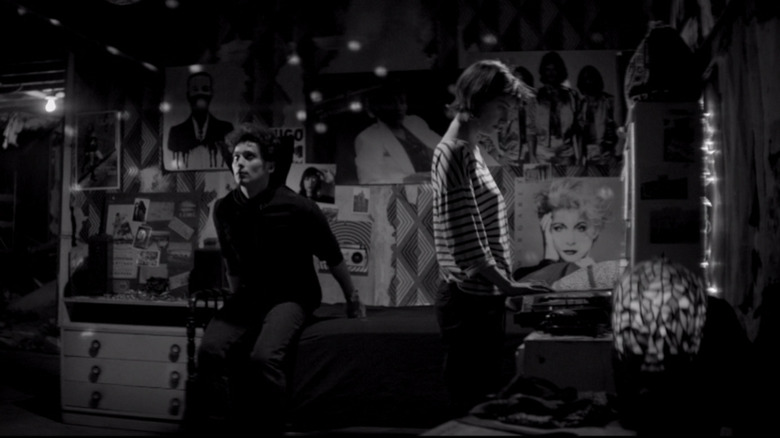 Kino International
First, the absolute genius of substituting a chādor for a cape cannot go undeclared: watching The Girl glide along the city streets on a skateboard while her veil billows in the wind makes for vampiric visual ecstasy. The Girl is a feminist vigilante, hunting men who hurt women and serving as a bloodsucking judge, jury, and executioner. She's a loner, silently stalking the streets at night, but a chance encounter with a young man named Arash (Arash Marandi) gives her hope for a less lonely future. At its core, "A Girl Walks Home Alone at Night" is a love story, but even in that vein, it is unconventional. Their meet-cute takes place beneath a streetlight after Arash takes some ecstasy at a costume party and gets lost, dressed as Dracula. She finds most men distasteful but is surprised by his sweetness, and takes him back to her apartment instead. Their romance is chaste but still tangible as he falls in love with her passion and rage and she falls in love with his innocence. 
The best vampire stories are ones that help us process some difficult part of human nature. "A Girl Walks Home Alone at Night" provides an unflinching look at society's cast-outs and the ways the patriarchy hurts the most vulnerable. In another genre The Girl is a superhero, punishing the most wicked of men for their crimes against women. Her first onscreen victim is a vicious, drug-dealing pimp named Saeed (Dominic Rains), and it's hard not to root for her. When she meets Arash, however, the viewer's desires to see her continue her streak of vengeance become mixed with concern for an innocent. Arash doesn't deserve to die just for being a man, and thankfully, The Girl isn't without nuance, so she understands that. One of the many brilliant things about "A Girl Walks Home Alone at Night" is that none of this is explicitly explained, and like the Spaghetti Westerns that inspired it, there really isn't all that much dialogue. It's a deeply nuanced story full of metaphor and dissections of greater themes, but it's also deceptively simple to the point of feeling almost like a fable. 
Breaking conventions of genre and gender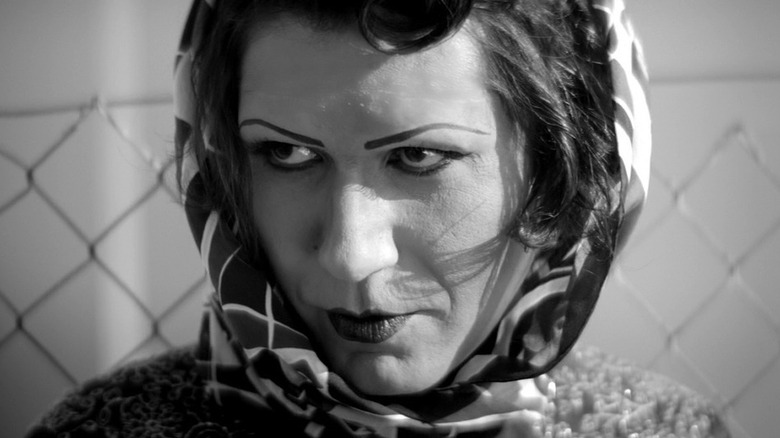 Kino International
"A Girl Walks Home Alone at Night" is all about challenging our long-held beliefs about things, particularly with regards to gender. Just as the film itself mixes classic horror tropes with spaghetti westerns to create something totally new, Amirpour's characters defy gender conventions at every turn. Our main male hero is soft and sweet; an empathetic soul just trying to care for his heroin-addicted father, while our heroine is a cold, distanced killer. She wears a chādor by choice, as we see other women wearing less formal headscarves, or nothing on their hair at all, flying in the face of some American feminists who can only (wrongly) see these garments as signs of oppression. One tertiary character, a transgender sex worker named Rockabilly (Reza Sixo Safai), breaks any remaining American stereotypes about Iranian culture and provides an LGBTQ perspective to the film's gender battles as well. 
I've seen "A Girl Walks Home Alone at Night" a half dozen times, and each time I find something new to love. It's a richly layered, timeless film that can be as simple as a blooming romance in a forgotten town or so, so much more. Everyone should see this film at least once, regardless of their feelings on vampire cinema. It's that important, and that stinking good. Anyone with a public library card or student ID can watch the film for free on Kanopy, and it's currently streaming on Shudder, so skate on over and check out this modern masterpiece.