The Harbinger Review: Sets The Bar For Covid Pandemic Horror [Fantasia]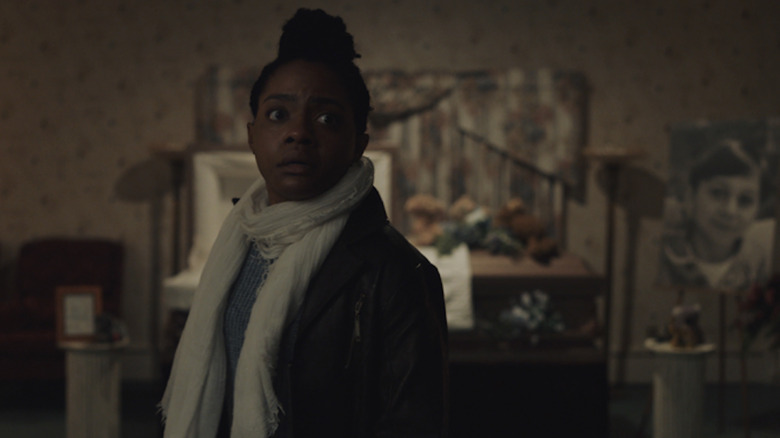 Fantasia Film Festival
Thanks to "The Harbinger," I get to ride the Andy Mitton hype train out of Fantasia Festival station a second time — 2018's "The Witch in the Window" was a Donato-approved Fantasia favorite. This time, Mitton proves that COVID-19 horror films don't have to be exploitative or the cheaply manipulative drek filmmakers have already rushed to market. I'm not talking about non-pandemic flicks shaped by COVID-19 production guidelines — more "Safer at Home" or "Songbird," which chose to highlight COVID-19 quarantines as a characteristic backdrop. "The Harbinger" blends its demonic assessment of simply vanishing from the Earth with the still omnipresent pandemic in a way that gives hope for the oncoming onslaught of COVID-19 horror cinema yet to avalanche.
It's inevitable. Horror mirrors society. Themes parallel reality. We all spent months — years — locked inside. Maybe we will again someday. "The Harbinger" is an important beacon that showcases how filmmakers can address the ongoing pandemic and still deliver what's considered an unobstructed bone-chilling horror tale.
Mitton (as writer, director, editor, and composer) focuses on bubble-girl Monique (Gabby Beans), living the early lockdown days with her father (Raymond Anthony Thomas) and brother Lyle (Myles Walker). They mask responsibly, stay isolated in their rural homestead, and disinfect groceries as a well-oiled unit. Then "Mo" gets a call from a friend in need. Mavis (Emily Davis) asks Mo to stay a few nights in Queens because something is very wrong, and Mo cannot refuse — Mavis once talked Mo out of the darkest depression of her life, and Mo owes the favor back. Mo risks everything — Lyle and pops protest appropriately — by traveling into a COVID-19 hotbed like New York City, where she discovers that Mavis' worrisome sleeping patterns and days-long dreams may be the doing of a far more harmful entity than the raging virus.
Mitton's introduction of his Harbinger character is a mix between twisted Sandman and actual plague doctor. His demon feeds on vulnerability and anxieties rampant when all we had was four walls and mixed messages, which is a brilliant environment for supernatural horror cinema. Mavis is trapped in her Queens apartment, unable to differentiate between days — weeks — spent staring at the same walls. It's scary enough that ghoulish Karens ignore mask mandates, and Mavis can hear children coughing in neighboring units to represent a nagging COVID-19 specter. Now she's being tormented in her dreams — our only escape in those purgatorial days. "The Harbinger" feasts on our discomforts and uses the pandemic as fuel for a much more terrifying story of an entity that preys upon unconscious states, locking characters within his imaginarium of devilish torments.
Pandemic phobias and haunted house horrors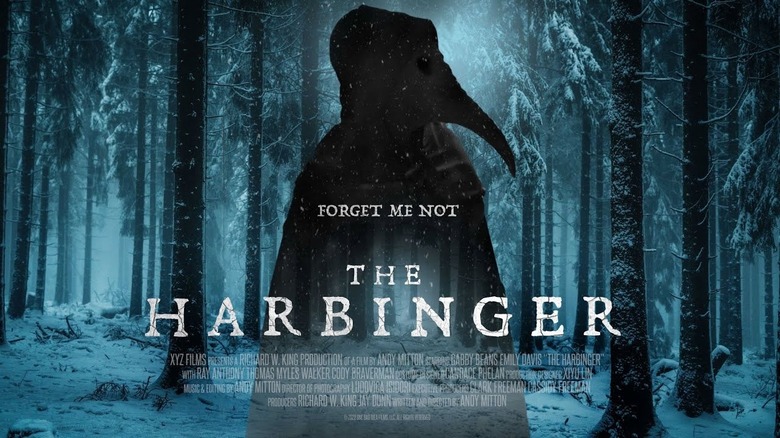 Fantasia Film Festival
Outside the ever-present horror, performers — primarily out-of-work New York theatre actors due to shutdown protocols — do well to bring us back to the awkwardness and little comforts of COVID-19's clutches. Mo and Mavis purify burrito wrappers and swell with tears when hugging another person outside their quarantine circle for the first time in months. There's as much care put into inspiring hope for the future and enamoring over the lives we can once again (somewhat) live versus the pandemic "horrors" when timelines were nonexistent. "The Harbinger" is responsible, sometimes even warm, with its COVID-19 framing — where it's never disingenuous traumatic profiteering. Mitton's intentions in using an earlier pandemic landscape are treated with care, only as a means to allow a nastier villain into the picture.
As hopeful "The Harbinger" can be, its dreariest elements deal in paralyzing hopelessness. Mitton isn't punching us with easy jump scares on repeat. They exist, and they're despicably placed (in a good way) — but the horrors of isolation and internal breakdowns unsettle equally. Mavis' description of being trapped in her dreams, feeling the punishment and pain of jumping from a cliff (for example), hits as chilly-creepy dialogue. Even worse is when she awakens in a frantic bout of screeches, bleeding like she's just woken from a brawl with Freddy Krueger. Then the Harbinger himself appears and starts using his long-beaked, shadily cloaked outline to provide this uber-chilling figure to fear, and it's a diabolical outbreak cocktail. The film pairs pandemic phobias with haunted house thrills and psychological unrest in ways that are a winning trifecta — it's not just about the pandemic, and that's why it's effective horror conceptualization.
"The Harbinger" is observant, relatable, scare-ya-silly horror. Andy Mitton uses ominous imagery, sorrowful atmospheres, reliable templates, and resonating paranoias to so effortlessly hit upon those feelings we all felt under lockdown: insignificance, loneliness, and worst of all, our social disappearance. Gabby Beans and Emily Davis manifest strong chemistry bonds and genuine empathy as dreamland explorers trying to parse the Harbinger's cruel tricks from bleaker realities. "The Harbinger" is steadily ruthless in its thematic explorations and comes together with generous drizzles of dread before the gut-punch finale adds a rotten cherry on top. I hope this puts Mr. Mitton's name in more horror-centric conversations because he's quietly amassing quite the resume of genre winners — "The Harbinger" deserves the loudest praise.
/Film Rating: 8.5 out of 10