12 Movies Like Vivarium That Are Definitely Worth Watching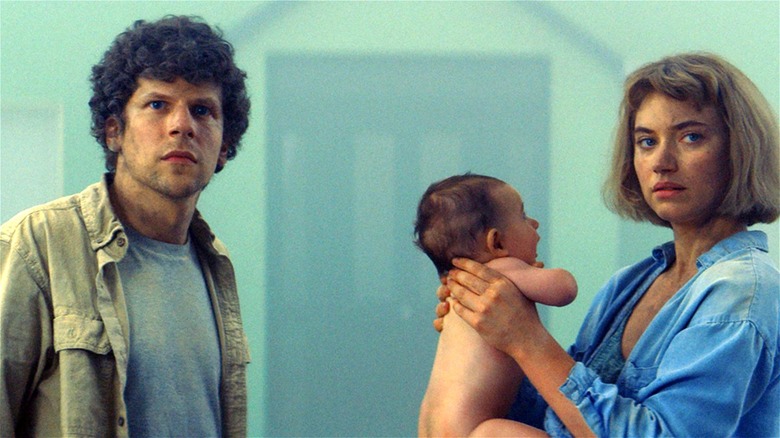 Vertigo Films
Lorcan Finnegan's "Vivarium" is a trippy, frightening, disorienting sci-fi film anchored by Imogen Poots and Jesse Eisenberg's stellar performances as Gemma and Tom, respectively. Gemma is a schoolteacher, and Tom is a handyman. "Vivarium" begins with the couple visiting a local real estate office to buy an affordable house. The agent takes them to Yonder, a new development housing complex made up of identical homes. Within moments of seeing unit nine, the agent disappears. Gemma and Tom try to leave. But no matter where they go or what they do, they end up back at unit nine.
Containing elements of every science fiction subgenre under the sun — including body horror, alien invasion, and time loops — "Vivarium" might appear to be a hodgepodge of better films. However, its distinct visual style and frightening exploitation of ennui elevate it. With a dynamite Imogen Poots, "Vivarium" engages audiences with its existential questions and ending. Here are 12 movies that twist and rattle the mind as effectively as "Vivarium" did.
The Stepford Wives (1975)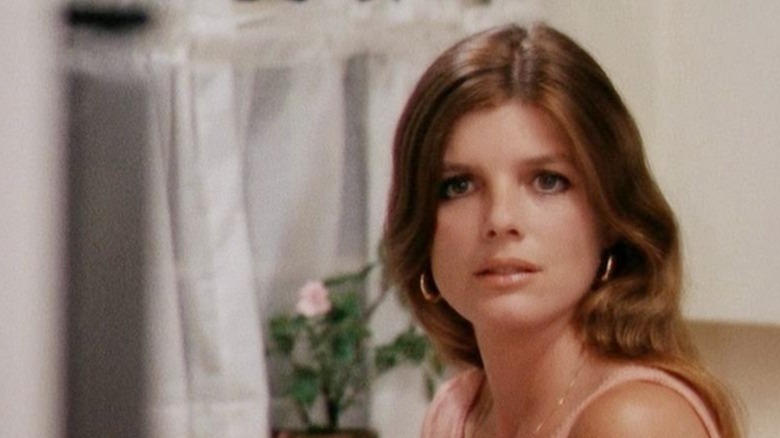 Columbia Pictures
Based on its trailer, Olivia Wilde's "Don't Worry Darling" looks to be a Florence Pugh-starring version of 1975's "The Stepford Wives." In truth, there's no topping the original film. "The Graduate" star Katharine Ross portrays Joanna Eberhart, a young photographer who moves with her husband from Manhattan to Stepford, Connecticut. However, the women in Stepford aren't quite right. Joanna finds them strangely subservient to their husbands and disturbingly manicured. Everyone looks flawless all the time. Things spiral after her husband Walter (Peter Masterson) joins a strange Men's Association, leaving Joanna to unravel the mystery of Stepford.
Like "Vivarium," "The Stepford Wives" dissects the suburbs and its penchant for stripping away individuals' identities. While it leans more into feminist themes than "Vivarium," both are searing portraits of suburbia, motherhood, and the role of the nuclear family system. Throughout "Vivarium," Poots channels Ross, echoing the same resistance to conformist suburban horrors in a dynamite performance.
Blue Velvet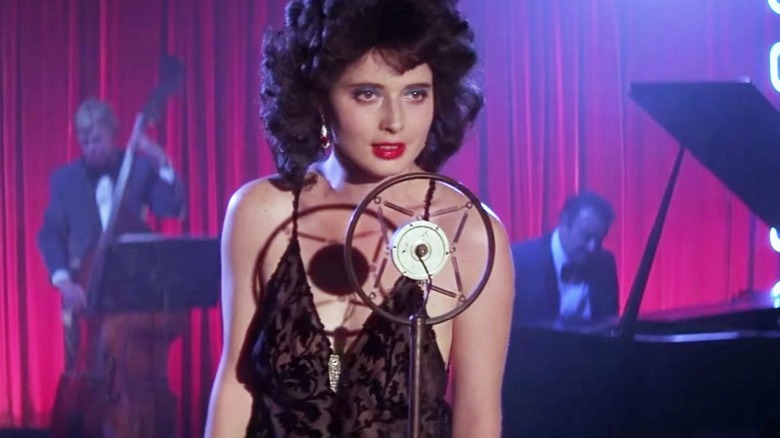 De Laurentiis Entertainment Group
David Lynch's "Blue Velvet" might be his most accomplished work. Or it might be "Mulholland Drive." Or, better yet, it might be "Lost Highway." In truth, it's probably "Eraserhead." Lynch is a modern Kafka, tapping into existential ennui and exploring the horrors within that realm. In "Blue Velvet," the suburbs are a mysterious and dangerous place. Kyle MacLachlan stars as a college student named Jeffrey Beaumont. Upon returning home to Lumberton, North Carolina, he finds a severed human ear in a vacant lot. From there, he teams up with Laura Dern's Sandy, daughter of a police detective, to investigate the ear and all the rotten things hidden beneath the façade of small town Americana. 
Trippy, unusual, and, at times, baffling, "Blue Velvet" works on the same weird wavelength as "Vivarium." Where "The Stepford Wives" at least endeavored for a veneer of normalcy, "Blue Velvet" goes full-throttle, getting very weird very quickly. Still, it's one of Lynch's more accessible works, making it the perfect unusual suburban horror cocktail to serve alongside "Vivarium."
The Platform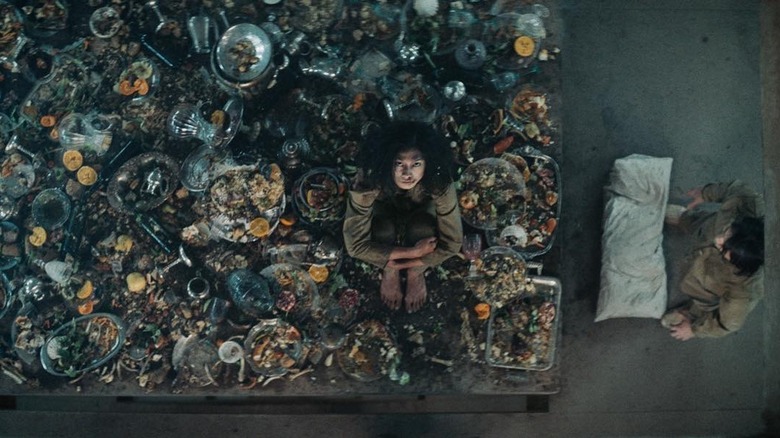 Netflix
Galder Gaztelu-Urrutia's dystopian horror film "The Platform" (titled "El Hoyo" for its Spanish release) isn't for the faint of heart. Rendering its central metaphor with the same ooey-gooey perversity as "Vivarium," Gaztelu-Urrutia envisions the worst possible class divide. At the Vertical Self-Management Center, residents live on concrete slabs, switching every month between different floors. A fixed platform with a buffet of food travels between them. Those at the top of the slabs have infinite food access. Those living on the lower slabs are resigned to whatever remains leftover.
There are a lot of visceral gnawing and mashing scenes in the film. As a result, "The Platform" isn't going to work for more casual audiences of science fiction. However, it definitely belongs to the same social-class-focused sci-fi subgenre as "Vivarium." Audiences who can handle it are in for a sparse, wickedly subversive, and bleak treat. At times, "The Platform" is a bit too conspicuous. But its perversion ultimately accomplishes what the film's central metaphor sets out to do.
Invasion of the Body Snatchers (1978)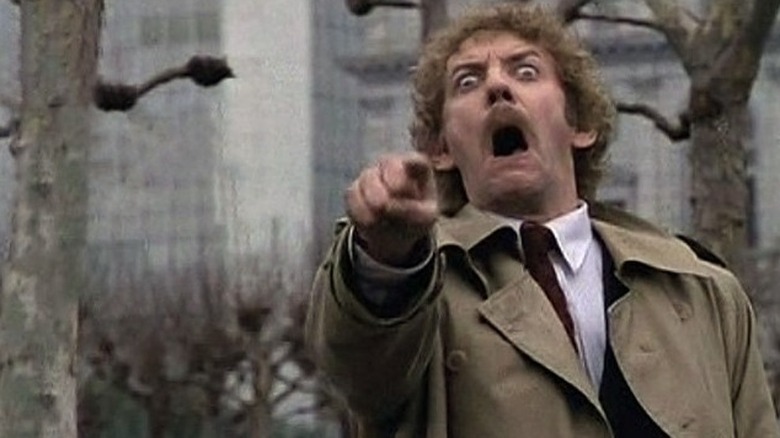 United Artists
"Vivarium" is all about the horrors of conformity. All of the homes in Yonder look the same. The housing layout, its crisp lawns, and even the clouds in the bright, blue sky are defiant in their stations. Philip Kaufman's "Invasion of the Body Snatchers," adapted from Jack Finney's novel "The Body Snatchers," imagines the worst kind of compulsory conformity. Aliens arrive from outer space in the form of small pods with pink flowers. Day after day, they replicate humans, turning their bodies to ash while taking their forms as lifeless mimics.
It's a frightening concept and one that renders Kaufman's adaptation of the 1956 original film one of the scariest movies ever made. Unconsented conformity, whether urban or suburban, is frightening to consider. The film's invasion doesn't happen overnight, slowing building with Emmerich-Esque spectacle. The aliens are methodical, menacingly creeping into everyday life. In other words, it's no different than Yonder's suburban life, which isn't as picture-perfect as it appears.
Poltergeist (1982)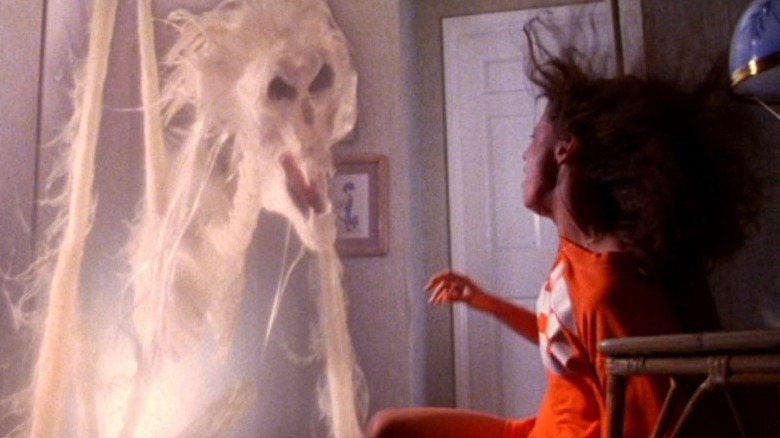 MGM
Suburbs in horror aren't only frightening because of robotic wives, severed ears, or temporal loops keeping unsuspecting residents trapped. Unfortunately, the suburbs also have ghosts sometimes. In Tobe Hooper's "Poltergeist," (yes, it is a Hooper-directed film, not a Stephen Spielberg film) the Freeling family finds themselves assailed by poltergeist activity. Cuesta Verde, a planned community, was unfortunately built atop a cemetery. Rather than move the bodies, the housing developers simply moved the headstones, leaving the accursed bodies of the deceased behind to terrorize happy-go-lucky suburbanites.
At the time of its release, the special effects in "Poltergeist" were groundbreaking. But the biggest accomplishment of Hooper's film was bringing the haunted house ethos to the suburbs. Specters, ghouls, and goblins were no less credible in their scare factor in a planned suburban community than in a gothic mansion. Like "Vivarium," "Poltergeist" is further proof that nothing good ever comes from suburban housing.
Scream (1996)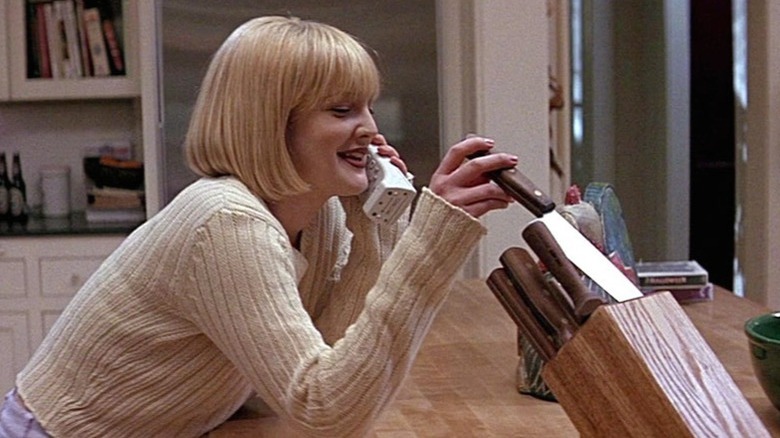 Dimension Films
Speaking of horrors in the suburbs, "Scream" doubled down on its "Blue Velvet"-like approach with its story of a masked serial killer terrorizing the small community of Woodsboro, California. On the surface, "Scream" (and its inimitable franchise) might not seem to have much in common with the sci-fi-tinged "Vivarium." But they share more DNA than audiences might think.
Chief among these elements is the focus on the film's enduring myopic perspective of its residential protagonists. While Imogen Poots' Gemma and Neve Campbell's Sidney are well-aware of the threat posed, everyone else seems blithely okay with the unfurling horror. After all, the "Scream" franchise has set two sequels in Woodsboro — each complete with a new bloody massacre. Sidney and Gemma would make an excellent pairing. It's easy to imagine the two of them skulking around the suburbs, taking charge while incredulously wondering aloud why no one else seems quite as shaken by the events as they are.
Fright Night (2011)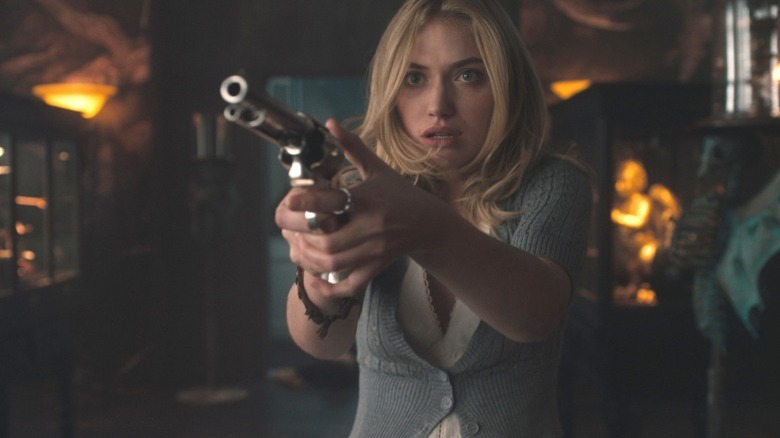 Disney
Imogen Poots is something akin to a scream queen. With starring roles in 2019's "Black Christmas," "Green Room," and "28 Weeks Later," among others, she has solidified her horror filmography. Additionally, Poots starred alongside the late Anton Yelchin in Craig Gillespie's "Fright Night" remake — a movie now curiously owned by Disney after their 21st Century Fox acquisition. In "Fright Night," Yelchin's Charley Brewster lives in a Nevada suburb with his mom, Jane (Toni Collette). Soon he begins to suspect that their heartthrob neighbor Jerry Dandrige (Colin Farrell) is a vampire, feasting on local teens and parents.
With the help of Poots' Amy, the two endeavor to stop Jerry for good — even enlisting the assistance of David Tennant's vampire expert Peter Vincent. It's a hoot of a movie, aptly balancing scares and humor. Like "Vivarium," it shows Poots grappling with the toxicity of suburban America. Whether it's because of vampires or Jesse Eisenberg's Tom, the suburbs aren't a safe place for Poots' characters. "Fright Night" uses its horror as a metaphor to explicitly state that even in the relative safety of the suburbs, residents can never be quite sure who their neighbors are.
Little Children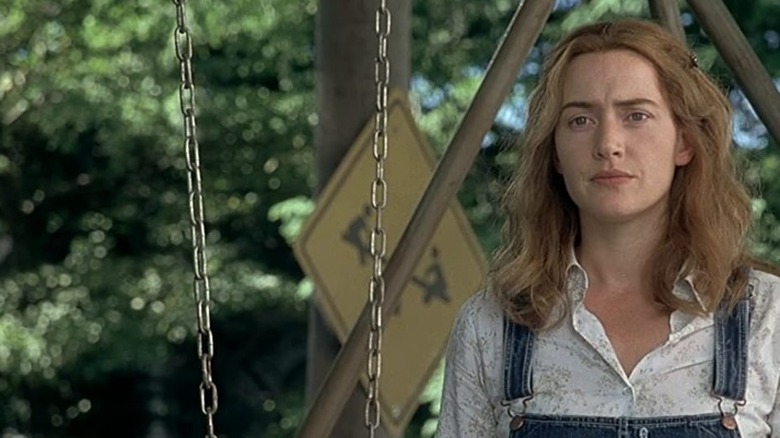 New Line Cinema
"Little Children" isn't a horror movie. It isn't even science-fiction. But its screenplay co-writer Tom Perrotta has dabbled in both of these genres (see: "The Leftovers"), and Todd Field's 2006 adaptation of Perotta's novel is horrifyingly distressing — just not in the way audiences might think. Kate Winslet earned an Oscar nomination for her starring role of Sarah Pierce, a mother and wife living in suburban no-man's-land. She's grappling with existential dissatisfaction and a decaying marriage. One day, Sarah meets her neighbor Brad (Patrick Wilson). Within weeks, the two engage in a sordid, extramarital affair.
While it sounds conventional, "Little Children" is anything but that. With disturbing parlays into sex offenders, deep-rooted insecurity, grief, and violence, "Little Children" is a casket of inflammatory neighborhood ennui waiting to explode. Frighteningly visceral and adroitly performed, "Little Children" is the kind of movie that'll haunt audiences. Like "Vivarium," it proves that a seemingly perfect life is likely a lie.
If you or anyone you know has been a victim of sexual assault, help is available. Visit the Rape, Abuse & Incest National Network website or contact RAINN's National Helpline at 1-800-656-HOPE (4673).
Pleasantville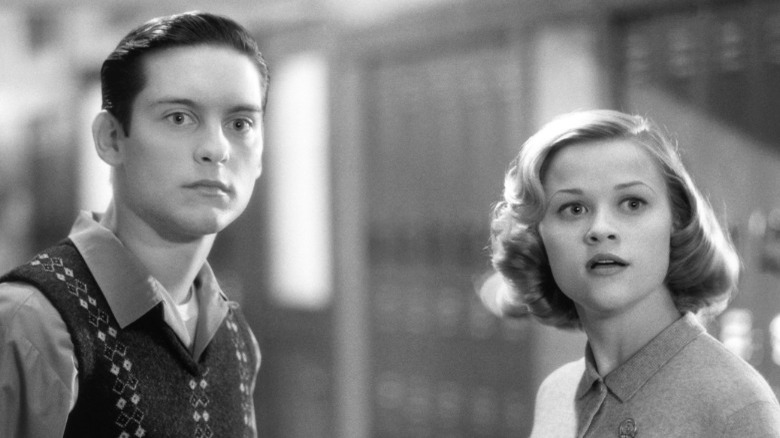 New Line Cinema
Directed by Gary Ross, "Pleasantville" is something like a cult classic these days. However, critical success didn't translate into ticket sales during its release. "Pleasantville" grossed a meager $48 million at the worldwide box office against a $60 million budget. Still, there's something unique about its gorgeously rendered fairy tale wherein two siblings find themselves trapped in a 1950s television show. Funny, tender, and resonant, the allegory of "Pleasantville" might be laid on thick, but it carries itself with pizazz.
In "Pleasantville," Tobey Maguire and Reese Witherspoon star as David and Jennifer, respectively. The two siblings get sucked into an old black-and-white sitcom where everything is pleasant. While David and Jennifer get their bearings, they're impressed by how wholesome the entire town is. However, they soon find that there is no way out. While it's considerably more light-hearted than the existential horrors of "Vivarium," the central conceit remains the same. Conservative ideals have the suburbs in a chokehold. Reese Witherspoon and Imogen Poots are cut from the same cloth, two women trapped in perpetual suburban terror, incapable of escaping unless they do something drastic. In these myopic worlds, it's all about babies and the nuclear family. Jennifer and Gemma expose the horror hiding beneath those ideals.
Society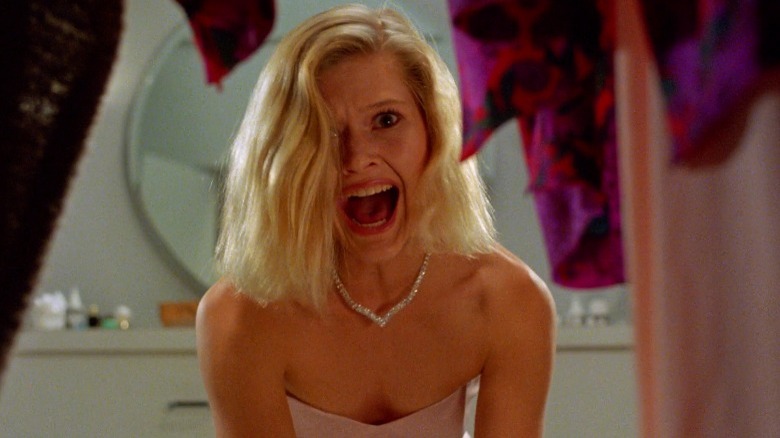 Wild Street Pictures
Brian Yuzna's "Society" is strange. Teenager Bill Whitney (Billy Warlock) is tired of his family's wealth. He resents his parents as most teenagers do — though admittedly, it's probably easier to feel that way in a sprawling Beverly Hills mansion. He meets regularly with a therapist to unspool his frustrations. Despite his initially conventional grievances, Bill begins to suspect his parents are involved in a murderous cult.
Classmates go missing. Bodies appear and disappear like ghosts. Bill even hears a tape suggesting his parents are homicidal. Tearing back the veneer, not just from suburbia, but the upper echelon of society, the commentary in this film parallels "Vivarium." While the suggestion that the uber-rich are aliens, monsters, cultists, or any other terrifying thing isn't unique, "Society" has a breezy 80s conviction that helps the film considerably. Yuzna's film asks viewers to pull back the layers of any perfect image. With frightening certainty, it'll reveal something horrifying.
American Beauty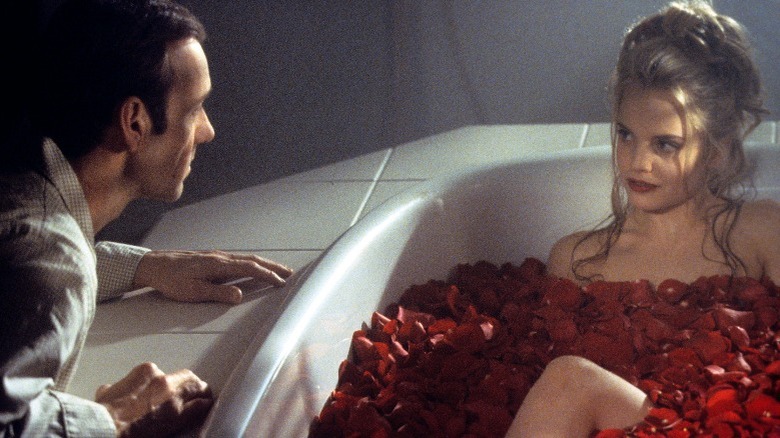 DreamWorks Pictures
"American Beauty" has aged poorly in one way: it stars Kevin Spacey, an actor allegedly accused of several counts of sexual assault with underage men. These allegations led him to be replaced in Ridley Scott's "All the Money in the World" by Christopher Plummer — who received an Oscar nomination for his performance. Despite the black mark on "American Beauty" now, there's no denying it was a tour-de-force upon release. In 2000, the film won several Oscars including best picture, best cinematography, best writing, best directing, and best actor in a leading role for Spacey.
A fiercely funny satirization of romance, beauty, and the American middle class, few films conceptualize suburban ennui as well as "American Beauty" does. It's a movie that cuts deep, coasting on humor and apt performances before ultimately becoming something tragic. "Vivarium" doesn't quite reach those same existential heights. However, its connections to these themes mirror that of "American Beauty." Both films show that the suburbs are painful places filled with hidden motives. Poots' Gemma pushes back against the system while Eisenberg's Tom concedes. Like the characters in "American Beauty," Tom faces punishment, whereas Gemma retains her autonomy until the trippy, bitter end of "Vivarium."
If you or anyone you know has been a victim of sexual assault, help is available. Visit the Rape, Abuse & Incest National Network website or contact RAINN's National Helpline at 1-800-656-HOPE (4673).
The World's End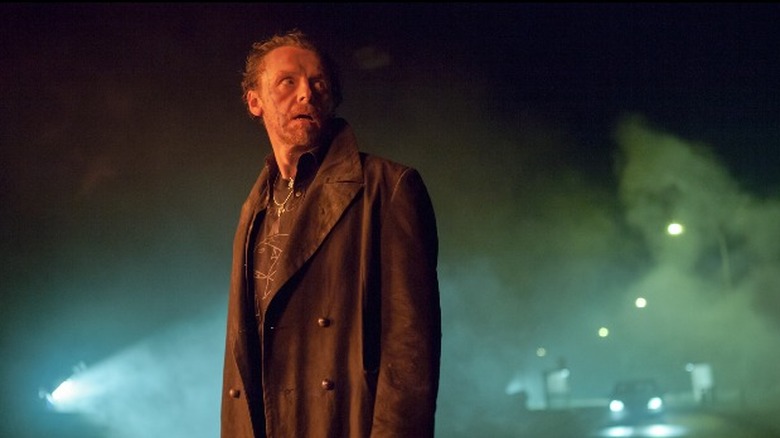 Focus Features
"The World's End" finds director Edgar Wright firmly in "Twilight Zone" territory for the conclusion of his Cornetto Trilogy. The film stars the same rotating cast of performers from "Hot Fuzz" and "Shaun of the Dead." In "The World's End," Gary King (Simon Pegg), an aging alcoholic, brings his childhood friends Andy (Nick Frost), Oliver (Martin Freeman), Steven (Paddy Considine), and Peter (Eddie Marsan) on a pub crawl they failed 25 years earlier.
Unbeknownst to them, aliens are invading their hometown. Soon, it's a comic-tinged battle for their lives. As it progresses, the film relies more on drama than humor. Wright caps his trilogy on a more heartbreaking note than fans might expect. Thematically, Wright is working with a lot. But like "Vivarium," he most prominently explores how people aren't who they appear to be. No different than perfect shudders and green lawns, Pegg's character, and his hometown, are masking their pain and dissatisfaction with life. Beneath the surface, there's little left but hurt and regret.