Did Steven Spielberg Direct 'Poltergeist'? A New Source Says Yes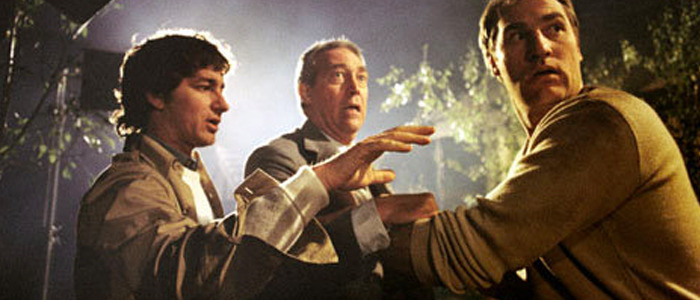 Since 1982, claims that Poltergeist writer/producer Steven Spielberg actually directed the film instead of credited director Tobe Hooper (The Texas Chain Saw Massacre) have been making the rounds in film magazines and, later, on the internet. It seems like every few years the controversy pops up again with a new comment or piece of evidence supporting one theory or another, and now a new source has surfaced that claims there's "no question" that the urban legend is true and that Spielberg was the real director of Poltergeist.
The latest piece of evidence
On a recent episode of Blumhouse's Shock Waves podcast, guest Wish Upon and Annabelle director John Leonetti – who, crucially, worked on the original Poltergeist as a camera assistant while his brother Michael served as the movie's cinematography – said that while Hooper "had input" on the film, it was Spielberg who was really calling the shots:
"Candidly, Steven Spielberg directed that movie. There's no question. However, Tobe Hooper – I adore. I love that man so much...[Hooper was] so nice and just happy to be there. It was really more of a set-up because Steven developed the movie and it was his to direct, but there was anticipation of a director's strike, so he was 'the producer' but really he directed it in case there was going to be a strike and Tobe was cool with that. It wasn't really anything against Tobe. Every once in a while, he would actually leave the set and let Tobe do a few things just because. But really, Steven directed it."
A brief history of the controversy
The Playlist says that at the time, Spielberg had a contract with Universal that stipulated that he couldn't direct another movie while he was preparing E.T. The Extra-Terrestrial for release, so between that and the looming director's strike, it sounds like he may have been able to work out a scenario with Hooper that both of them agreed on. Spielberg himself spoke about this in an L.A. Times article from 1982, in which he's quoted as saying:
"Tobe isn't...a take-charge sort of guy. If a question was asked and an answer wasn't immediately forthcoming, I'd jump in and say what we could do. Tobe would nod agreement, and that became the process of collaboration."
Actress Zelda Rubenstein, who played the movie's spiritual medium, told Ain't It Cool News:
"I can tell you that Steven directed all six days I was there. I only worked six days on the film and Steven was there. Tobe set up the shots and Steven made the adjustments. You're not going to hear that from Tobe Hooper, you'll hear it from Zelda, because that was my honest to God experience."
But that doesn't quite align with what Spielberg wrote in an open letter to Hooper in a 1982 edition of The Hollywood Reporter:
Regrettably, some of the press has misunderstood the rather unique, creative relationship, which you and I shared throughout the making of "Poltergeist."
I enjoyed your openness in allowing me, as a producer and a writer, a wide berth for creative involvement, just as I know you were happy with the freedom you had to direct "Poltergeist" so wonderfully.
Through the screenplay you accepted a vision of this very intense movie from the start, and as the director, you delivered the goods. You performed professionally and responsibly throughout, and I want to wish you great success on your next project.
According to Hooper, the reason the press "misinterpreted" the working relationship came down to a case of bad timing. In an interview with Moviefone, he revealed:
"I don't want to talk about it except that I directed the motion picture, and he wrote the screenplay and he produced. And we are good friends...I could tell you what started that bit of business: I was shooting Robbie in the tree in the backyard, and we were on location. And I needed second unit to shoot the guy on the bicycle with the beer and the electric cars. So I asked Spielberg to shoot it. And the L.A. Times was there at the time, and they printed a story and out of that sprang this [rumor]. It exploded out of that and became this thing."
But take a look at this 7-minute behind-the-scenes making-of documentary that Bloody-Disgusting says was on the MGM Laserdisc release. It prominently features Spielberg making decisions and directing the film's crew, while Hooper is barely mentioned and is never interviewed for the doc:
You can read more about this controversy in our oral history of Lifeforce, the movie Hooper made after Poltergeist. I think I've seen enough to believe that Spielberg was the primary director of the movie while Hooper was able to add specific touches here and there, even if neither man will ever admit on the record that's the way it went down. What do you think?