The Good Nurse: Everything We Know About The Jessica Chastain-Eddie Redmayne True Crime Thriller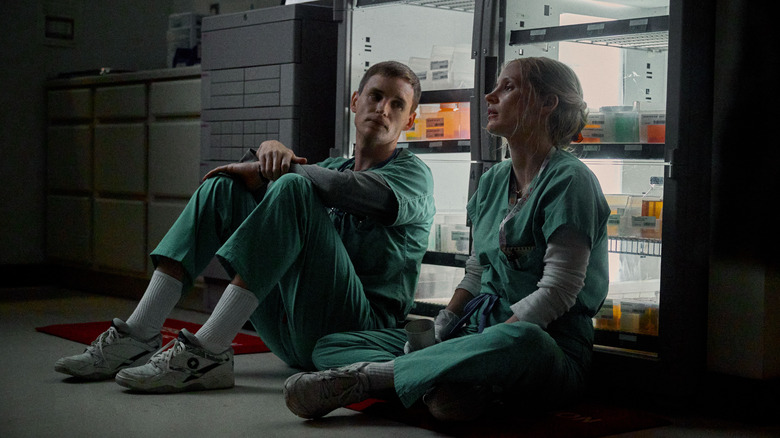 Netflix
True crime stories are always having a moment these days, but lately they've gotten glossier retellings on the big and small screen. Joe Berlinger (behind the "Paradise Lost" and "Brother's Keeper" documentaries) came out in 2019 with back-to-back productions surrounding notorious American serial killer Ted Bundy with the Netflix docu-series "Conversations with a Killer: The Ted Bundy Tapes," and the Zac Efron-led dramatic feature "Extremely Wicked, Shockingly Evil and Vile," both of which prompted discussion over depiction vs. glorification. Berlinger also kept busy during the pandemic, directing and/or producing docs about the strange death of Elisa Lam, Mormon forgers with bombs, the Times Square Killer, and John Wayne Gacy, all of which have made their way to the "Trending Now" section of Netflix at one time or another. Hulu and HBO each muscled further in on the true crime market with their own respective crime drama versions of the 1980 axe fight that left Texas housewife Betty Gore slain and her former friend Candy Montgomery claiming self-defense. Both miniseries — Hulu's "Candy" and HBO's "Love and Death" — feature star-studded casts and focus largely on the POV of the killer, Candy Montgomery.
Such is the problem, it's been said, with crime dramas and even true crime documentaries: The focus on the killer is so intense that the victim and even those responsible for the killer's capture are relegated to the periphery of the story. There are glowing exceptions, such as the 2021 French documentary "The Women and the Murderer" (currently on Netflix in the US), which concentrates on the killing spree of Guy Georges, all told by women involved in the case: the police chief, one victim's mother, and a journalist closely covering the story. It's possible to tell these stories more than one way, which is the hook for Netflix's latest crime drama, "The Good Nurse."
What's The Good Nurse about?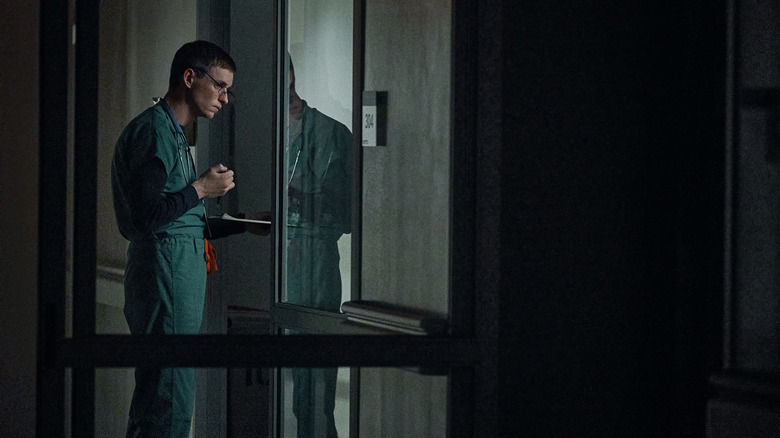 Netflix
"The Good Nurse" adaptation has been a long time coming. The project was first reported in 2014, its lead roles cast in 2018, and it would come together piecemeal over the following years through Darren Aronofsky's Protozoa Pictures. Based on Charles Graeber's bestselling 2013 book "The Good Nurse: A True Story of Medicine, Madness, and Murder," the thriller concerns one of America's most prolific serial killers, Charles Cullen. In 2003, Cullen confessed to the murders of at least 40 patients over his 16-year nursing career, and he's suspected to be responsible for hundreds more deaths in various hospitals and nursing centers around New Jersey and Pennsylvania. Graeber's book chronicles Cullen's crimes and the healthcare system that enabled him to operate for so long, failing to investigate his past and take any substantial action against him when violations were discovered.
Cullen's December 2003 capture came about from a joint effort between New Jersey homicide detectives and Cullen's co-worker Amy Loughren, who wore a wire during her visits with Cullen to gather sufficient evidence for arrest. It's this tag-team effort that drives much of "The Good Nurse," which arrives on Netflix in the fall of 2022. It was one of Netflix's biggest splurge purchases at the 2021 Berlin European Film Market, with the streaming giant dropping $25 million in an agreement to snag the global streaming rights. Production began in April of 2021 in the U.S. town of Standford, Connecticut, and filming concluded in June of the same year.
Who's in The Good Nurse cast and crew?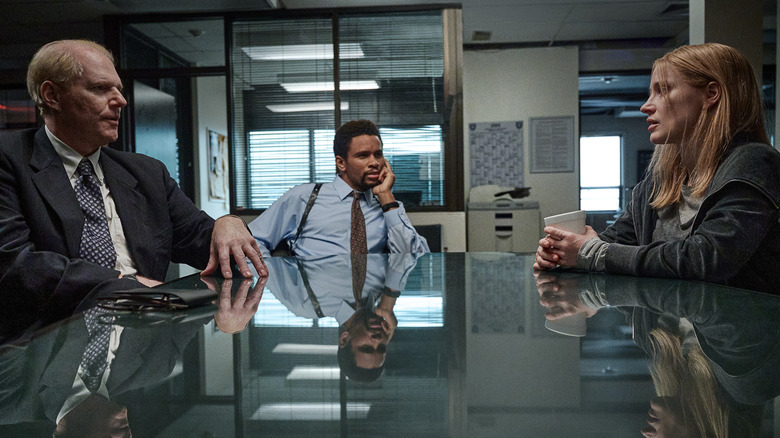 Netflix
"The Good Nurse" is helmed by Danish director Tobias Lindholm, whose hard-hitting films like "A War," "The Hunt," and "A Hijacking" have an emotional core that lends itself to telling difficult stories, making him a solid fit for crime drama. This will also be Lindholm's English-language debut. The script comes from Krysty Wilson-Cairns, whose feature film debut was Sam Mendes' 2019 film "1917," a script she co-wrote with the director and that earned them Best Original Screenplay nominations from the Writers Guild of America and the Oscars.
Oscar winner Eddie Redmayne, last seen in this year's fantasy film "Fantastic Beasts: The Secrets of Dumbledore," will play "Angel of Death" Cullen. Vanity Fair reported that Redmayne reunited with movement coach Alexandra Reynolds, whom he studied with for his Oscar-winning turn as Stephen Hawking in "The Theory of Everything," to master Cullen's physicality. Redmayne also attended nurse training alongside his co-star Jessica Chastain, the two-time Oscar winner who plays Amy Loughren, the nurse whose inquiries and risk-taking aided in putting a stop to the killings. The detectives investigating the deaths, Danny Baldwin and Tim Braun, will be played by former All-Pro NFL player-turned-actor and producer Nnamdi Asomugha and veteran character actor Noah Emmerich ("Dark Winds"), respectively.
There's no trailer for "The Good Nurse" yet, but stay tuned.