Jessica Chastain Will Hunt Fellow Redhead Eddie Redmayne In Serial Killer Movie 'The Good Nurse'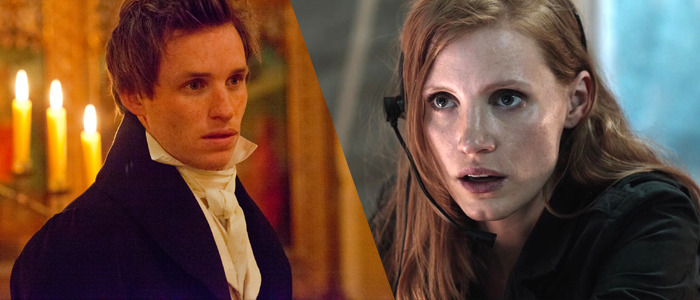 Charles Cullen may be the most prolific serial killer in recorded history. A 16-year nursing career afforded him the opportunity to kill as many as 400 people, earning him the twisted nickname "The Angel of Death." His horrific exploits have been eyed as a movie for years, and now the film, which is called The Good Nurse, seems to have gained some steam. Two high-profile actors are reportedly in "advanced negotiations" to come on board: Eddie Redmayne (The Theory of Everything) would play Cullen, and Jessica Chastain (Zero Dark Thirty) would play a fellow nurse who helped bring him to justice.
Deadline has the casting news, and they also report that Danish director Tobias Lindholm (A War, The Hunt, Borgen) is set to make his English-language feature directing debut with The Good Nurse. Krysty Wilson-Cairns (Penny Dreadful) wrote the script. Here's the description:
When nurse Charlie Cullen was arrested in 2003, journalists were quick to dub him "The Angel of Death." But Cullen was neither a mercy killer nor a simple monster. He was a son, a husband, a father, a best friend, and a valued caregiver. He was also implicated in the deaths of as many as 400 people, and may be the most prolific serial killer in American history.
Cullen's career in the world's most trusted profession spanned sixteen years, across nine hospitals. In this riveting work of investigative journalism, Charles Graeber-the only person Cullen chose to speak with following his arrest-reveals how Cullen got away with murder for so long. Based on hundreds of hours of previously unseen and unheard footage, recordings, and records, as well as extensive interviews with homicide detectives, Cullen's friends, family, coworkers, and confidential informants and whistleblowers, plus exclusive, one-on-one interviews with Cullen, himself, THE GOOD NURSE paints a dramatic portrait of madness and the bounds of friendship, and shines a spotlight on America's medical system. A harrowing and irresistibly paced book, you'll never look at a hospital the same way again.
Darren Aronofsky's Protozoa Pictures is on board to produce. The company has been working on bringing this to life for four years, though it's now certain that this won't be the next directing gig for Aronofsky himself.
I'm a big Jessica Chastain fan, so seeing her in a fascinating role like this sounds wonderful to me. But to be frank, I despise Eddie Redmayne as an actor (his performances always seem so showy and false to me), so his involvement here immediately dampens my interest. Still, I can't deny that this could be a wildly different shade for him to play after his more family-friendly work in the Fantastic Beasts movies – assuming, of course, that he doesn't just stick with the awkward "aww shucks" schtick for which he's become known. I want to see a full-on transformation here, something as divergent as the work he did in Jupiter Ascending...though perhaps dialed down a few notches.