Will There Be A Dark Winds Season 2?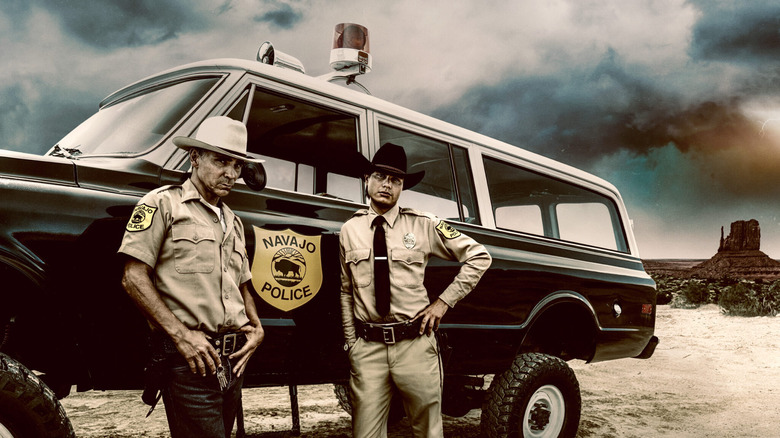 AMC
AMC managed to make a long-standing dream come true when "Dark Winds" made it to air. The series is based on the "Leaphorn & Chee" book series by Tony Hillerman, which Robert Redford optioned a full three decades ago in the hopes of bringing the tales to the screen. Well, it may have taken a long time but now it's out in the world, with the first season largely adapting "The Listening Woman." However, Hillerman's source material paves the way for more. So, the question is, are we going to get a "Dark Winds" season 2?
The good news is that AMC has already made a decision on the matter and the even better news is that the network didn't take long to figure out whether or not they wanted to do more with Lieutenant Joe Leaphorn of the Tribal Police. Yes, the news is good for fans of the show.
Dark Winds has been renewed for season 2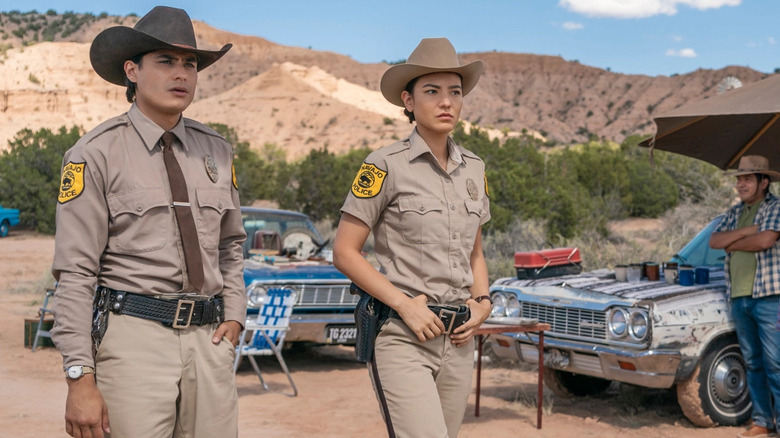 AMC
AMC wasted very little time in making a call as "Dark Winds" was officially renewed for a second season on June 21, 2022. This decision came just over a week after the show premiered on AMC and AMC+, meaning that the brass clearly feels confident in what they've got. Dan McDermott, president of entertainment and AMC Studios for AMC Networks, had this to say about it:
"This once-in-a-lifetime creative team and cast have delivered something truly special with Dark Winds. We can't wait to share the rest of this thrill ride of a first season with the fans and follow Joe Leaphorn and Jim Chee into a second season on AMC and AMC+ next year. Overwhelming gratitude to our entire production team and a special thanks to executive producers Robert Redford, George R.R. Martin, Chris Eyre and of course Zahn McClarnon, who also leads the cast and brings humanity, authority and the wisdom of richly lived experiences to everything he does."
Also, for those who may not be familiar just yet, the series takes place in 1971 and is set on a remote outpost of the Navajo Nation near Monument Valley. The show centers on Lieutenant Joe Leaphorn of the Tribal Police who is dealing with a series of seemingly unrelated crimes. But as he digs in further he begins to dig up pains of the past. He is joined by his new deputy, Jim Chee who also has some old scores to settle from his youth on the reservation.
When will Dark Winds season 2 be released?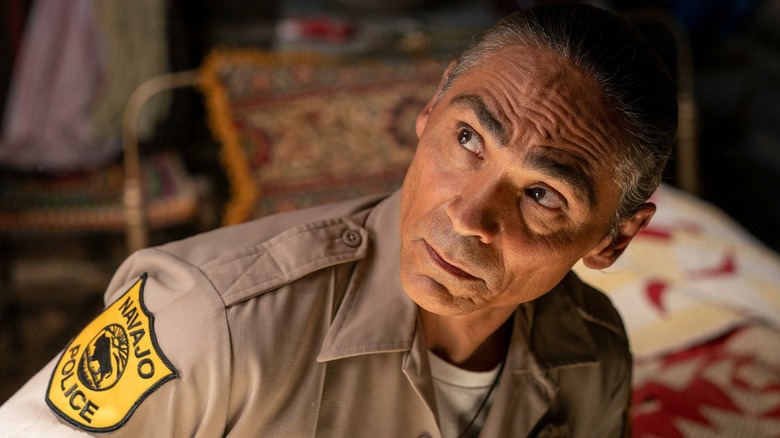 AMC
While no firm release date has been set, AMC has confirmed that "Dark Winds" season 2 will indeed arrive sometime in 2023 and, like the first season, will be available on the cable network or through the AMC+ streaming service. Additionally, the network confirmed that the second season will consist of six episodes.
The show was created by Graham Roland ("Jack Ryan," "Fringe"), who also serves as an executive producer. The cast includes Zahn McClarnon ("The Son," "Westworld"), Kiowa Gordon ("The Red Road," "Roswell, New Mexico"), and Jessica Matten ("Tribal," "The Empty Man"). In addition to Roland and McClarnon, Robert Redford, George R.R. Martin, Anne Hillerman, Chris Eyre, Vince Calandra, Vince Gerardis, and Tina Elmo also serve as executive producers.
"Dark Winds" season 1 is currently streaming on AMC+.