The Best TV Shows And Movies Coming To Netflix In July 2022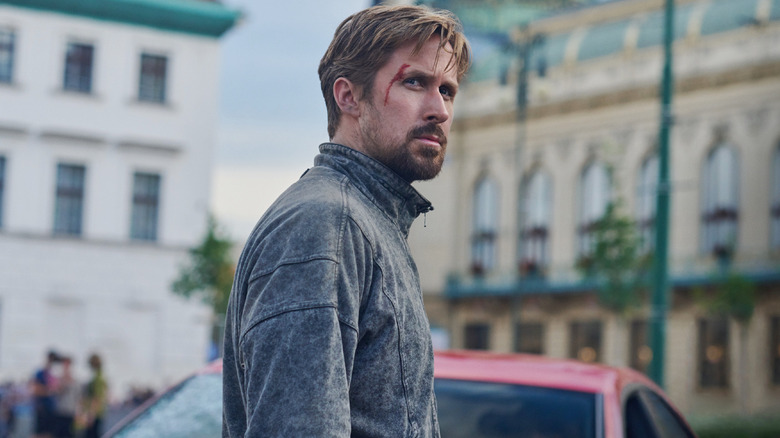 Netflix
Whether your show of choice involves Jedi, superheroes, robots, or a trio of adorkable true crime experts turned amateur sleuths (if not all of these things), June has been an extremely busy month for TV. Thankfully, thinks will slow down a little on that front in July — at least, as much as things ever slow down in the modern world of streaming.
Indeed, Netflix alone will have plenty of TV series to keep everyone busy in July, between the fifth and final season of "Jurassic World: Camp Cretaceous," its live-action "Resident Evil" TV show, and a pair of original series starring "To All the Boys" alum Lana Condor ("Boo, Bitch") and Neil Patrick Harris ("Uncoupled"). The streamer will also continue its dubious quest to beat the major studios at their own blockbuster game by streaming "The Gray Man," directors Anthony and Joe Russo's $200 million action-thriller starring Chris Evans and Ryan Gosling in his first film role since 2018's (!) "First Man."
(No, I did not forget about the newest episodes of a certain show that rhymes with "Ranger Pings." All in good time, I promise.)
Per usual, though, there are plenty of older movies and TV shows coming to Netflix this month, too. You can even catch up on 2022 releases like "Uncharted" and "Umma," on the chance that you missed them earlier this year (or, since we're keeping it real, have been holding off so you could watch them for "free" instead).
Here's a breakdown of everything else that's coming to Netflix in July 2022.
Stranger Things 4: Volume 2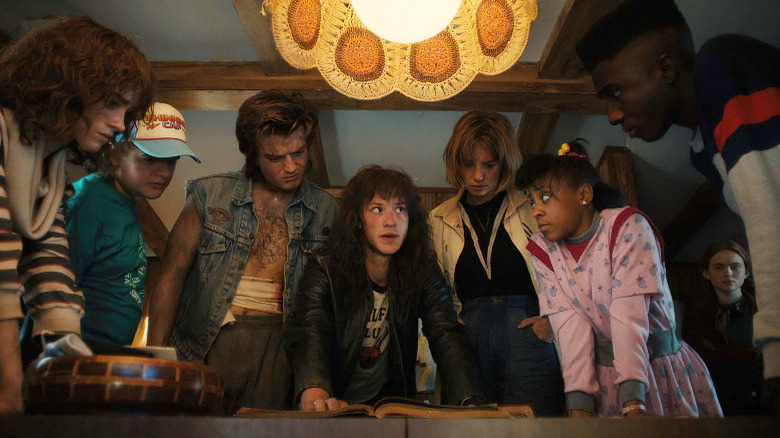 Netflix
Are you ready to run up that hill again, make another deal with God, and whatever other Kate Bush-related "Strange Things" puns you want to crack before they're past their expiration date? "Stranger Things 4: Volume 2" will consist of two episodes totaling nearly four hours in length, so we're more or less getting what amounts to half of a regular-sized season of the Duffer Brothers' hit pastiche in July (with an extra helping of visual effects and spectacle on the side).
Picking up where "Volume 1" left things, the conclusion to "Stranger Things 4" will pit the show's heroes against big bad Vecna, with Eleven (Millie Bobby Brown) and her newly-restored powers leading the way. Even with flaws that have only grown harder to ignore over time (most pointedly, its continued failure to do right by key characters like Will, Lucas, and Erica), "Stranger Things" hasn't lost a step when it comes to providing blockbuster-sized thrills and entertainment in its fourth season. Here's hoping "Volume 2" sticks the landing as the show prepares to head into its final hour(s).
Catch Me If You Can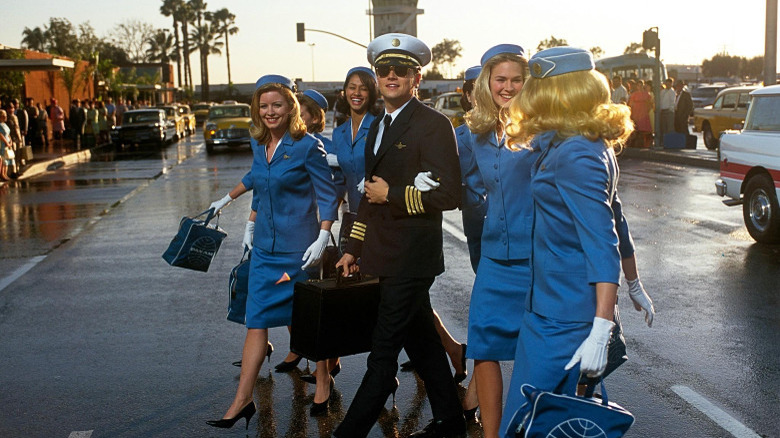 DreamWorks Pictures
Steven Spielberg's "Catch Me If You Can" turns 20 this year, so there's no better time to revisit the director's terrific crime dramedy. Leonardo DiCaprio and Tom Hank match wits as wily con artist Frank Abagnale Jr. and crotchety FBI agent Carl Hanratty in the film, which almost plays as fast and loose with the truth as the real Abagnale did during his (ahem) youthful indiscretions. But when the results are one of the liveliest movies Spielberg has ever made, it's pretty dang hard to complain.
What's more, there's a playfully risqué quality to "Catch Me If You Can" that's not always present in the legendary filmmaker's work, with DiCaprio turning his charms up to 11 as the movie's smooth-talking, womanizing anti-hero. Of course, it's all a mask for Frank's heartbreak over the demise of his parents' once-happy marriage, and it's that sadness that compliments Janusz Kamiński's shiny visuals and Spielberg's brisk direction, making "Catch Me If You Can" a full meal. It's also a feeling that Spielberg knows all too well from his own childhood, which only adds a deeper layer of personal meaning to the film.
Blair Witch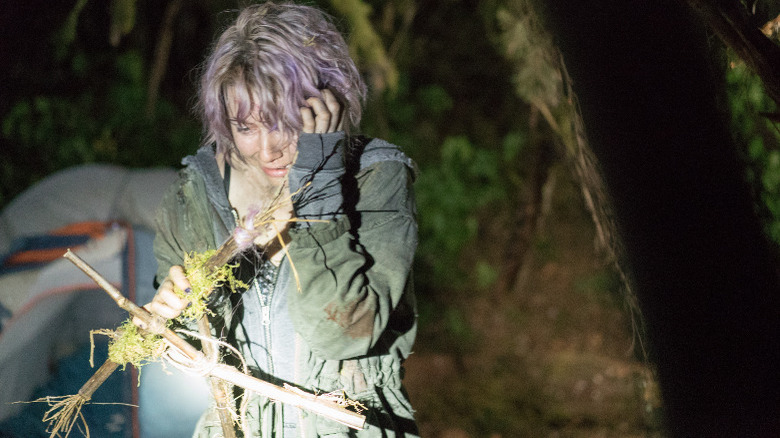 Lionsgate
Is "Blair Witch" as effectively unnerving as "The Blair Witch Project?" No. Director Adam Wingard and writer Simon Barrett's 2016 legacy sequel to Daniel Myrick and Eduardo Sánchez's zeitgeist-y 1999 found-footage horror movie too often forgoes that film's "Less is more" approach. Its scares are bigger but not better, and its visuals tend to be a little too polished and slick, even for a movie that is meant to be the work of amateur filmmakers with access to drones and modern high-def cameras.
Mind you, if you can accept that "Blair Witch" lacks its predecessor's sense of innovation, you might find this to be a perfectly sturdy horror flick. Outside of reusing the same basic premise (a group of young adults get lost in the haunted forests of Maryland), the movie is far less interested in fan service than other legacy-quels and focuses much more on pushing the mythology of the Blair Witch in fascinating and captivating directions. Its labyrinth third act set piece is worth the watch on its own, as are the lingering questions left unanswered after its mind-bending climax.
Leave No Trace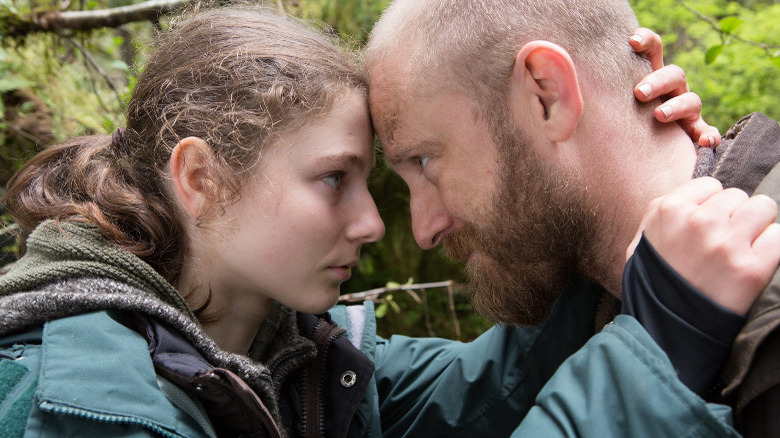 Bleecker Street
Debra Granik's 2018 film "Leave No Trace" remains woefully under-seen, even as it talented young star, Thomasin McKenzie, has gone on to achieve greater fame by working with the likes of Taika Waititi, M. Night Shyamalan, and Edgar Wright. Here, she shares the screen with Ben Foster (exceptional as ever) as Tom and Will, a daughter-father duo who reside in the forests of Oregon, secretly surviving off the land and only venturing into town when they need supplies.
Carrying over themes and motifs from her earlier work on "Down to the Bone" and "Winter's Bone," Granik's film is a understated, sensitive look at society's failure to provide the necessary care for someone like Will (an Iraq War veteran whose PTSD prevents him from living a so-called "normal" life). It's also a poignant coming-of-age story about teens and their parents that Granik and her trusty cinematographer Michael McDonough shoot with a documentary-style attention to its leads' faces and the ways they react to the world around them (as well as one another). All in all, it's a gem of a movie just waiting to be discovered by those perusing Netflix for something good to watch.
The Sea Beast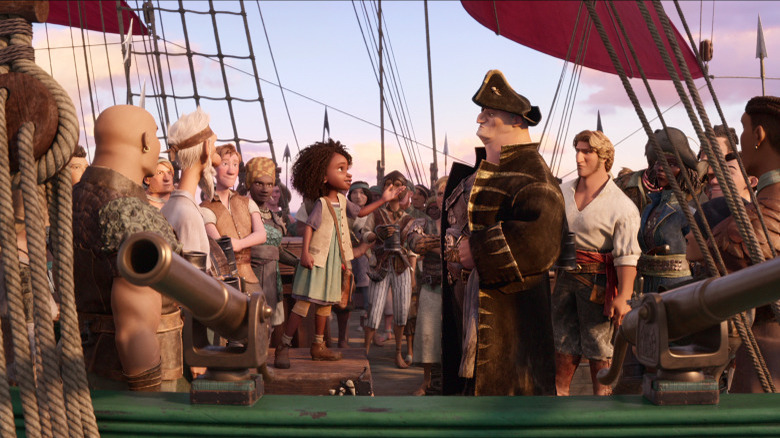 Netflix
Despite being recently gutted by its corporate overlords, Netflix's animation department has got some real bangers coming our way in 2022. Their ranks include "The Sea Beast," an animated film that director Chris Williams ("Bolt," "Moana") has described as being "one of the most mature films" he's ever worked on. /Film's Rafael Motamayor affirmed as much in his positive review of the movie, writing:
"The Sea Beast" is a seafaring adventure with lots of exciting nautical battles, terrifying giant sea monsters, big thrills, and a great dynamic between a hardened monster hunter and an energetic and hopeful kid. Oh, and it is also a poignant animated film about anti-imperialism and how truth and history get distorted to benefit those in power, you know, what kids love.
"The Sea Beast" follows Maisie (voiced by Zaris-Angel Hator), a young girl, as she stows away on the sailing ship of a fabled sea monster hunter, hoping to get a taste of one of his grand adventures. With a story that aims to capture the excitement, tragedy, and depth of giant monster classics like "King Kong," and "Godzilla," Williams' film may prove to be yet a splendid addition to this year's assortment of animated features.
Movies and TV shows coming to Netflix in July 2022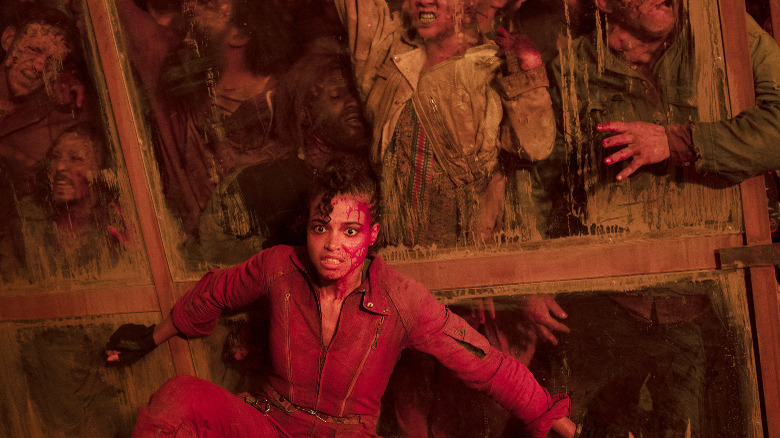 Netflix
Available from July 1, 2022:
Stranger Things 4: Volume 2
A Call to Spy
Big Daddy
Blue Jasmine
Boogie Nights
Catch Me If You Can
Deliverance
Falls Around Her
Final Score
GoodFellas
I Am Legend
Insidious
LOL
Mean Girls
Miss Congeniality 2: Armed and Fabulous
Natural Born Killers
Old School
Police Academy
Semi-Pro
Seven
Snatch
The Dark Knight Rises
The Dirty Dozen
The Pursuit of Happyness
The Talented Mr. Ripley
The Terminal
Vampires
Wyatt Earp
Zero Dark Thirty
Available from July 3, 2022:
Available from July 4, 2022:
Available from July 6, 2022:
Control Z (Season 3)
Girl in the Picture
Hello, Goodbye, and Everything in Between
King of Stonks
Uncle from Another World
Available from July 7, 2022:
The Flash (Season 8)
Karma's World (Season 3)
Vinland Saga (Season 1)
Available from July 8, 2022:
Boo, Bitch
Capitani (Season 2)
Dangerous Liaisons
How To Build a Sex Room
Incantation
Jewel
The Longest Night
Ranveer vs Wild with Bear Grylls
The Sea Beast
Available from July 10, 2022:
Available from July 11, 2022:
For Jojo
Valley of the Dead
Available from July 12, 2022:
Bill Burr: Live at Red Rocks
How to Change Your Mind
My Daughter's Killer
Available from July 13, 2022:
Big Timber (Season 2)
D.B. Cooper: Where Are You?!
Hurts Like Hell
Never Stop Dreaming: The Life and Legacy of Shimon Peres
Sintonia (Season 3)
Under the Amalfi Sun
Available from July 14, 2022:
Kung Fu Panda: The Dragon Knight
Resident Evil
Available from July 15, 2022:
Alba
Country Queen
Farzar
Love Goals (Jaadugar)
Mom, Don't Do That!
Persuasion
Remarriage & Desires
Uncharted
Available from July 16, 2022:
Available from July 18, 2022:
Live is Life
My Little Pony: A New Generation: Sing-Along
StoryBots: Laugh, Learn, Sing: Collection 2: Learn to Read
Too Old for Fairy Tales
Available from July 19, 2022:
David A. Arnold: It Ain't For the Weak
Available from July 20, 2022:
Bad Exorcist (Seasons 1-2)
Virgin River (Season 4)
Available from July 21, 2022:
Jurassic World: Camp Cretaceous (Season 5)
Available from July 22, 2022:
Blown Away (Season 3)
The Gray Man
One Piece (New Episodes)
Available from July 25, 2022:
Gabby's Dollhouse (Season 5)
Available from July 26, 2022:
August: Osage County
DI4RIES
Shania Twain: Not Just a Girl
Street Food: USA
Available from July 27, 2022:
Car Masters: Rust to Riches (Season 4)
Dream Home Makeover (Season 3)
The Most Hated Man on the Internet
Pipa
Rebelde (Season 2)
Available from July 28, 2022:
A Cut Above
Another Self
Keep Breathing
Oggy and the Cockroaches: Next Generation
Available from July 29, 2022:
The Beauty Queen of Jerusalem (Season 2)
Case Closed: Zero's Tea Time
The Entitled
Fanático
Purple Hearts
Rebel Cheer Squad: A Get Even Series
Uncoupled
Available from July 31, 2022: