'Leave No Trace' Review: Debra Granik Returns With Another Tale Of Families Living Off-The-Grid [Sundance]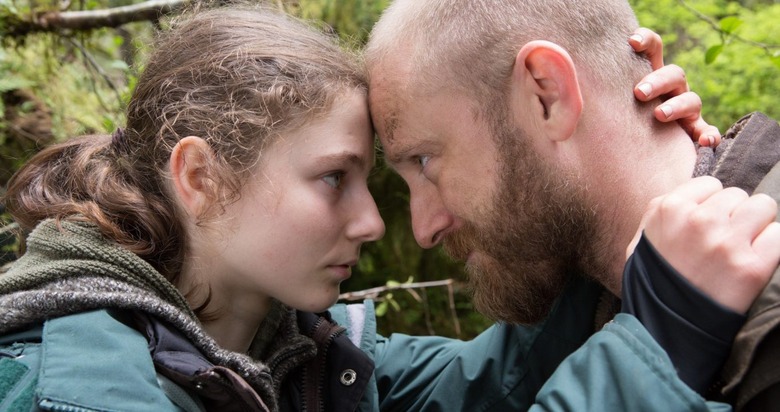 It's almost impossible to believe that it's been eight years since filmmaker Debra Granik debuted her powerful, atmospheric, four-time-Oscar-nominated Winter's Bone at the Sundance Film Festival, where it won the Grand Jury Prize and launched the career of Jennifer Lawrence into the stratosphere. While she did follow that up with her exceptional, long-in-the-works 2014 documentary Stray Dog, audiences have had to wait far too long for Granik to once again immerse us in a world that seems millions of miles away, when in fact she places us in long-ignored corners of America that are currently having light shone upon them for a variety of reasons. With her latest work, Leave No Trace, Granik moves from the depths of the Ozark Mountains to the forests of the Pacific Northwest.
Tucked away on a nature reserve somewhere near Portland, Oregon, veteran Will (Ben Foster) and his teenage daughter, Tom (New Zealand newcomer Thomasin Harcourt McKenzie), live off the land in complete isolation and seeming tranquility, always wary of being discovered. The film begins almost wordlessly as we simply watch the pair go through their routine of collecting water, foraging, and even playing a version of hide-and-seek that utilizes all of their well-honed tracking skills. Will is also a stern taskmaster when it comes to Tom's education, and does a surprisingly effective job of home-schooling her (at one point, we find out her schooling is well ahead of other kids her age).
As harmonious as their existence may seem, Granik allows questions to build in our minds about what brought this father and daughter to this point years earlier. Are they homeless? Or do they simply prefer a life off the grid, away from the buzz of the world around them? It is slowly revealed that Will's time in the military has left him broken and ill equipped to function around others, and while he seems non-violent when he is forced to socialize (like when they make infrequent trips into Portland to pick up supplies that nature doesn't provide), we can see his mind shut down and the spark leave his eyes as the defenses go up in his psyche.
A seemingly small mistake on Tom's part exposes their living arrangement, and soon they are removed from the federal land they occupy and put into the social services system, where they are actually treated quite well, given a home on a quaint farm (run by Jeff Kober), and begin to work on preparing pine trees for shipping around the country (presumably to meet Christmas tree demand). And just as they begin to settle into their new arrangement, Will wakes Tom up in the middle of the night and away they go back into the woods, leaving us frustrating and trying to empathize.
While Winter's Bone was a character study couched in a mountain-noir mystery story, Leave No Trace turns out to be a coming-of-age account about a father who can't control his reaction to being around others and a maturing daughter who desires a sense of community and support that her father simply can't provide on his own. When Will is hurt, they must accept the help from a group of folks living in a trailer park while he recovers, and Tom grows fond of the connections and bonds she forms with those living there, especially a wonderfully generous older woman played by Dale Dickey. A particularly telling sequence involves Dickey walking Tom through the routines of the camp and the area surrounding them, and she reveals a tree where she hangs a bag of food and other essentials every so often for a person they know lives in the woods, but they've never met or seen. Tom is clearly moved by this gesture that certainly would have benefitted she and Will at times in their lives, and the kindness of these folks seems to her like a perfect place to settle down.
Based on a novel by Peter Rock (and adapted by Granik and Anne Rossellini), Leave No Trace certainly fits squarely in Granik's wheelhouse as a filmmaker, allowing us the opportunity to live among characters we rarely see portrayed on screen and settle into their way of life long enough to truly consider what that lifestyle might feel like. Working with her regular cinematographer Michael McDonoughv, Granik takes us into places where light and shadow work differently and there's a lush quality to their forest settings that certainly make it seem more lovely and homey than another other location in the film.
Granik also has a gift when it comes to casting, and young McKenzie is ready to follow in the footsteps of actors like Lawrence and Vera Farmiga (the star of Granik's first feature, 2004's Down to the Bone), giving a calling-card performance that seems likely to spark a great deal of interest in her among casting agents. She has an open, expressive face that takes over ever scene and provides a nice counterpoint to Foster's more sullen performance. Foster is a usually reliable actor who occasionally overplays his parts, especially when taking on a villainous character. But he seems to have discovered that less is more with Leave No Trace, and the result is among the best work he's ever done.
While the film may feel familiar to Granik's other works, in terms of its approach and locations, no one has really taken up the mantle of these types of films that defy genre in the time she took to pull this one together. It is not an easy thing to place us into the lives of people we've never had real-life contact with, but this is the stuff that fuels Granik's creativity, and Leave No Trace is a fresh reminder of her talent and how eagerly we await what comes next from her.
/Film Rating: 9 out of 10