The Best TV Shows And Movies Coming To Hulu In March 2022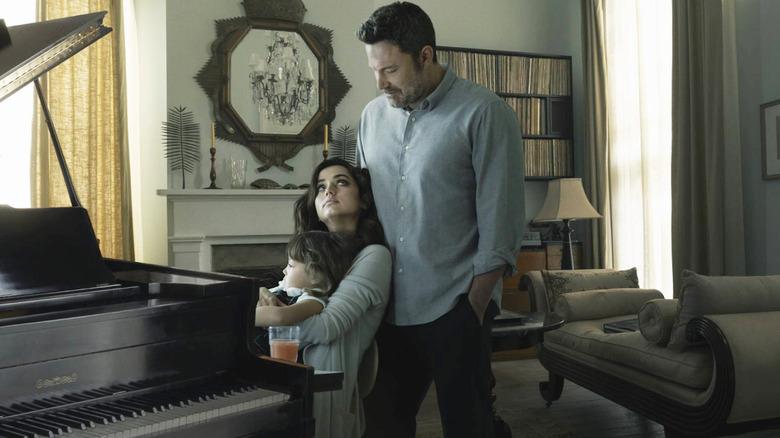 Hulu
Spring is on the way, which means it's time for all the streaming services out there (we're at 5,000 now, yes?) to step up their game. That's not to say the first two months of 2022 have been bereft of worthwhile streaming exclusives (far from it), but things are about to get more interesting in March. Hulu, for example, will unveil two ripped-from-the-headlines limited series in the forms of "The Dropout" and "The Girl From Plainville," along with the highly-anticipated "Atlanta" season 3 premiere, which will arrive a whopping four years after season 2 debuted in 2018. On the movie side, you will finally be able to stream Paul Verhoeven's much-buzzed-about lesbian nun drama "Benedetta" at no extra charge, along with one of the best-reviewed dramas of 2021 that got totally snubbed by the Oscars, "Mass."
Speaking of the Oscars: If you want to wait to watch the 94th annual Academy Awards commercial-free, you can do so on Hulu the day after they air. Or, if you're in the mood for something with A-listers that's a whole lot steamier, you should absolutely check out "Deep Water," the eagerly-awaited erotic thriller directed by Adrian Lyne ("Fatal Attraction," "Jacob's Ladder," "Unfaithful") and starring Ana de Armas and Ben Affleck as a couple who take a, shall we say, dramatic approach to spicing up their crumbling marriage.
If that's not enough, here are a few more titles for you to check out on Hulu in March.
Blue Velvet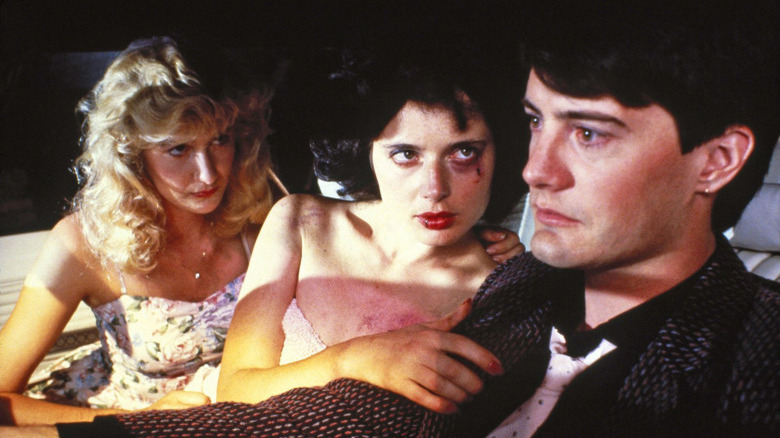 De Laurentiis Entertainment Group
Is there any way to slowly wade into the pool that is the surreal, bizarre, disturbing, and ultimately spiritual cinema of David Lynch, rather than diving right into the deep end? I might argue that "Blue Velvet" makes as good a starting point as any of Lynch's other movies. (Well, unless all you want is to be able to claim you've seen at least one Lynch film; in that case, "The Straight Story" might be a safer bet.) Lynch's unsettling tale of a wide-eyed college student — a pre-"Twin Peaks" Kyle MacLachlan — who uncovers the dark side of his seemingly idyllic small town has lost none of its potency over the years, and "Blue Velvet" is probably as accessible as his noir-flavored movies get. So, whether you're building yourself up to watch the likes of "Eraserhead" and "Mulholland Drive" or just in the mood to revisit this particular Lynchian nightmare, try some "Blue Velvet" on for size.
The Insider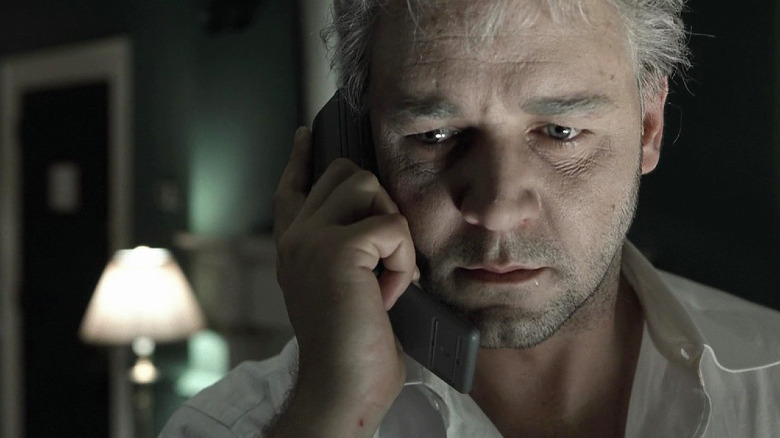 Buena Vista Pictures Distribution
With "Tokyo Vice" on its way to HBO Max in April and Michael Mann's "Ferrari" (a biopic that's been two decades in the making) showing new signs of life, now's as good a time as any to either finally watch or re-watch one of the director's best movies. "The Insider" came out a mere three years after Jeffrey Wigand appeared on "60 Minutes" and blew the lid off the tobacco industry's tampering with the chemistry of its products in 1996. And yet, if anything, this real-life tale of regular people and journalists fighting to deliver vital information to the public in the face of corporate interference and subterfuge has only grown more relevant in the 20-plus years since Mann's film hit theaters. But even putting that aside, "The Insider" is an expertly-crafted, powerfully acted, and just plain nerve-racking dramatic thriller, as well as a great reminder of why cinephiles are so pumped for Mann's return.
The Firm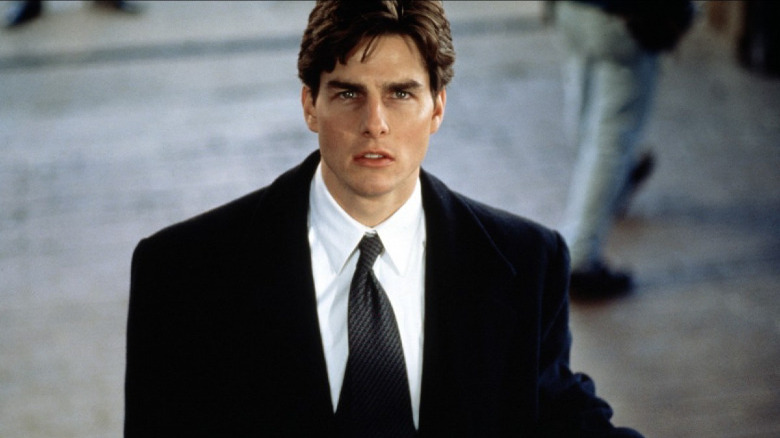 Paramount Pictures
Legal thrillers based on John Grisham novels were all the rage in the 1990s, starting with the success of "The Firm" in 1993. Directed by Sydney Pollack ("Three Days of the Condor," "Tootsie," "Absence of Malice"), the film stars Tom Cruise as Mitch McDeere, a hotshot young lawyer who accepts what, at first, seems like a dream job with an affluent law firm, only to find himself in over his head when he learns the dangerous truth about his employers. Between Pollack's tight direction and a top-notch cast (including Gene Hackman, Jeanne Tripplehorn, and Ed Harris) bringing its pulpy, thrilling story to life, "The Firm" is easily one of the best Grisham adaptations to come out of the '90s, as well as a great place to start if you're new to the cinematic "Grisham-verse." Even better, you get to see Cruise in action back when he was still mastering the art of running onscreen (and this time with a briefcase, as a treat).
The Princess Bride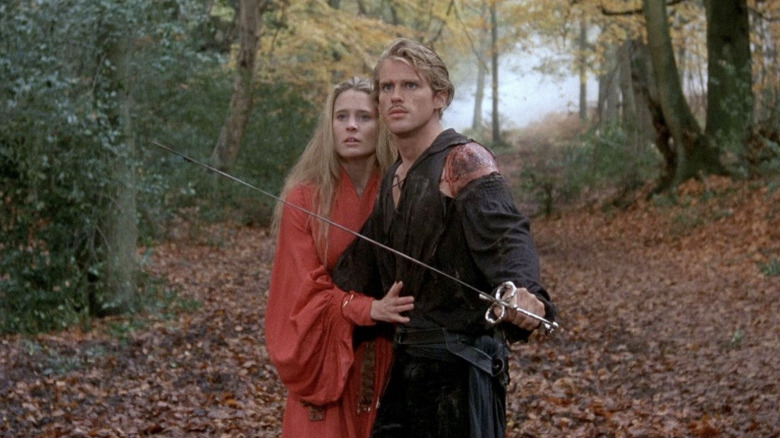 20th Century Studios
Given how bleak, intense, and/or out-there so many of the series and movies we've discussed so far are, how about something a little lighter? Yes, it's never a bad time to either revisit "The Princess Bride" or introduce someone to Rob Reiner's whimsical, ever-quotable fairy tale about true love, not-so-rotten bandits, quip-loving masked pirates, and Rodents of Unusual Size. I doubt I need to do much to sell you on this one, and if you've still never watched it, there's likely little I can do to recommend it that your friends haven't already told you. I will, however, take a moment to give a shout-out to Mark Knopfler's wonderful score, from the tender main theme, "Once Upon a Time...Storybook Love," to the wistful "Guide My Sword." Heck, now I want to go listen to the film's soundtrack just so I can lose myself in its beautiful soundscape once again. That's not so inconceivable, is it?
Roxanne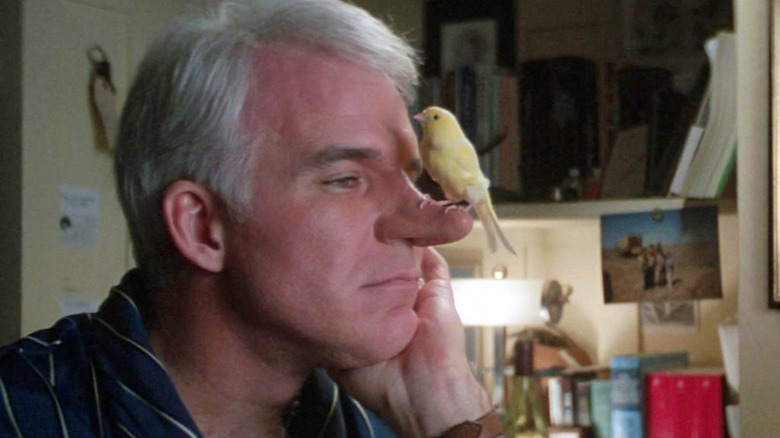 Columbia Pictures
Could you use a little Steve Martin in your life while the wait continues for "Only Murders in the Building" season 2? Well, then, you're in luck! 1987's "Roxanne" stars Martin as Charlie "C.D." Bales, an eloquent, charming, small-town fire chief who's naturally sensitive about his unusually large nose. Daryl Hannah co-stars as Roxanne Kowalski, the passionate astronomy PhD student whom C.D. falls head-over-heels for in this '80s take on the famous 19th century play, "Cyrano de Bergerac." The rom-com will make its way onto Hulu shortly after the Peter Dinklage-led "Cyrano" begins playing in theaters, but it's a far cry from that movie musical and boasts Martin's trademark blend of witty wordplay, playful slapstick, and heart (which is no surprise, given that he also wrote it). That's to say, there's no need to choose between "Roxanne" and "Cyrano." If you're so inclined, you would do well to give both of these re-tellings a look.
Movies and TV shows coming to Hulu in March 2022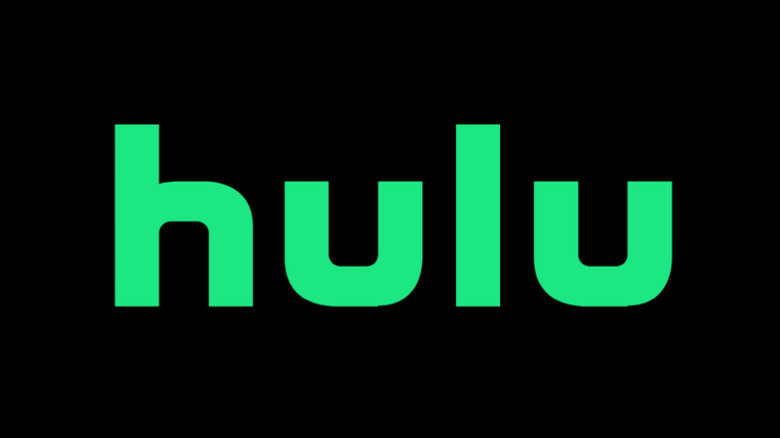 Hulu
Tuesday, March 1
Better Things: Season 5 Premiere
Rich Man, Poor Woman: Complete Season 1
2 Days In The Valley (1996)
8mm (1999)
A Madea Christmas (2013)
Another Earth (2011)
Baby Mama (2008)
The Banger Sisters (2002)
Beaches (1988)
Behind Enemy Lines (2001)
Benny & Joon (1993)
The Big Scary S Word (2020)
Blue Chips (1994)
Blue Velvet (1986)
Bringing Down The House (2003)
Brothers (2009)
Can't Buy Me Love (1987)
Casualties Of War (1989)
Center Stage (2000)
Charlie Wilson's War (2007)
The Choice (2016)
Crash (2005)
Dance Flick (2009)
Dangerous Beauty (1998)
Deficit (2007)
Demolition Man (1993)
The Descendants (2011)
Deuces Wild (2002)
Devil In A Blue Dress (1995)
Disaster Movie (2008)
Downhill Racer (1969)
Drinking Buddies (2013)
The Edge (1997)
Edward Scissorhands (1990)
Evan Almighty (2007)
Feel The Noise (2007)
The Firm (1993)
Flatliners (1990)
Forever My Girl (2018)
Freedomland (2006)
Fright Night (1985)
G (2005)
Garden State (2004)
Ghoulies (1985)
The Gift (2000)
Gigli (2003)
Glory (1989)
The Golden Child (1986)
The Greatest Story Ever Told (1965)
Green Zone (2010)
Guarding Tess (1994)
Guess Who (2005)
Gunfight At The O.K. Corral (1957)
Hardball (2001)
Heaven Can Wait (1978)
Here Comes The Boom (2012)
The Hitchhiker's Guide To The Galaxy (2005)
The Insider (1999)
Juno (2007)
Kiss The Girls (1997)
L.A. Confidential (1997)
Land Of The Dead (2005)
The Last Waltz (1978)
Lawless (2012)
The Life Aquatic With Steve Zissou (2004)
Look Who's Talking (1989)
Margin Call (2011)
The Meddler (2015)
Moby Doc (2021)
My Super Ex-Girlfriend (2006)
The Omen (1976)
Peggy Sue Got Married (1986)
People Like Us (2012)
The Perfect Holiday (2007)
Platoon Leader (1988)
Predators (2010)
The Princess Bride (1987)
The Raid 2 (2014)
Romy And Michele's High School Reunion (1997)
Roxanne (1987)
The Royal Tenenbaums (2001)
Sahara (2005)
The Saint (1997)
Savior For Sale (2021)
Scotty And The Secret History Of Hollywood (2017)
Sense And Sensibility (1995)
Shanghai Noon (2000)
Shine A Light (2008)
Shit & Champagne (2020)
Show Me The Picture (2019)
Single White Female (1992)
Spaced Invaders (1990)
The Square (2017)
St. Elmo's Fire (1985)
Starship Troopers (1997)
The Tailor Of Panama (2001)
The Talented Mr. Ripley (1999)
The Terminal (2004)
Tim Burton's Corpse Bride (2005)
To Catch A Thief (1955)
Transcendence (2014)
Trapped (2002)
Unstoppable (2010)
Vertical Limit (2000)
The Virgin Suicides (2000)
The Woman In Black (2012)
Thursday, March 3
The Dropout: Three-Episode Limited Series Premiere
Before Midnight (2013)
Oculus (2013)
Friday, March 4
Fresh (2022)
Dicktown: Season 2 Premiere
Benedetta (2021)
Lantern's Lane (2021)
Saturday, March 5
Stronger (2017)
Sunday, March 6
Mark, Mary, & Some Other People (2021)
Tuesday, March 8
India Sweets & Spices (2021)
Wednesday, March 9
The Thing About Pam: Series Premiere
Thursday, March 10
The Masked Singer: Season 7 Premiere
Domino Masters: Series Premiere
Good Trouble: Season 4a Premiere
American Refugee (2021)
Saturday, March 12
Multiverse (2022)
Monday, March 14
Claws: Complete Season 4
Hell Hath No Fury (2021)
Tuesday, March 15
All Good Things (2010)
Nature Calls (2012)
You Can't Kill Meme (2021)
Wednesday, March 16
Young Rock: Season 2 Premiere
Mr. Mayor: Season 2 Premiere
Step (2017)
Thursday, March 17
Bad Luck Banging Or Loony Porn (2021)
Friday, March 18
Life And Beth: Complete Season 1 Premiere
Deep Water (2022)
Masterchef Junior: Season 8 Premiere
Welcome To Flatch: Series Premiere
Keeping Up With The Kardashians: Complete Season 20
Saturday, March 19
Captains Of Za'atari (2021)
I Know Who Killed Me (2007)
My Little Pony (2017)
Tuesday, March 22
American Song Contest: Series Premiere
Wednesday, March 23
Bloods: Season 2a
Summer Days, Summer Nights (2021)
Wrath Of Man (2021)
Friday, March 25
Atlanta: Season 3 Premiere
American Siege (2022)
Saturday, March 26
Mass (2021)
Monday, March 28
The Oscars
Monsters And Men (2018)
Tuesday, March 29
The Girl From Plainville: Three-Episode Limited Series Premiere
Jackass Presents: Bad Grandpa (2013)
Jackass Presents: Bad Grandpa Extended Cut (2013)
Wednesday, March 30
Name That Tune: Season 2 Premiere
Killing Them Softly (2012)
Thursday, March 31
First Day: Complete Season 2
Kaguya-Sama: Love Is War: Complete Season 1 (Dub)