The Girl From Plainville Teaser: An Awful Subject For Entertainment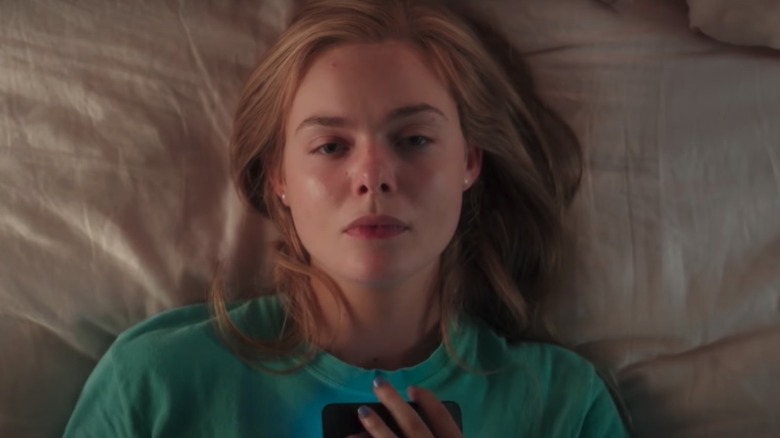 Hulu
Hulu has released a new teaser for their upcoming series "The Girl From Plainville," starring Elle Fanning. The series is based on the real-life case of Michelle Carter, the young woman who was convicted of involuntary manslaughter for encouraging her boyfriend to kill himself through text messages.
Fanning is a magnificent actress. I love her work in everything, particularly in "The Great." I just don't understand why she would choose to act in this project. Though it is a story that kept the nation riveted, I don't know that it deserves the entertainment treatment. Yes, it's something many people are struggling to understand, but there is something about this case that is a little too awful to watch because of fascination with the story.
There is also the matter of the makeup transformation of Fanning into Carter, complete with heavy eyebrows and a very different forehead. It's very distracting, and takes away from the subject matter. It also seems to be inconsistent from scene to scene, even in this teaser.  
I don't like the fact that this is about a young man who died by suicide, and we're focusing on the tabloid aspects of it all. It's a strange story, and it's heartbreaking. It seems wrong somehow to make this an "ooh, what made her do it?" sort of thing. Perhaps it will be handled well. I really hope it is. The series is based on the Esquire article about the real case by Jesse Barron, who is on in a consulting capacity. Erin Lee Carr, who directed the HBO documentary about the subject, "I Love You Now Die: The Commonwealth v. Michelle Carter" is also a consultant. Maybe that will help. There was also a Lifetime original movie called "Conrad & Michelle: If Words Could Kill."
The Girl From Plainville Trailer
Here is the official synopsis for "The Girl From Plainville:"
"The Girl From Plainville" is inspired by the true story of Michelle Carter's unprecedented "texting-suicide" case. Based on the Esquire article of the same name by Jesse Barron, the limited series explores Carter's relationship with Conrad Roy III and the events that led to his death and, later, her conviction of involuntary manslaughter.
"The Girl From Plainville" stars Fanning, Chloë Sevigny, Colton Ryan, Cara Buono, Kai Lennox, and Norbert Leo Butz. The Hulu original series is written and executive produced by Liz Hannah ("The Post", "The Dropout", "Mindhunter") and Patrick Macmanus ("Dr. Death") who serve as co-showrunners. Executive producers also include Fanning, and Echo Lake's Brittany Kahan Ward. 
"The Girl from Plainville" premieres on Hulu on March 29, 2022.
If you or anyone you know is having suicidal thoughts, please call the National Suicide Prevention Lifeline​ at​ 1-800-273-TALK (8255)​.