Everything We Know About The Great Season 3 So Far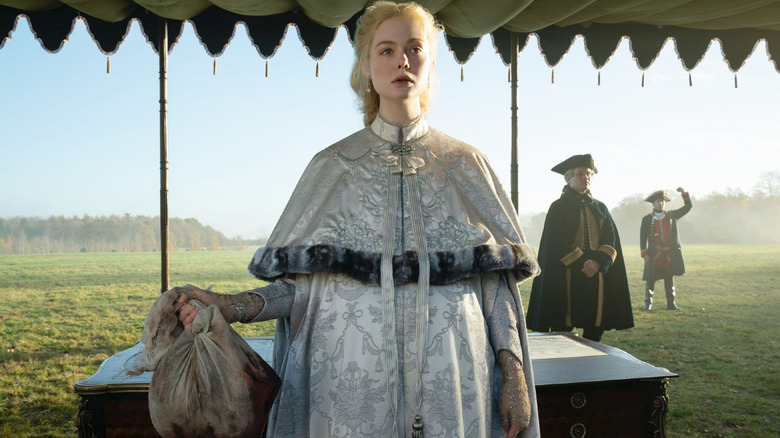 Hulu
Huzzah! "The Great" is coming back for season 3, which is great (sorry) news for all of us watching at home, but bad news for the young Catherine II and her efforts to bring the Enlightenment to Russia. Season 2 only doubled down on the dark absurdism of season 1, throwing everything from surprising pregnancy cravings to crocodiles and war-mongering enemies in Catherine's path. At the same time, the show continued to chart its namesake's growth into an effective leader, evolving her from the daring if naive visionary she once was into a ruler faced with the inevitable challenge of having to reconcile her idealistic views on the world with the harsh reality of what it takes to instill lasting social and political change.
With the season 2 finale having changed the show's subtitle from "An Occasionally True Story" to "An Almost Entirely Untrue Story," it's clear "The Great" is firmly off the roadmap now, as far as the events of Catherine's real life are concerned. Hopefully, though, that will make season 3 all the more unpredictable a ride as we wait to see what comes next in this alternate historical Russia (a place where everybody wants to either kill or bang each other, if not both) that series creator Tony McNamara and his fellow creatives have imagined.
When and Where to Watch The Great Season 3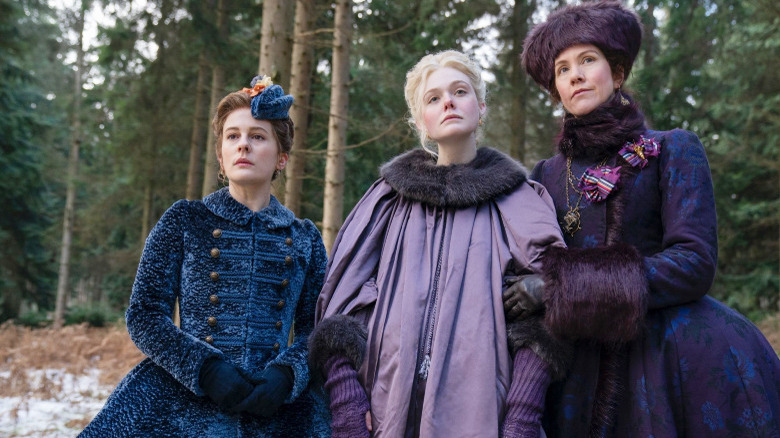 Hulu
"The Great" season 3 will consist of 10 episodes and stream exclusively on Hulu, like seasons 1 and 2 before it. Where the show's first season debuted on May 15, 2020, its second installment didn't arrive until November 19, 2021, what with the pandemic having delayed the start of filming. As such, it stands to reason the turnaround will be shorter between seasons 2 and 3, depending on how things go over the months ahead. (Knock on wood.) A late 2022 arrival isn't out of the question either, although early 2023 might be more likely.
Another thing to keep in mind: Before "The Great" premiered, executive producer Marian Macgowan confirmed the show was designed to last for years, stating (via Decider), "We initially pitched six seasons. So we believe there's sufficient material to take us through until [Catherine] is an old woman." If nothing else, that implies a rough outline for season 3 may already be in place.
What We Think The Great Season 3 Will Be About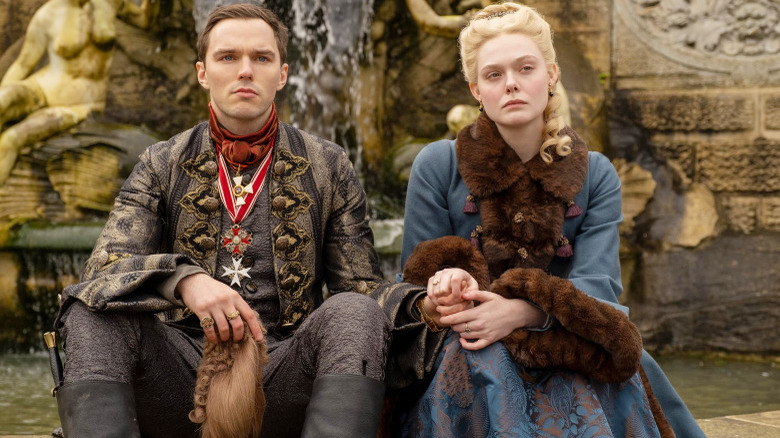 Hulu
Although Season 2 ended with Catherine nearly killing Peter (it turned out she had really stabbed his double Pugachev, who was somehow fine, if annoyed), it looks like those kids will be sticking together in spite of what happened to Catherine's mother Joanna — a matter that, obviously, Catherine won't be forgetting anytime soon. In the meantime, it seems Peter intends to keep working on being a decent husband to her and a loving father to their son Paul. As for Catherine, she certainly hasn't given up on changing Russia for the better, even if she's more aware now of the gap between her ideas about love and philosophy and the messy truth of human nature.
The season 2 finale also left plenty of other dangling plot threads for "The Great" season 3 to pick up, including what's to become of Marial now that Catherine's had her arrested — after Mariel told her the truth about Joanna — along with Arkady, Tatyana, and Grigor (who, unlike Mariel, were conspiring against Catherine). There's also the matter of Georgina, who's convinced Catherine she's onboard with the Enlightenment and will have to find new ways of undermining the Empress without her fellow nobles. Also, Archie's still struggling with his faith, but he's no longer plotting against Catherine, who in turn no longer wants to kill him. (Can't say the same for Orlo.) Progress?
What We Know About The Great Season 3 Cast and Crew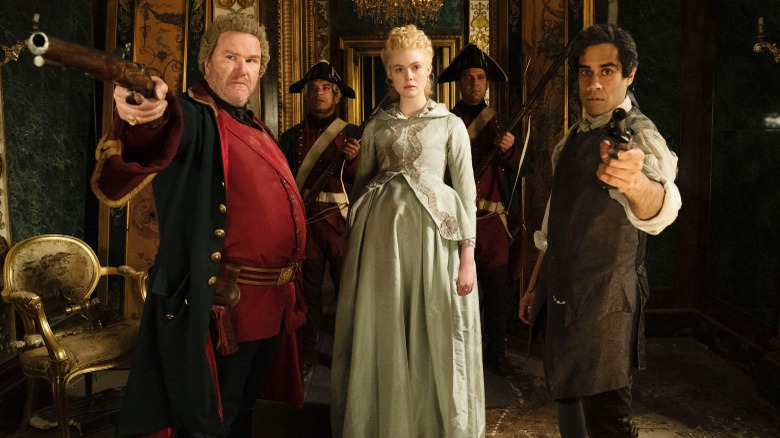 Hulu
Most of the main cast from "The Great" seasons 1 and 2 will be back for season 3, including Elle Fanning (Catherine), Nicholas Hoult (Peter/Pugachev), Sacha Dhawan (Orlo), Douglas Hodge (Velementov), Belinda Bromilow (Elizabeth), Adam Godley (Archie), and Charity Wakefield (Georgina). Phoebe Fox (Marial), Gwilym Lee (Grigor), Bayo Gbadamosi (Arkady), and Florence Keith-Roach (Tatyana) will also undoubtedly be back, although it's possible their roles will be reduced or limited to fewer episodes, depending on what Catherine has in mind for them and how quickly she and Marial make amends with one another. (Assuming they do.) It's possible that even Gillian Anderson will pop up as Joanna at some point. After all, if Peter can get a visit from his dead dad (Jason Isaacs), then we can't rule out Catherine having a similar chat with her deceased mom.
Behind the camera, McNamara will once again serve as the head writer and showrunner in season 3, with Colin Bucksey likely to return as a director after calling the shots on multiple episodes in seasons 1 and 2. One presumes (nay, hopes) composer Nathan Barr will also be back to continue providing the show's score (which, up to this point, has been a pitch-perfect blend of regal and irreverent musical themes). Beyond that, though, it's unclear who will be overseeing the debauchery and comical violence to come when the series resumes its not-even-remotely-factual trek through the life of Catherine the Great.