The Star Trek: Strange New Worlds And Lower Decks Crossover Episode Is A 'Full-On Comedy'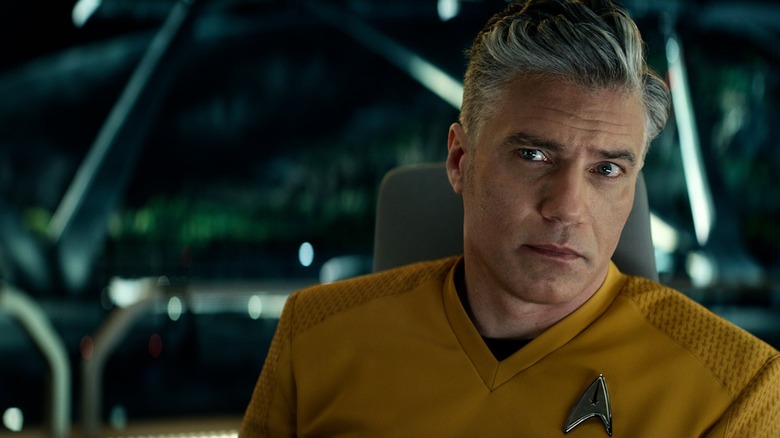 Paramount
People often commend "Star Trek" for its science fiction elements and incredible use of allegory, but they seem to forget that the franchise can also be funny. Really funny. The funniest "Star Trek" show of them all is "Star Trek: Lower Decks," the animated workplace comedy that takes place on the California Class ship the U.S.S. Cerritos, and soon they're going to bring their brand of laughs to another "Trek" show since "Lower Decks" will cross over with "Star Trek: Strange New Worlds" in the latter show's second season. Somehow, Jack Quaid's Ensign Boimler and Tawny Newsome's Ensign Mariner are going to end up crossing paths with the live-action crew of "Strange New Worlds", and it's bound to cause all-out hilarity, right? 
In an interview with SFX Magazine, the episode's director (and William Riker himself) Jonathan Frakes explained the tone behind the crossover and the intense comedic energy of having two of the funniest people in the whole "Star Trek" franchise on the bridge of the Enterprise. "Star Trek" has a long history of character crossovers, like "The Next Generation" captain Jean-Luc Picard (Patrick Stewart) appearing on the pilot of "Deep Space Nine," or Riker showing up on "Voyager," but this is the first time anyone in the franchise has made the jump from animation to live-action. It's also probably going to be the funniest, so I simply cannot wait. 
Wait, how are they doing this again?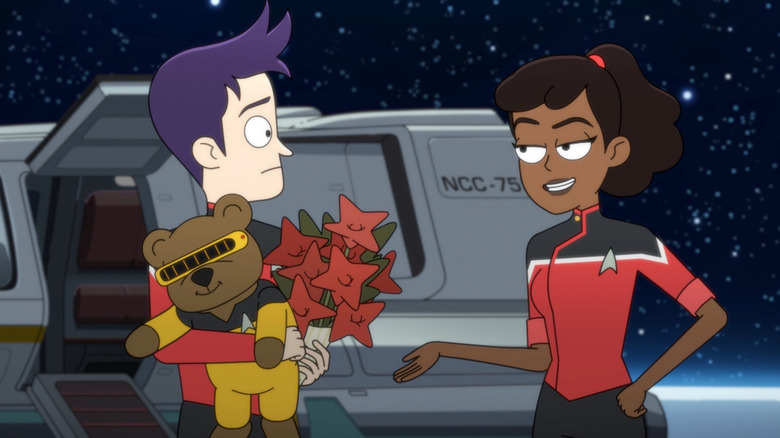 Paramount
Frakes gushed about the opportunity to do something totally different within the "Star Trek" franchise, explaining that while the shows are often funny, there just hasn't been anything as experimental or loose as what's being done on these two newer shows:
"It was such a treat for me because it is a flat-out comedy. Full on. And they're fearless over there, they take some really big swings on 'Strange New Worlds.'"
He went on to explain that while Boimler and Mariner are animated at the beginning and end of the episode, they spend the majority of its runtime in their live-action forms. ("It's not really 'Roger Rabbit,'" he said.) This reveal clears up some confusion about how exactly the Lower Deckers would make their way over to "Strange New Worlds," at least in terms of filming. Characters from live-action shows have transitioned over to animation in "Star Trek," but they've never gone the other direction. 
Thankfully, both Quaid and Newsome look a lot like their onscreen counterparts, though Quaid will have to dye his hair or don a wig. I think he could rock purple, myself. Newsome has been trying to get Quaid to dye it, so we'll have to see! Sadly, we won't get to see live-action versions of Tendi (Noël Wells) or Rutherford (Eugene Cordero), but hey, maybe it could happen in the future!
Loosening up with the Lower Deckers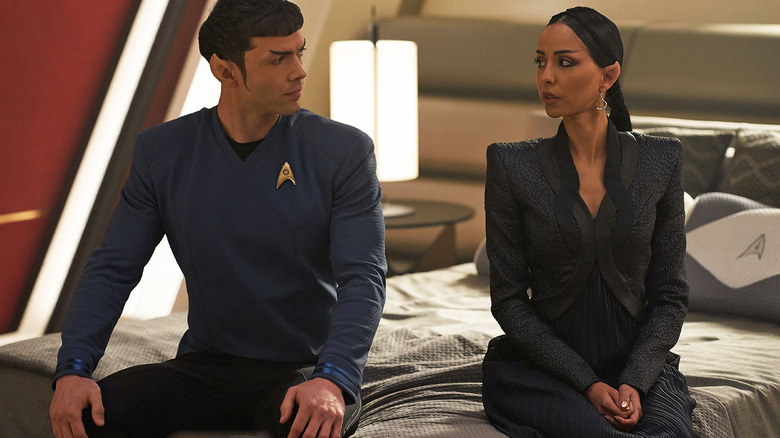 Paramount
Frakes went on to share his experience directing the two Lower Deckers alongside the crew of "Strange New Worlds," highlighting their individual comedic talents and how they managed to bounce off of one another:
"God, the two of them have got great energy, and it freed up the acting company on 'Strange New Worlds' to play more broadly. Anson [Mount is] a wonderful comedian, very dry, but so's Rebecca [Romijn]. It encouraged Ethan [Peck] and everyone, there were just a lot of positives that came out of them having the guts to do a full-on comedy, let alone a crossover with an animated show."
Peck and Quaid had such a good time filming together that Quaid called it a "bromance" for the ages, and it sounds like everyone had a blast cracking wise as a crew. Newsome is a massive "Star Trek" fan, so I imagine her first time walking onto the bridge of the Enterprise was pure joy. We still don't know the premiere date for "Strange New Worlds" season 2, so we have to wait a while to see what kind of hijinks this crossover crew get into, but I'll bet all of the latinum in the universe that it's worth the wait.