Tawny Newsome's Love For Deep Space Nine Led To A Star Trek: Lower Decks Rewrite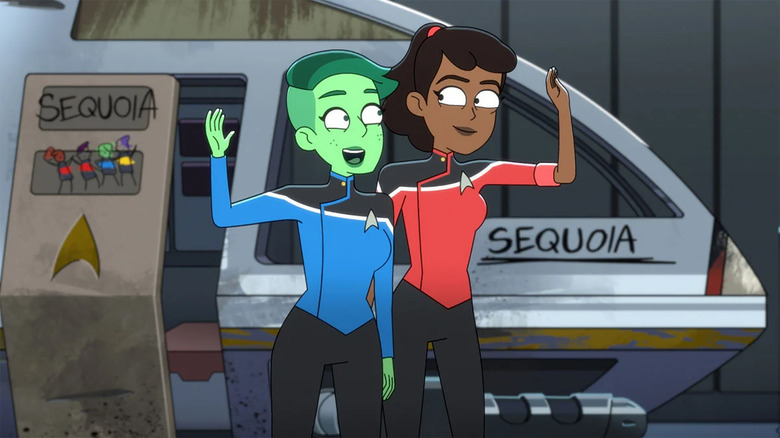 Paramount
"Star Trek: Lower Decks" has given its characters fun chances to interact with some of the cast members from other famous "Star Trek" crews, including Will Riker (Jonathan Frakes) and Deanna Troi (Martina Sirtis). But season 3 will see the crew of the Cerritos headed to one of Starfleet's most famous non-starships: the space station Deep Space Nine. "Star Trek: Deep Space Nine" was a series that didn't get quite the warm reception from fans or critics that it deserved, but has become a fan favorite with a seriously devoted following. "Lower Decks" shares some things in common with "Deep Space Nine," including being a bold new approach to the old "Trek" format, and it will be a real treat to see how the writers lovingly riff on my personal favorite corner of the franchise. 
One huge "Deep Space Nine" fan was almost very unhappy with the episode, however: actor Tawny Newsome. Newsome, who voices the feisty Ensign Beckett Mariner, discovered that Beckett wasn't going to get to be on "Deep Space Nine" because she was on another mission, and that was just too much to bear. So Newsome took her concerns to series creator Mike McMahan, and the two managed to figure something out.  
A show by fans for fans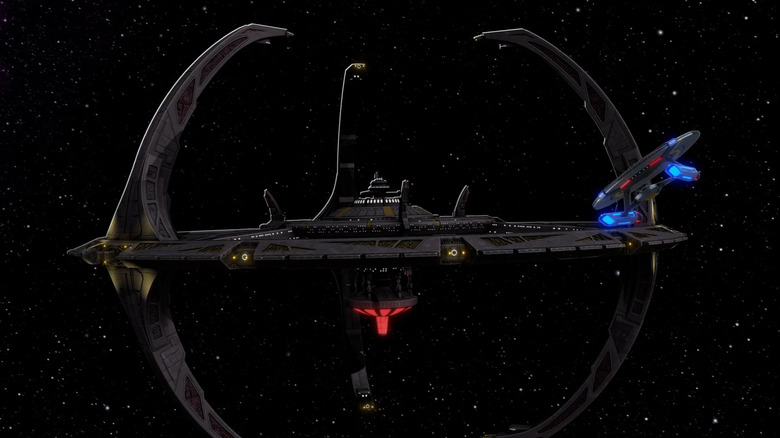 Paramount
In an interview with TrekMovie.com, Newsome detailed the conversation she had with McMahan after she realized that she wasn't going to get a chance to live out her "Deep Space Nine" fan fantasies: 
"So he wrote the DS9 episode and he wrote it with Mariner on like a side mission or like on a different storyline. And I read it and I got really sad for myself, Tawny, because I'm a huge 'Deep Space Nine' fan and I really wanted to play in that world. So he logged on to the Zoom and I gave him some serious s*** for it. I was like, 'How are you denying me this as a fan?' And he was like, 'Tawny, we're making a TV show. This isn't about your wants and dreams.' But I think he ultimately heard the wisdom and what I was saying. And then he did rewrite the ending for me."
I am also a massive "Deep Space Nine" fan and when I interviewed Newsome earlier this year, we both got giddy over an episode about Jadzia Dax (Terry Farrell). Newsome is not just a total "Trek" fiend, but she's a hardcore DS9 dork and absolutely deserves a chance to see her character walk the Promenade or have a drink at Quark's. And apparently, the "Deep Space Nine" episode wasn't the only time Newsome managed to make some waves in the "Lower Decks" universe. "Star Trek: Lower Decks" is a show by "Star Trek" fans, for "Star Trek" fans, so it makes sense that the team is willing to take input from their nerdy cast members. 
Like Mariner, Newsome is full of ideas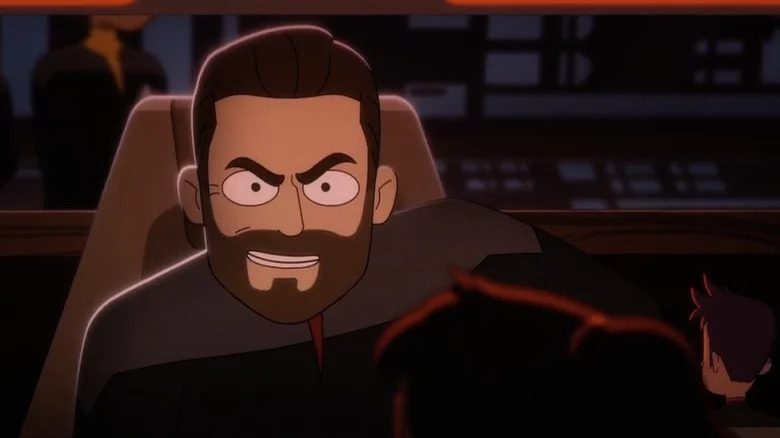 Paramount
Though Newsome managed to put her foot down and have her special moment aboard the space station, some of her other suggestions haven't gone over as well. When TrekMovie asked about her other pitches to McMahan, she said that it was both a good and bad thing that she came from the rejection-heavy world of improv comedy: 
"Yeah, there's a lot of me trying to throw my weight around successfully and unsuccessfully sometimes. I spent so long doing improv and so long doing comedy that I'm pretty easy when someone's like, 'No.' I'm just like, 'Alright.' But I also won't stop pitching. So there's a lot of stuff I pitched, especially in the 'Strange New Worlds' crossover. There were a lot of... they really invited us to play and collaborate in a way that was so refreshing. And then having Jonathan Frakes at the helm for that was perfect."
The "Strange New Worlds" and "Lower Decks" crossover is pretty exciting, and hearing that Newsome was able to pitch in on ideas makes me even more excited to see what the two teams deliver. It's a great time to be a "Star Trek" fan... even if you're not Tawny Newsome. 
New episodes of "Star Trek: Lower Decks" premiere Thursdays on Paramount+.