Daniel Craig Is Bringing A James Bond Level Of Dedication To The Knives Out Franchise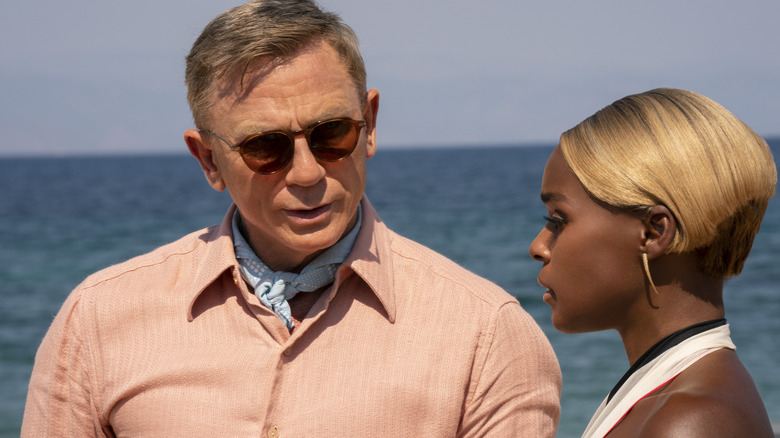 Netflix
When you think about top-tier performers who routinely put their bodies on the line for the sake of their roles, two names will probably come up in rapid succession: Tom Cruise and Daniel Craig. But where Cruise gets most of the headlines for gleefully defying death again and again in the "Mission: Impossible" franchise and other mega-blockbusters, Craig's acclaimed run as James Bond was briefly marred by the actor's less-than-flattering comments in the immediate aftermath of wrapping production on 2015's "Spectre." Though he eventually walked back those statements and went out in a blaze of glory with a fond sendoff in "No Time to Die," the sentiment remained the same — these films took a lot out of Craig, both physically and mentally.
It's no wonder that his career outside of Bond has run the gamut of (comparatively) more fun and laid-back roles, whether it be the hilariously unhinged criminal Joe Bang in "Logan Lucky" or the fan-favorite (and equally quirky) detective Benoit Blanc in Rian Johnson's "Knives Out" franchise. Freed from having to perform dangerous and punishing stunts or maintain an absurdly unrealistic physique, Craig has been able to slide into these much more varied characters and bring a different kind of intensity ... particularly when it comes to "Knives Out."
With "Glass Onion" set to arrive in select theaters for the Thanksgiving holiday ahead of its Netflix release in December (check out /Film's review by Chris Evangelista here), Craig and Johnson have been making the PR rounds and, in this case, have drawn direct parallels between Craig's preparation for both Bond and Benoit Blanc.
'He works his ass off'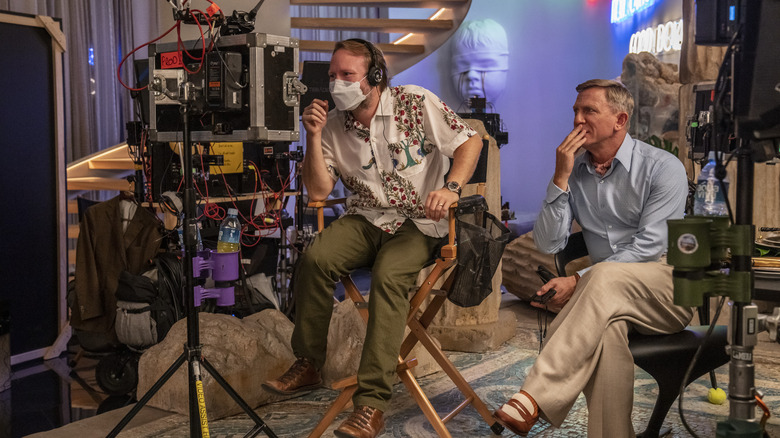 Netflix
Having directed genuine greats like Mark Ruffalo, Rachel Weisz, Emily Blunt, Bruce Willis, Mark Hamill, Bryan Cranston, and, well, the entire casts of both "Knives Out" and "Glass Onion," Rian Johnson is well familiar with the idea of getting incredible performances out of his acting talent. As one of the only performers to make the jump from the first murder-mystery installment to the sequel, Daniel Craig's Benoit Blanc obviously acts as the glue holding this franchise together. No actor committed to getting the best possible work out of themselves can afford to put more effort into one than another, but it's nonetheless endearing to hear that Craig pours just as much prep work into an original whodunnit as he did with one of the most popular franchises on the planet.
That's what Johnson had to say in a recent Yahoo! News interview, giving credit exactly where its due for the success of the "Knives Out" franchise:
"I know he deeply loved doing Bond and I know how deeply emotionally committed he was to it. They also were big, physically demanding movies. They were hard. But I don't want to underplay the amount of work he puts into these ['Knives Out'] movies. He works his ass off and in order to make it look cool and breezy and effortless, a hell of a lot of effort goes in on his part behind the scenes."
Oddly enough for all those angry YouTubers who were certain that "Star Wars: The Last Jedi" would ruin Johnson's career and that nobody would care about his "Knives Out" venture (there are 400 million bits of compelling evidence, need we remind anyone, that would argue otherwise), Hollywood's A-list stars sure seem to love working with him!
Take backs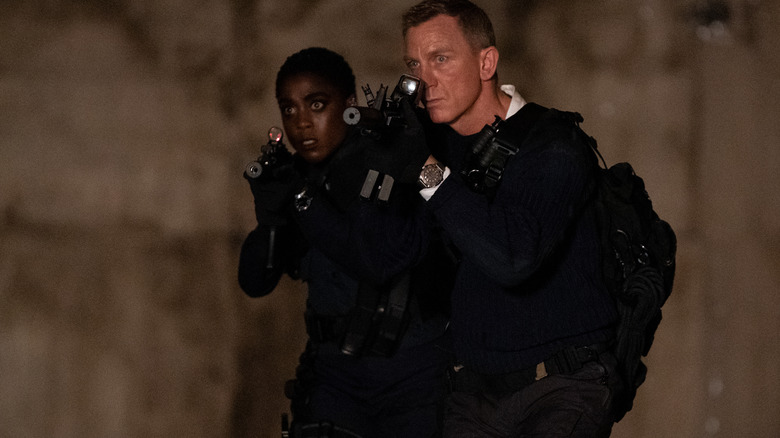 MGM
As for Craig, he expresses quite a bit of regret over how he handled those aforementioned controversial comments during his Bond tenure elsewhere in the Yahoo! interview. He can easily be forgiven for speaking somewhat rashly about his filming experience on "Spectre," especially when he'd only just reached the light at the end of the tunnel. (Having had to actually sit through that misfiring sequel, after all, I'm not sure how anyone could blame him for feeling negative about it. After all, he's far from the only one!) According to Craig, his own frequent comments about the physicality of the stunts throughout the "Bond" movies did a disservice to the other contributions he's most proud of:
"It's my fault because I kind of didn't shut up about the fact that I had all these injuries. I'm pissed off at myself that I ever even spoke about them. I put way more work into the creative side of those movies than I did into the physical side of those movies. The physical side of the movies was just the job. I had to do it. I trained, learned the fights, that's kind of my brain not working. The rest of it, the look, the feel, the kind of the temperature of the movies, getting Sam Mendes in to direct 'Skyfall,' that's where the hard work was. Going to the gym is hard work, but it's not really brain hard work."
It's hard to disagree with Craig's perspective here, especially now that he's a few years removed and has the benefit of hindsight. Here's hoping that being freed from one of the most time-consuming blockbuster franchises around will give us even more entertaining Daniel Craig roles to come.
We'll get to see the very next one of those when "Glass Onion" has its limited theatrical release on November 23, 2022, ahead of its Netflix debut on December 23.