Daniel Craig Still Loves Playing James Bond, Despite That Whole Wrist Slashing Remark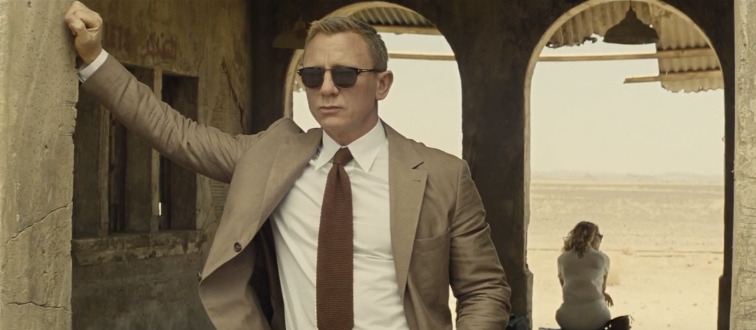 Anyone who keeps up with James Bond has probably heard the remark that Daniel Craig made during the publicity tour for Spectre last year regarding a preference for slitting his wrists instead of doing another movie as 007. However, this reaction came at a time of pure exhaustion after making the movie and being on a worldwide publicity tour for it. But that hasn't stopped discussions of a potential replacement for the actor, though we've recently heard that Daniel Craig is still the first choice for playing the secret agent, even though the report of a $150 million offer was revealed to be bogus.
Now we finally have some recent thoughts on the matter from Daniel Craig, who was interviewed at The New Yorker Fest for the first time since his Spectre press tour. The discussion tackled a variety of topics from his acting career, but of course chatter inevitably turned to the likelihood of him returning for Bond 25. While he didn't offer any solid answer one way or the other about putting the tuxedo on again, it's clear that while everyone thought Daniel Craig hates James Bond, he still has a love for the franchise and character.
Here's a video captured from the interview by Phil Noble Jr. from Birth.Movies.Death:
"Were I to stop doing it, I'd miss it terribly." Daniel Craig indicates he has not quit the James Bond role. #007 pic.twitter.com/YgiVLVqEzA

— Phil Nobile Jr. (@PhilNobileJr) October 8, 2016
Craig equates his now infamous wrist-slashing quote to being asked to run a marathon just after he's finished another marathon. The actor goes on to praise the process of making a Bond movie by saying, "There is no other job like it...and if I were to stop doing it, just saying, I would miss it terribly."
He also goes on to praise how Bond movies are made by pointing out that most blockbusters are made by focus groups now, but that process doesn't usually happen for the 007 franchise because of how quick the turnaround is for those movies. Though some focus group testing probably would have served to make Spectre a little better in the end.
So while there's still no confirmation as to whether or not Daniel Craig will return as James Bond, the actor said in another part of the interview, "I love this job, I get a massive kick out of it. And if I can keep getting a kick out of it, I will." But Craig also noted currently, "There's no conversation going on, and genuinely because everybody's just a bit tired." So let's just give Daniel Craig and the producers some time to recover, and hopefully they can take their time to come up with something better than Spectre turned out to be.