Rian Johnson Is Riding A Murder Mystery High And Wants To Get Started On Knives Out 3 Right Away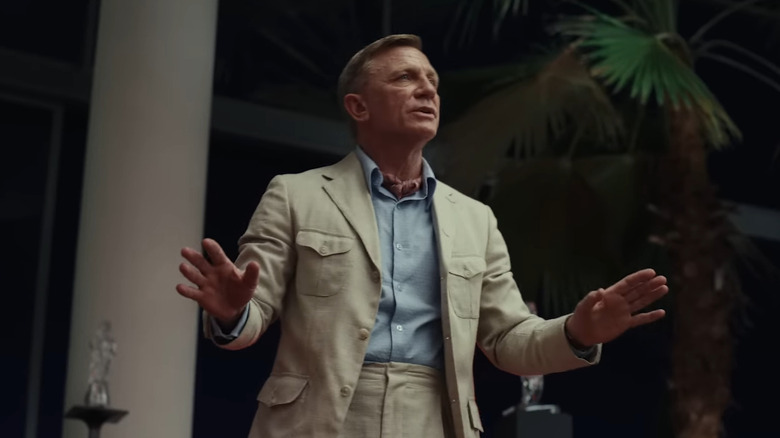 Netflix
If you're eagerly anticipating the triumphant return of your favorite southern-fried detective, then you're not alone. Thankfully, the wait is nearly over. Rather than being patient until the week of Christmas, director Rian Johnson is giving us a chance to reunite with Daniel Craig's Benoit Blanc on November 23, as "Glass Onion: A Knives Out Mystery" is given a brief theatrical run before its exclusive streaming release on Netflix.
Where "Knives Out" assembled a stellar ensemble with folks like Jamie Lee Curtis, Michael Shannon, and Ana de Armas, "Glass Onion" continues the tradition with the round-up of Dave Bautista, Madelyn Cline, Kathryn Hahn, Jessica Henwick, Kate Hudson, Leslie Odom Jr., Janelle Monáe and Edward Norton. As expected, foul play is afoot, as someone winds up dead on a billionaire's private island, and it's up to Blanc to get to the heart of this new mystery.
"Death on the Nile" and "See How They Run" were fun murder mystery warm-ups to the start of the year. But with the upcoming release of "Glass Onion," which /Film's Chris Evangelista believes is home to Craig's best performance to date in his review, Johnson is back to prove just how good he is at updating the whodunnit for a whole new generation.
Constructing a film series revolving around Blanc conveniently ending up at the scene of the crime is the best decision the "Brick" filmmaker could have gone with. I haven't even seen "Glass Onion" yet and I'm already anticipating the next mystery he has in store. Apparently, neither can Johnson himself.
Johnson has Knives Out fever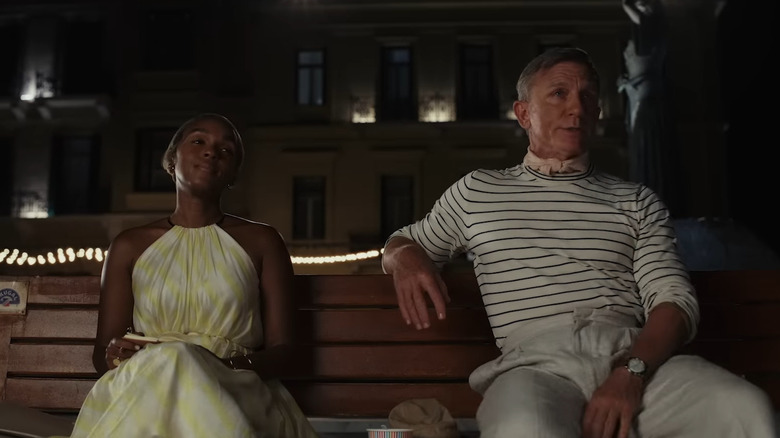 Netflix
In the latest issue of Total Film, Johnson talks about how eager he is to jump into a third "Knives Out" flick already:
"I had for a while thought that maybe I should do something else first [...] But the God's honest truth is, I had so much fun making this one, and the creative challenge of figuring out a third movie that's completely different from both this one and the first one — right now, that's the most interesting creative challenge to me. So I might just dive in and see what we come up with."
Given how well "Glass Onion" had been received months ahead of its release, you can all but hear the executives at Netflix jumping for joy with this kind of statement. After all, in March of last year, the streaming service giant commissioned a $450 million deal for two "Knives Out" sequels. A third film is on the way regardless, but if Johnson is ready to go, then I'm ready to see what other kind of twisty-turny surprises he has in store for us.
Half of the fun of watching a "Knives Out" flick comes from seeing how many incredible actors Johnson can cram into one room, and make them all equally memorable. At a point, you have to wonder how he's going to keep topping himself like this. In an even more exciting development, it appears that Johnson seems intent on keeping the "Knives Out" train rolling, albeit with a small caveat.
Johnson wants to emulate the ingenuity of Agatha Christie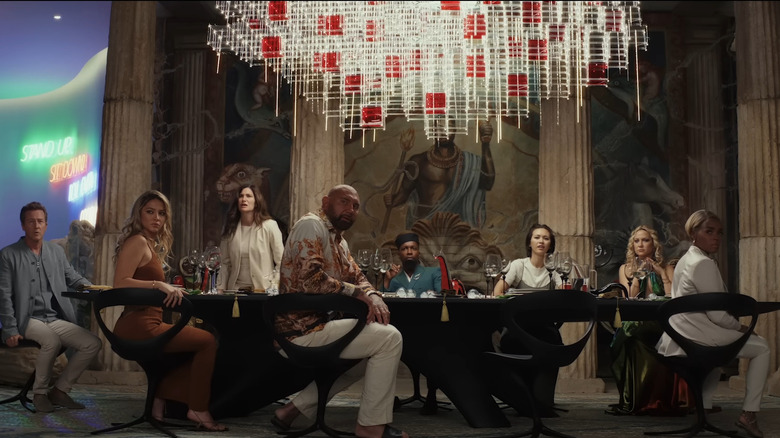 Netflix
When it comes to assigning himself to another Blanc mystery, Craig seems intent on possibly making it his next project as well. "I don't know. It depends on how quick he is," muses Craig. Johnson clearly has an incredible relationship with the "James Bond" star, so getting into more "Knives Out" adventures is less about if he wants to, and more about whether he can still make it feel fresh (via Total Film):
"The second we feel like we're repeating ourselves, or just turning a crank on a machine, we'll stop. Because to me, the whole conception of this whole series is the same way Agatha Christie did it with her books — we're doing something new and surprising every time."
As great as it would be to continue the cycle of a new "Knives Out" film every few years, the reason why this series has held its appeal is that Johnson takes his time. These are not your average whodunnits, but a result of Johnson crafting something we've never seen before based on the historical legacy of the mystery masters that came before. I'd be perfectly content watching Blanc going on a vacation where someone isn't stabbed through the chest, but it's clear that he has greater aspirations in mind for this character.
"Glass Onion: A Knives Out Mystery" will have a limited theatrical run on November 23, before exclusively streaming on Netflix on December 23, 2022.