Rian Johnson Wants To Keep Making Knives Out Mysteries Until Daniel Craig Ghosts Him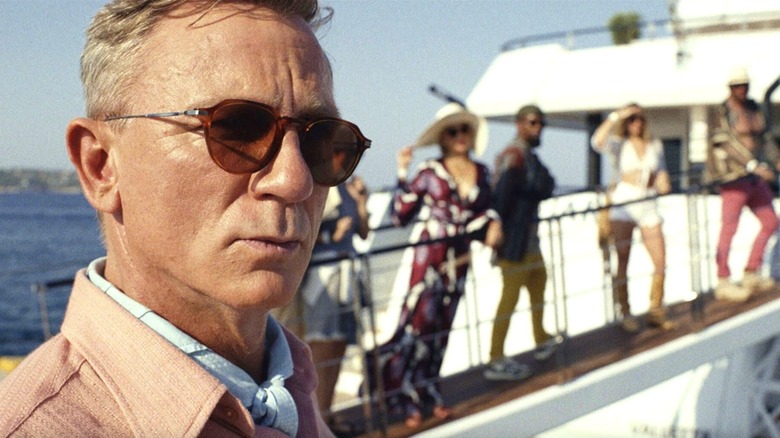 Netflix
Rian Johnson is in his element right now. The director of "Brick" and "Star Wars: The Last Jedi" just premiered his latest whodunnit and follow-up to "Knives Out," titled "Glass Onion: A Knives Out Mystery," at the Toronto International Film Festival.
"Glass Onion" features the return of detective Benoit Blanc and an entirely new all-star cast of suspects. The potential for more "Knives Out" stories beyond the original film was so appealing to Johnson that "Glass Onion" climbed to the top of the myriad projects the director has in the pipeline. Initial reactions to the film praise it as bigger and better than the previous installment, with Craig as Blanc delivering another funny, charming performance.
"Glass Onion" and its already-greenlit sequel won't be the last of the Benoit Blanc mysteries if it's up to Rian Johnson. However, it all hinges on the most integral piece of the puzzle: Daniel Craig, who plays Blanc. According to the writer/director, if the former 007 actor doesn't ghost Johnson, expect more Benoit Blanc in the future.
No end in sight for Benoit Blanc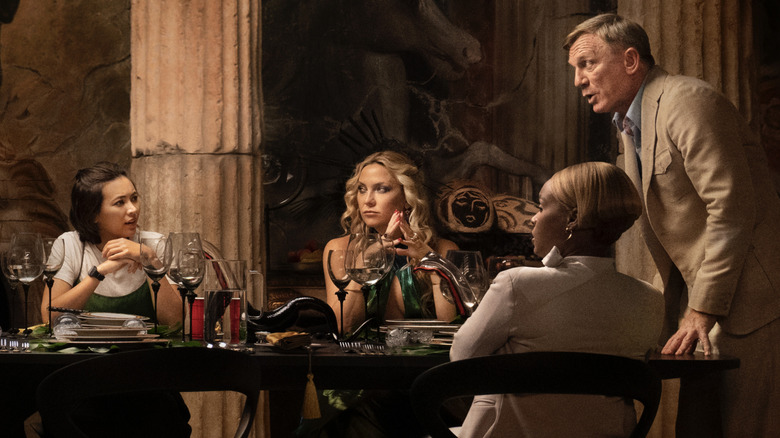 Netflix
In a Q&A following the film's premiere at TIFF, Rian Johnson was asked if there would be more Benoit Blanc films, with Kyle Buchanan of the NY Times taking to Twitter to share the director's answer:
"I'm going to keep making these until Daniel blocks me on his phone."
Daniel Craig has seemingly had a lot of fun with different and unexpected roles between 007 films, portraying the character Joe Bang in Steven Soderbergh's heist film "Logan Lucky" and, of course, portraying Blanc the first time around in 2019's "Knives Out." While Johnson jokes about continuing to write these films until Craig gets sick of them, the real truth is that Craig enjoys these films just as much as Johnson.
Benoit Blanc is a far cry from the self-serious, action-oriented Bond films. The role as the 007 agent was a taxing and emotional one for Craig that he seemed more than ready to be done with, making his turn as Blanc, by comparison, something that's possibly more enjoyable for the actor.
A mutual respect for the story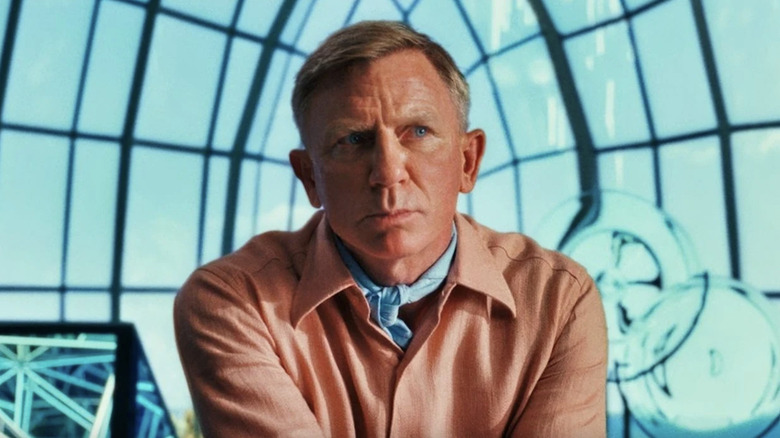 Netflix
Craig echoed Johnson's enthusiasm in an interview with Variety when he was asked if he would continue to portray Benoit Blanc in any potential future films.
"If he keeps writing them, I'll keep doing them. That's what makes it easy then; he's such a wonderful writer that it's there on the page for me to do."
Rian Johnson and Daniel Craig are on the same page regarding future Benoit Blanc mysteries. Moreover, with "Knives Out" and "Glass Onion" both being positively received at this point, there's a real opportunity here for Benoit Blanc to become the modern-day equivalent of someone like Columbo or Jessica Fletcher. (If Natasha Lyonne's character in Johnson's upcoming Peacock mystery series "Poker Face" doesn't beat him to the punch, that is.)
Thankfully, it seems that the beautiful collaboration between Craig and Johnson doesn't seem to have an end in sight anytime soon. Even though "Glass Onion" hasn't received a wide release yet, I, for one, can't wait to see what ensemble cast Johnson assembles for the next Benoit Blanc mystery.