Daniel Craig Has Advice For The Next Bond Actor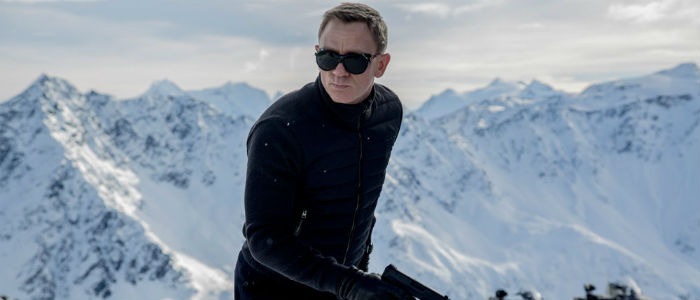 Before Daniel Craig even finishes his run as James Bond, fans are already asking, "Who's going to play the character next?" We may see Craig in the role again after the upcoming Spectre, which comes out next month, but this guessing game isn't going to end anytime soon. The actor isn't done with the character yet, but he does have some wise advice for the next Bond actor. Learn what that advice is after the jump.
As we mentioned last week, the actor is signed on to play Bond one last time. When asked if we'll see him play Ian Fleming's suave super spy again, Craig had this to say:
I'm contracted for one more – but I'm not going to make predictions. [Physically] It's getting harder. But such is life. I'll keep going as long as I'm physically able.
Daniel Craig is 47 years old, and the physical challenges these films require would probably put an actor half his age through the wringer. Spectre took eight months to shoot, which doesn't account for the training Craig has to undergo before principal photography.
In a new interview with Time Out, the actor has a slightly different, and less optimistic, response as for whether he'll come back for 25th installment in the franchise:
Now? I'd rather break this glass and slash my wrists. No, not at the moment. Not at all. That's fine. I'm over it at the moment. We're done. All I want to do is move on.
A truckload of millions just might make Daniel Craig put that glass down. Then again, he probably already has a pool filled with nothing but that Skyfall and Spectre money. He might quickly change his mind if Mendes makes the next sequel, although that seems doubtful. The Road to Perdition and American Beauty director almost didn't direct Spectre, which would've crushed Craig.
The dream would be for Mendes to make another sequel, to finish off his own personal Bond trilogy. If the series moves forward without the auteur and its star, then Craig has some advice for the next Bond actor.
Literally I'd say two things. Firstly, it's your decision. Don't listen to anybody else. Well, do listen to everybody, but you have to make the choice at the end of the day. It's your bed to lie on. And don't be s***! Don't be s***. You've got to step up. People do not make movies like this any more. This is really rare now. So don't be s***. Don't be s***! Go for it. Embrace it. Some clichéd line like that. But no, just make sure you're great. You've got to push yourself as far as you can. It's worth it, it's James Bond.
As for which actor Craig would like to see play the spy next, he "doesn't give a fuck." Although Craig sounds exhausted after the taxing Spectre shoot, he remains enthusiastic about the character. The Layer Cake star not only discusses the lows of playing James Bond in that Time Out interview, but also the highs.
Spectre opens in theaters November 6th.