Ryan Coogler Basically Called Dibs On Using Namor In Black Panther: Wakanda Forever [Exclusive]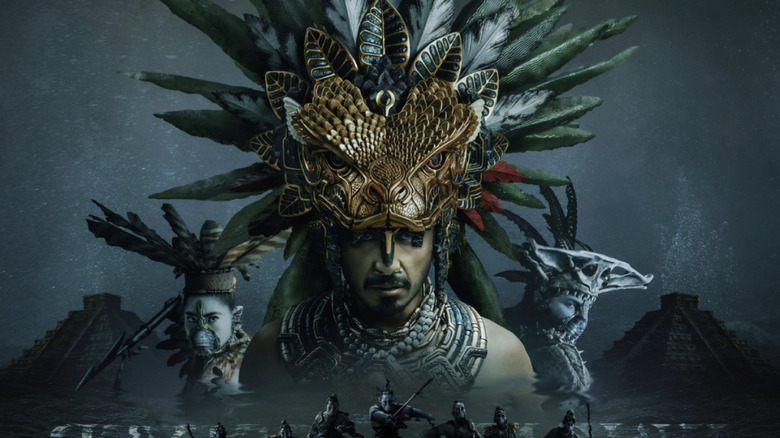 Marvel Studios
"Black Panther: Wakanda Forever" looks to differentiate itself from its incredibly successful predecessor, not only with a new character taking up the mantle of the Black Panther but also with its antagonist as well. Namor, portrayed by Tenoch Huerta, is a different kind of opponent to Wakanda. With an underwater nation of his own, the film looks to be clashing of two kingdoms. The idea is so enthralling and exciting for a movie that it makes sense why Ryan Coogler wanted to use the character of Namor. The character's power set and rich character interactions with T'Challa in the comics make the leader of Talocan the perfect antagonist for a "Black Panther" film. 
Surprisingly, Coogler's fascination with the character and his inclusion in "Wakanda Forever" goes as far back as when production on the original film was happening before its release in 2018. With how fast the Marvel Cinematic Universe continues to expand, Coogler's anxiousness to secure the character for his potential future film is understandable. While there has been a lot of speculation about Atlantis, such as the underwater earthquakes in "Avengers: Endgame" to the blink-and-you-miss-it under-water map markings in "Iron Man 2," it seems Coogler managed to successfully get dibs on the Namor and the rich underwater world that comes with him for "Wakanda Forever."
'Make sure no one uses Namor'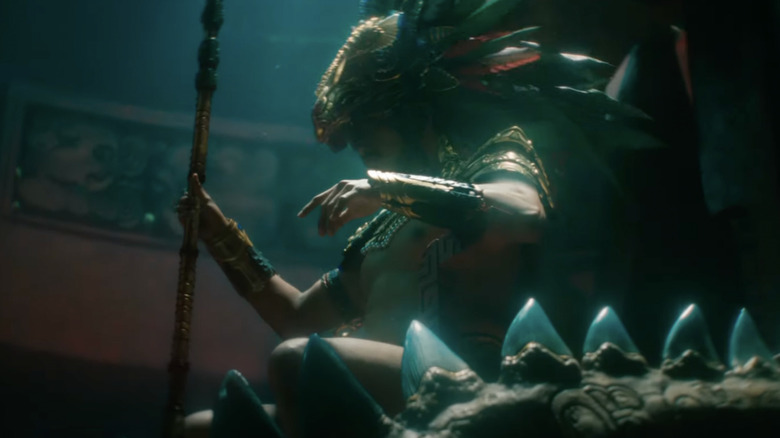 Marvel Studios
In /Film's interview with "Black Panther: Wakanda Forever" producer Nate Moore, when asked the question if Namor was always going to be the antagonist of the film, Moore confirmed that the Sub-Mariner was always meant to go up against the kingdom of Wakanda:
"Ryan is a huge fan of comic books, and in publishing, Namor and Atlantis often would come in conflict with Wakanda and the Black Panther. And so even as early as in post-production on the first movie, he was like, 'If we get so lucky, could we maybe, could I just raise my hand and make sure no one uses Namor?' And luckily, nobody was, and he had a great idea for it very early on. So we started building towards that idea, which I think is really fun."
Coogler being the first director in the MCU to bring Namor to life would lead to inspired creative decisions, such as Atlantis and Namor himself clearly being influenced by Mayan Culture and heavily steeped in Mesoamerican imagery. More than that, though, Namor's portrayal would be one that viewers could easily empathize with, similar to the previous villain Coogler had written and directed, Killmonger (Michael B Jordan). Coogler's character work made Killmonger a stand out in "Black Panther," and the director's talent at making an antagonist three-dimensional would carry over to Namor in "Wakanda Forever."
An actor that embodies the role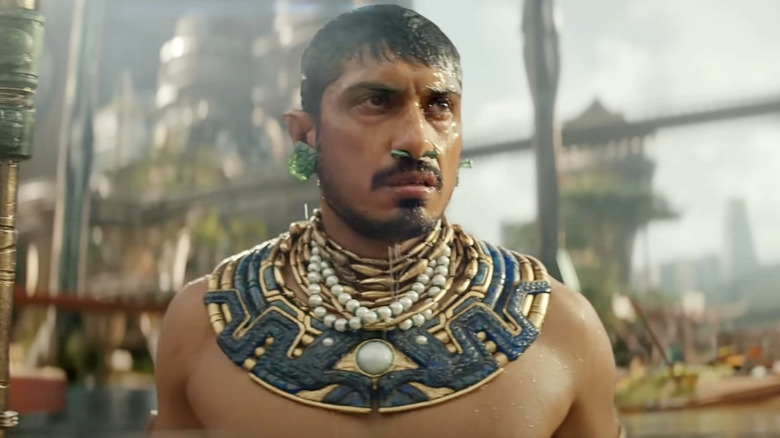 Marvel Studios
Nate Moore spoke in detail about Coogler's ability to write antagonists that are empathetic and human and how Namor's goals in the film aren't one-note, nor is he a selfish character:
"I think Ryan is such an intuitive filmmaker and sensitive person that he doesn't see villains, really. He just sees people who are acting in either their self-interest or in this case, the self-interest of a people whose methods might be wrong but whose point of view is right to them. I think that's smart. I think the best villains are the heroes in their own minds, and Namor is no different. What he is doing in this film is all in an effort to protect his people from having to go through a trauma that is generational."
Another huge implication of Ryan Coogler calling dibs on the character of Namor is the casting decision of Tenoch Huerta as Namor. This decision not only allowed for Mexican representation in the MCU, but Nate Moore also believes the actor perfectly embodies the character:
"It isn't just, 'I want to take over the world,' which is sort of not a real motivation, but it's about people. He is a ruler who cares for his people very deeply. And Tenoch Huerta, I think, embodied that. And there's a scene in the film where you see him lose one of his people and how much that impacts him. That's an important scene because you realize, 'Oh, this isn't a guy who's doing this for no reason. It's because he cares.'"
Coogler's excitement at the idea of using Namor in a "Black Panther" sequel clearly paid off. While the character's future in the MCU is unknown at this point, we can at least thank Coogler for what is sure to be an exciting iteration of the ruler of Talocan.