How Denzel Washington Inspired Killmonger's Black Panther Appearance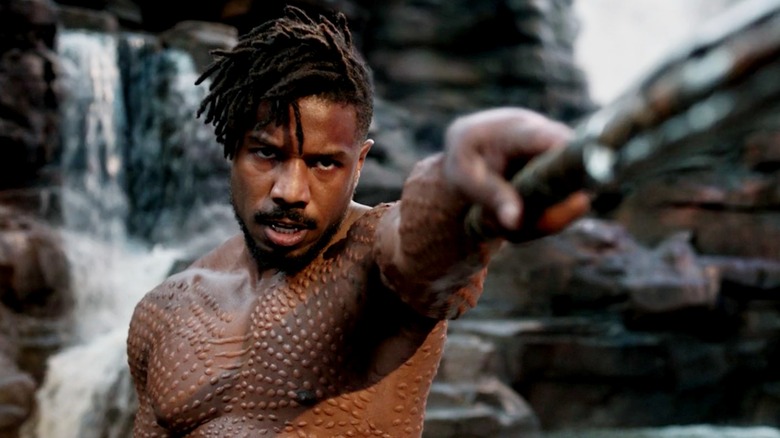 Disney
In "Black Panther," Michael B. Jordan's Killmonger has a torso covered in scars, with each one representing a life he's taken. Brought to life with almost 90 silicone molds according to the movie's press kit, they're a very real and physical equivalent of figurative notches on an assassin's belt. Killmonger is a bad dude who has nonetheless drawn praise as a sympathetic, richly motivated villain — one of Marvel's best. It turns out Jordan also drew inspiration for his character from a classic Denzel Washington performance.
Washington won his first Academy Award for the 1989 Civil War film,"Glory," and upon revisiting that film for its 30th anniversary, we mentioned that the scars on the back of his slave turned soldier, Trip, were an influence on Jordan in his portrayal of Killmonger. It was Jordan himself who revealed this at a 2019 event where Washington received a Life Achievement Award from the AFI (American Film Institute).
Addressing Washington himself (per Entertainment Weekly), Jordan said:
"I remember hearing stories about you and I heard stories that when you were huddled around the campfire in that film, [Glory], you weren't supposed to be shirtless but you still had the scars put on your back, so you could feel it, so you could know that's what your character's been through. I tell you right now tonight brother, that's the only reason why Killmonger, when I played that role, I had those scars, even when I wasn't shirtless because of you, so I want to say thank you for that."
The Weight of Film History and African Culture
Above, you can see some of the other comments Jordan made onstage in his AFI tribute to Washington. This wouldn't be the last time they shared the same room. In fact, they have since gone on to work together, with Washington directing and Jordan starring in "A Journal for Jordan."
In "Glory," it's a big moment when Trip's shirt comes off and his scars are revealed, since he's about to receive a public whipping as punishment from his white regimental leader, and we now have a visual showing that he suffered similar abuse from slave-owners in the past. For his part, Killmonger wants to serve as his own leader and fight back against his oppressors from a position of strength on the throne of Wakanda.
"Black Panther" brought an explosion of color and culture to the Marvel Cinematic Universe, and much of its design came from real-world inspirations, as well. As ScreenRant notes, Killmonger's scars have a basis in tribal rituals across several African countries, including Ethiopia, South Sudan, and Uganda.
The scars may serve as a reminder of the lives that Killmonger has snuffed out, but for Jordan, they carried the weight of both film history and African culture as well.