The Daily Show Could Have Rotating Hosts Following Trevor Noah's Exit From The Series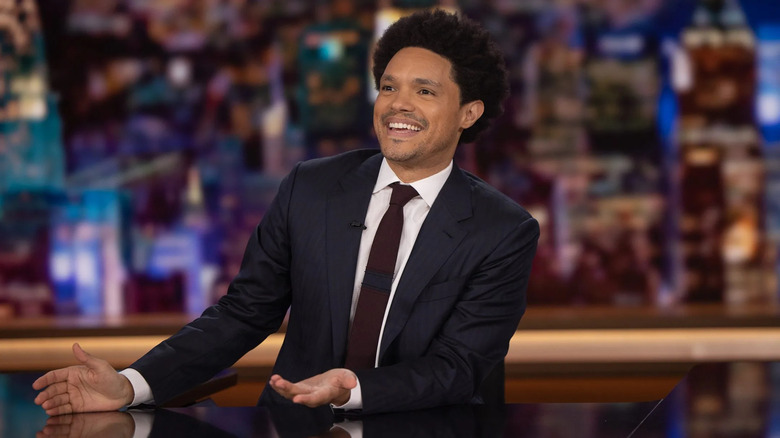 Comedy Central
When Trevor Noah took over as the host of "The Daily Show" following the exit of Jon Stewart after 16 years, plenty of naysayers believed there was no way he could meet the challenge. Fortunately, those people were very, very wrong, and Noah completely made "The Daily Show" his own. With his Trump administration and early pandemic-era coverage stronger than just about any other late night host, Noah proved he was the right person for the job, so much that he was chosen to headline the first annual White House Correspondents' Association dinner following a two year COVID-19 triggered hiatus. 
With Noah leaving "The Daily Show" after a seven-year reign as host, many have been speculating (us included) as to who will be Noah's successor. Comedy Central, which broadcasts the show, is currently going through massive changes, with parent company Paramount Global signaling the next wave of the show will come as part of a "reinvention" for the channel.
According to a report from Variety, part of that new wave is possibly introducing a rotating cast of hosts, rather than hiring an outright replacement. It's important to note that these plans are not set in stone, but it's interesting to learn that a variation of hosts is a possibility. "The Daily Show" has always thrived with its contributing segments from the show's correspondents, so having a roster of hosts isn't a super far-fetched idea. Current correspondents include Roy Wood Jr., Ronny Chieng, Desi Lydic, Michael Kosta, and Dulcé Sloan, all of whom would be more than suitable hosts. By introducing a diverse roster of talent, it would also allow for hosts to speak with authority on certain hot-button issues that impact them personally, and it could make for much stronger segments. 
A new form of late night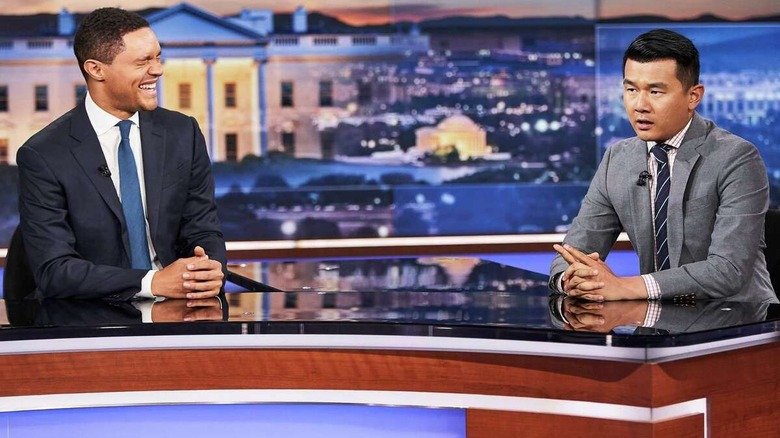 Comedy Central
The late night sphere as we know it feels like it's dying a slow death: James Corden is leaving "The Late Late Show" in 2023, "Full Frontal with Samantha Bee" and "Conan" have already come to an end, and late night ratings are plummeting across the board. Though "The Tonight Show" with Jimmy Fallon and "The Late Show" with Stephen Colbert aren't going anywhere, that's still not a vote of confidence in the lifespan of late night TV as we know it.
I'll be the first to admit that despite having HBO, I consume episodes of "Last Week Tonight with John Oliver" when the clips are broken up and presented in digestible segments on YouTube, fully aware that this makes me part of the problem. The reality is that people, especially younger audiences, aren't consuming late night style programming the way we once were. It seems ridiculous to hear a stand-up comedian riff on some current event that I already saw earlier that day on Twitter, with much funnier commentary from random quote tweets. "Saturday Night Live" even seems to get more attention when sketches are posted individually on YouTube rather than the actual live broadcast.
The problem with late night TV these days is that the celebrity interviews feel inauthentic and too rehearsed for most viewers' liking. Why would anyone want to hear a handful of canned responses for 10 minutes when just about every famous person under the sun has a podcast we could listen to for hours? Say what you will about "The Tonight Show Starring Jimmy Fallon," but at least he does interesting things like have Ariana Grande impersonate the singing styles of other famous musicians.
A constant rotation of hosts on "The Daily Show" would feel fresh and new, and it has the potential to work better for current audiences' growing desires. "The Daily Show" and "South Park" are currently the ventilator keeping Comedy Central alive, but if they can pull off a format featuring a variety of hosts, "The Daily Show" could very well reinvent, or even save, the late night landscape.
"The Daily Show" will go on hiatus following Noah's final episode on December 9, 2022, and the series will return on January 17, 2023.