The Problem With Jon Stewart Season 2 Trailer: More America, More Problems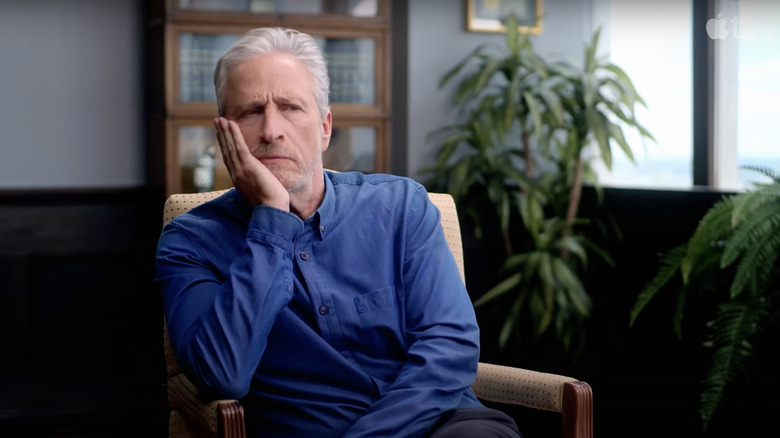 Apple TV+
When Jon Stewart left "The Daily Show" in 2015, many feared that we had lost one of the strongest political voices in entertainment, just as we were heading into one of the most tumultuous presidential administrations in history. Trevor Noah stepped up to the position and proved to be a more than worthy successor for the following seven years, but recently announced his own departure from the Comedy Central series. Stewart spent 16 years as the host of "The Daily Show," and regardless of how fantastic Noah was as his inheritor, there were still people wishing to see him return to a position of current affairs commentary in some way, shape, or form.
Luckily, Apple TV+ did exactly that last year when they debuted "The Problem with Jon Stewart," a late night series that spends each episode focusing on a singular issue that impacts a variety of different people, bringing those affected together to determine actionable efforts that can genuinely enact change. The first season tackled a variety of complicated topics, like the treatment of veterans, COVID-19, the working class economy, gun control, the stock market, climate change, cable news networks, and systemic racism. Now, the show is back for its second season, and Stewart is ready to tackle even more hot-button topics.
The Problem with Jon Stewart season 2 trailer
Based on the trailer, it's safe to assume that one of the topics Stewart is covering this season is the skyrocketing introduction of anti-transgender legislation, which has seen an 800% increase since 2018. No, seriously, and he's got the data to prove it. Additionally, Stewart is going to tackle the nonsensical system of American taxes, globalization, Afghanistan, elections, and what appears to be some sort of ... cosmic horror? Just as in the previous season, there will be experts, activists, politicians, and celebrities interviewed, including the return of LeVar Burton to add his own educational commentary and allow the former "Reading Rainbow" host to teach us a thing or two once again.
"The Problem with Jon Stewart" has also spawned a spin-off podcast series sharing the same name, featuring the staff and expert guests for nuanced discussions, updates on action items presented in the show, and a space for writers to complain about jokes that didn't make the final cut. For those hoping for a retread of "The Daily Show," this may not be the show for you, but if you're interested in deep dives into some of the most polarizing topics dominating cultural discourse, allow Stewart to be your guide.
"The Problem with Jon Stewart" arrives on October 7, 2022 with new episodes released weekly.