Megan Thee Stallion Brings Confidence And Sass To Saturday Night Live But Lacks Comedic Versatility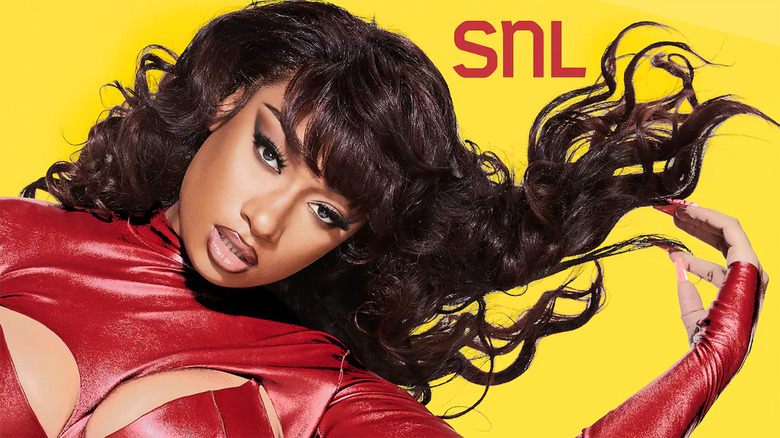 NBC
Capping off the first three episodes of the 48th season of "Saturday Night Live," hip hop recording artist Megan Thee Stallion took the stage in Studio 8H at 30 Rockefeller Plaza to pull double duty as host and musical guest. This is no easy task, and there are only a handful of names who have ever pulled it off successfully. Justin Timberlake is easily the best to take on this challenge on several occasions, with the likes of Taylor Swift, Lady Gaga, and Miley Cyrus following close behind. So how was this episode?
In general, Megan Thee Stallion's episode of "SNL" was rather average. While this episode used her profile and personality to fuel an assembly of sketches that allowed the diversity among the cast to take the spotlight, the sketches that made it to air didn't turn out all that great. That's partially because Megan Thee Stallion didn't offer much in the vein of versatility in her performance. However, that doesn't necessarily mean she was a poor host. Let's break it down. 
What was the best sketch of the night?
The closest that Megan Thee Stallion came to not playing some variation on herself came in the best sketch of the night. Strangely enough, this sketch felt like it should have been in the 10-to-1 slot as the weirdest of the night, especially since the classroom sketch that ended up there felt like a much more traditional bit rather than feeling fitting of what typically comes in that last minute spot. The premise makes perfect use of Kenan Thompson's comedic chops as a father who gets more and more frustrated with the fact that he can't spot the deer grazing in the field near his daughter's cabin. It gets increasingly absurd with Thompson's stubbornness and reactions providing a lot of the comedy, to the point that Megan Thee Stallion can't help but break a couple times. Easily the biggest laughs of the night, with the exception of Weekend Update, but we'll get to that later.
Following close behind, we had another great sketch from the reliable folks known as Please Don't Destroy. Following their usual oddball, fast-paced formula, the trio run through a series of symptoms they're feeling as a result of trying ill-advised lifestyle changes that only grow in preposterousness. Aside from the gags involving the worst possible decisions in their health, there are some hilarious visual gags with quick cuts to each of the guys' goofy facial expressions. This is the kind of stuff you can rely on Please Don't Destroy to knock out of the park.
Meanwhile, on the other end of the spectrum, this was the worst sketch of the night. However, you'd never know if it if you only catch up on "SNL" by way of the individual sketches being released on YouTube. That's because the version of the sketch you see above comes from the recorded dress rehearsal that happens before the live show unfolds. In this online form, the sketch actually doesn't seem all that bad. 
Unfortunately, the live version of the sketch was a nightmare. I don't know what happened in the control room during this sketch, but there were cuts that completely missed their cue, so we were hearing characters off-screen without seeing them until it was too late, and this happened a few times in the first couple minutes of this sketch. Not only did it ruin any momentum that sketch would have otherwise had, but it completely ruined the rest of the sketch, simply because it felt so messy. Furthermore, if you watch the live version (which you'd have to view through a DVR recording of the live episode through your cable or streaming TV provider), you'll notice that it was trimmed a bit for time by completely axing the introduction to the workout class. 
Since the live version of the sketch didn't make it to YouTube, it might not seem the worst sketch of the evening, but trust me when I say it was a disaster to watch in the live broadcast. However, if we accept this dress rehearsal version of the sketch, then the worst of the night would probably be the C-SPAN cold open, because "SNL" still hasn't realized that their timely political stuff is mostly bad when it follows this kind of format.
How was the rest of the episode?
Perhaps the only other sketch that really felt like it landed firmly was this music video bit (above) that accurately recounts what it's like for friends to be dragged to an event where a group of longtime friends basically abandon them and force three complete strangers to interact throughout the evening. Bowen Yang was top notch in this sketch, especially when he shouts "No!" towards the end. Megan Thee Stallion worked best in this sketch because it allowed her to do what she does best as a hip hop artist. It's a shame that we couldn't have gotten a bunch of music video sketches, because it might have made for a better episode overall.
Otherwise, Megan Thee Stallion's lack of versatility didn't give the writers a lot of room to play with her as a comedic presence. Again, her profile and personality made it so Kenan Thompson, Ego Nwodim, Punkie Johnson and newcomer Devon Walker were able to shine, because many sketches were based around Black characters and racial humor, and that's always welcome. But it felt like the episode overall was hampered by the star power that Megan Thee Stallion has, making it hard for her to disappear into sketches like a lot of other hosts can typically do. There were nuggets of solid bits in sketches, but the likes of the "Classroom" and the "Girl Talk" sketches felt like they needed another pass on the script to punch them up a bit. 
Was Megan Thee Stallion a good SNL host?
In case it's not clear from the rest of the review above, Megan Thee Stallion wasn't the best performer we've seen take the stage as "SNL" host. However, having said that, I wouldn't completely discount her. Though her profile made it hard to provide a variety of performances in sketches, Megan Thee Stallion brings an alluring level of confidence, especially when she's able to lean into her persona and attitude that she projects as a hip hop artist. There are longtime dramatic actors and even some comedians who have hosted "SNL" and don't have half the poise and confidence when they're doing their monologue. Megan Thee Stallion was unapologetically herself, and I give her all the credit in the world for being able to do that — but it was a bit detrimental to the show too.
Because Megan Thee Stallion has such a distinct personality and presence when it comes to living up to the many names and titles she embodies (as she recounts during the monologue above), it felt difficult for her to really disappear into the sketches. That's why many of them leaned into that side of her, by letting her pretty much always play some variation on herself, especially in "Hot Girl Hospital" and "Workout Class." This was when she was at her best, but it never felt like much of a performance beyond what she does as a recording artist. There was a part of the veneer that is Megan Thee Stallion that never felt like it melted away for the sake of the show. For example, one of her signature traits are those long, stylish fingernails. She couldn't lose those for the episode, so no matter what character she was playing, those nails were present. It's a small detail, but it can prove to be rather distracting when trying to buy into a performance, even if it's just silly sketch comedy. 
Personally, I think it would be best if we kept Megan Thee Stallion as a musical guest and have her pop up in a couple sketches rather than having her host the whole episode again.
Weekend Update stole the show
While most of the sketches throughout the evening were average or subpar, Weekend Update came out on top. In fact, I think Weekend Update as a whole was probably the best part of the entire evening. Michael Che and Colin Jost have some of the best jokes of the night, including some edgier bits, and Devon Walker continued the streak of the new featured players getting a spotlight at the desk (you're next, Molly Kearney). However, the real show-stealer came with one of the side spots. 
Chloe Fineman and Heidi Gardner's appearance as Texas women who think "Hocus Pocus 2" is satanic (based on a real story that made headlines) was even funnier than the best sketch of the night. Aside from the names Debbie Hole and Stacey Bussy riffing on the ridiculous real name of Jamie Gooch, Fineman and Gardner had the kid of chemistry and energy that made Kate McKinnon and Aidy Bryant so great together. I hope this is the beginning of dynamic duo who will do more stuff like this together, because this was spectacular.
We'll be back in a couple weeks when Jack Harlow pulls double duty as host and musical guest. For an even more in-depth brekadown of "SNL," check out The Ten to One Podcast.