What Is Please Don't Destroy? Meet Saturday Night Live's Latest Successor To The Lonely Island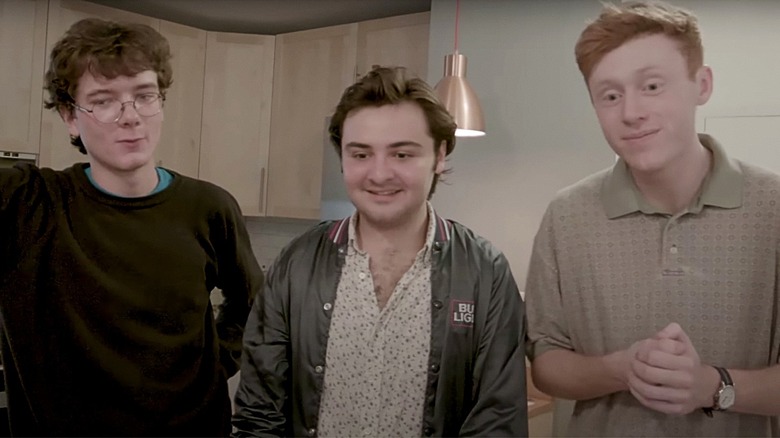 Please Don't Destroy
Even though "Saturday Night Live" is a comedy staple due to the live nature of the late night sketch series, where each episode is exhaustingly created in a single week, the show has always had a place for pre-recorded comedy to shine too. 
Folks like Albert Brooks and Tom Schiller delivered comedic short films in the earlier years of "SNL," and Robert Smigel became known for his animated TV Funhouse sketches. The Lonely Island (Andy Samberg, Akiva Shaffer, Jorma Taccone) ushered in a new era for the internet age with SNL Digital Shorts, followed by the home video-style antics of Good Neighbor (Beck Bennett and Kyle Mooney). Now "SNL" has a new trio of comedians bringing pre-recorded sketches to Studio 8H, and you might have seen them before, even if you don't recognize their name.
During this weekend's episode of "Saturday Night Live" hosted by Kim Kardashian West, the sketch group Please Don't Destroy made their debut with a sketch called "Hard Seltzer," complete with "A Please Don't Destroy Video" credit right at the start. Not only was it one of the best sketches of the night, but it ushers in the latest successor to The Lonely Island. 
Please Don't Destroy
Please Don't Destroy is comprised of Martin Herlihy, John Higgins, and Ben Marshall, who formed their comedy group in 2017 at NYU. Now, in their early-to-mid-20s, they find themselves climbing the showbiz ladder at one of the greatest comedic institutions of all time. All three were hired along with seven other writers the week before "Saturday Night Live" kicked off season 47, but it's clear they'll be spending time in front of the camera too.
Even if you think this is the first time you're hearing about this comedy trio, there's a good chance you've encountered their material on social media. Some of their short form sketch comedy has gone viral across Twitter and TikTok. Perhaps their most famous sketch riffed on the COVID-19 vaccine back in March of this year: 
I GOT VACCINATED!!! 🙏🙏 pic.twitter.com/HASanyAiNh

— Ben Marshall (@notbenmarshall) March 10, 2021
On social media, Please Don't Destroy's fast-paced, short form bits have spread like wildfire. Not only do they consistently deliver hilarious sketches, but they've gotten a little boost by cast member Heidi Gardner, who first encountered them a couple years ago. Speaking with Vulture, Gardner said:
"Watching them, they reminded me of when I was a teenager, and it was like the first time I saw [the sketch group] Stella or the first time I saw Jack Black. And I was just like, 'Holy s**t. I could watch this all night long.' I almost felt embarrassed of how much of a fan I quickly became."
She's not the only one; Patton Oswalt has been retweeting the sketches they've been posting on Twitter too. One of my personal favorites is this one imagining a video game where you're playing through the celebrity life of actress Shailene Woodley:
Playing the new Shailene game pic.twitter.com/yl2fU8wuWz

— Martin Herlihy (@martinmherlihy) May 26, 2021
Though their online efforts have a low budget, home video feel, "Saturday Night Live" has brought Please Don't Destroy into the high-definition arena, but without losing their overall vibe. Their sketches, especially on social media, carry some flairs of "I Think You Should Leave" mixed with the oddity of Kyle Mooney and Beck Bennett's work. But they also have a certain fast and loose, off-the-wall element that makes them stand out. That's mostly because they've been creating content that is intended for the short attention spans of those on TikTok and Twitter, but if there's one thing "SNL" needs help with, it's knowing when to end a sketch and not overstay its welcome.
Please Don't Destroy Has SNL Comedy Roots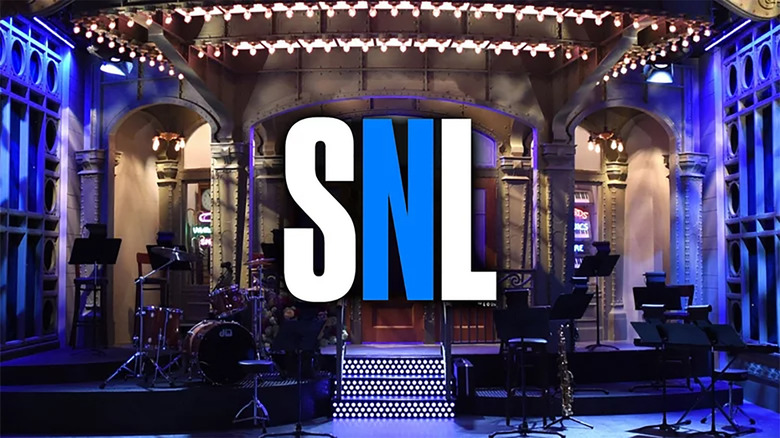 NBC
Though Martin Herlihy, John Higgins, and Ben Marshall have put in the work to get where they are now, two of the group members do have roots in "Saturday Night Live" itself. 
Martin Herlihy is the son of comedy writer and actor Tim Herlihy, who served as a writer at "SNL" from 1993 through 2000, when he became head writer and a producer of the series. Thanks to his time on the sketch show, Tim Herlihy became friends with Adam Sandler and he's frequently collaborated on films with the former breakout "SNL" star, writing the scripts for "Billy Madison," "Happy Gilmore," "The Wedding Singer, "The Waterboy," "Big Daddy," and many more. Meanwhile, John Higgins is the son of Steve Higgins, who has been writing and producing for "SNL" since 1995. Steve Higgins is also the announcer/sidekick for "The Tonight Show Starring Jimmy Fallon."
So, Herlihy and Higgins have been around comedy legends since they were kids. However, even though there's plenty of nepotism to go around in Hollywood, "Saturday Night Live" is still the kind of place where you have to pay your dues and prove that you have what it takes to keep up with the show's unique style and workflow. With their debut sketch, the boys of Please Don't Destroy seem to be on the right path so far. They're even working on writing their own movies and TV shows to star in, just like The Lonely Island did with "Hot Rod" and "Popstar: Never Stop Never Stopping," not to mention the "SNL" movie "MacGruber." Hopefully Please Don't Destroy has a little more box office success, but a cult following wouldn't be bad either. We're very much looking forward to seeing what else they do at "SNL."
We'll leave you with another Please Don't Destroy sketch, in which Martin Herlihy learns Netflix made a documentary about him: 
Hey @netflix why did you do this to me??? pic.twitter.com/pWgxdYkp7C

— Martin Herlihy (@martinmherlihy) March 24, 2021
"Saturday Night Live" airs Saturdays at 11:30pm ET/8:30pm PT on NBC.