Saturday Night Live Has Owen Wilson Make A Troubling Cars 4 In A Hit Or Miss Season 47 Premiere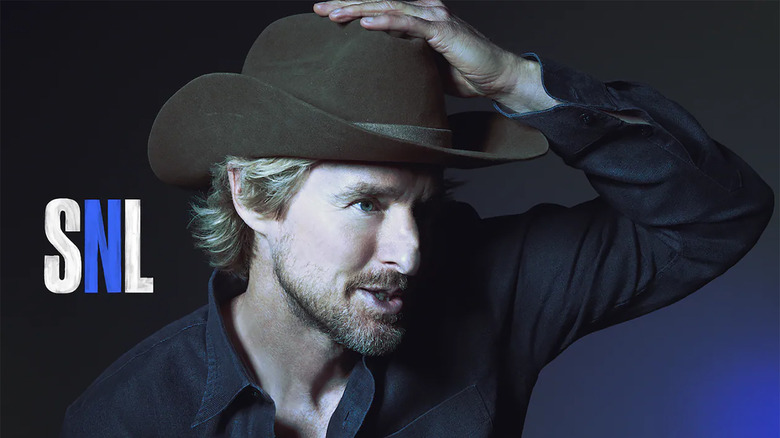 NBC
This weekend brought the 47th season premiere of"Saturday Night Live." Even though it didn't exactly kick off the new season with a bang, the hit-or-miss episode let Owen Wilson have some fun with his beloved Pixar Animation character Lightning McQueen from the "Cars" franchise. But if we're being honest, the breakout star of the episode (besides Kacey Musgraves paying tribute to "Forrest Gump" with a nude musical performance) was actually one of the new featured players of the cast. Famed Donald Trump impersonator James Austin Johnson not only debuted as the new Joe Biden on the series, he also appeared in more sketches than some of the regular cast members. 
Let's dig into the "Saturday Night Live" season 47 premiere sketch-by-sketch below.
The Best
Cars 4 – Since Pixar Animation doesn't seem to be working on "Cars 4," the writers of "SNL" decided to get them started. Owen Wilson has been brought in to start recording dialogue for the sequel, but apparently no one has seen a full script, so there are a lot of lines that are out-of-context. The trajectory of the sequel gets a little worrisome when it sounds like Lightning McQueen is constantly hitting on young cars and trying to hook up all of them, even if they're Mater's sister. 
This is one of those delightfully inappropriate sketches that takes something innocent and family friendly and gives it a naughty edge. Wilson stumbled a bit with his line delivery, but thankfully, it didn't bring this sketch down much. The gag got even better when Larry the Cable Guy was brought in to record a scene with Mater, showing off one of James Austin Johnson's other impressive impersonations.
Funeral Song – Strange funeral services are a stand-by at "SNL." Though they're not as common as game show or talk show premises, they typically make their way into each season at least once. This one was bolstered by the always reliable Kenan Thompson as a goofy showman paying tribute to an elderly woman who frequented his show at the Loose Nugget Casino. Aside from Thompson's hammy rendition of R. Kelly songs raising some eyebrows, the escalating premise that reveals this sweet old woman may have knowingly hung out with some shady celebrities is what pushed this one into great territory. 
Mail-In Testing Service  – Hitting that oddball 10-to-1 spot towards the end of the episode, this sketch about mail-in stool testing let featured players Andrew Dismukes and newcomer Sarah Sherman. The premise itself is ludicrous, but it's the change in tone of their voice as they try to reassure potential customers that they're not going to do anything questionable with the samples that cracked me up the most. Plus, Owen Wilson's entry as the commercial's director trying to steer them away from being too forthcoming about their unnecessary reassurance added an everyman layer that was perfectly peppered throughout the sketch.
The Average
School Board Meeting – Since COVID-19 controversies about vaccines and masks have turned school board meetings into cavalcades of insane people shouting about anything and everything, "SNL" delivered one of its own. This is another formula that "SNL" employs from time-to-time, allowing for a showcase of many wild characters, and this was a solid but not gut-busting effort. Standouts were Mikey Day, Aidy Bryant, and Bowen Yang, but there were some duds throughout the character rotation, including a shoehorned reference to Dog the Bounty Hunter getting involved in the headline-making pursuit of wanted man Brian Laundrie. 
NFL on FOX – This episode was full of "SNL" formulas that don't happen super often, and this NFL on FOX bit was also one of them. In this case, the comedy isn't coming from the sports commentary itself, but rather their constant promotion of an upcoming new show on FOX that has everyone asking a lot of questions. 
James Austin Johnson was a standout here again, with his perfect deadpan delivery of details on the increasingly weird show called "Crazy House" never waning from his impressive sportscaster voice. There weren't any major problems with the sketch, but it wasn't on the higher end of hilairty, eliciting only mild chuckles throughout. Plus, I couldn't help but want to see some actual clips from this stupid show.
Billionaire Star Trek – "SNL" managed to get Owen Wilson into a cowboy hat in one of their sketches by having him portray Jeff Bezos in a "Star Trek" parody featuring the billionaire's space ambitions in his penis-shaped rocket. Other than the Lightning McQueen reprisal, this was Wilson at his best, really cutting loose and having a good time with his wacky impersonation. Maybe it's because it was a pre-recorded sketch where he didn't have to rely on cue cards for his lines. It probably helped to have his brother Luke Wilson making an appearance too. 
Unfortunately, the sketch feels like it could have been fleshed out to lean into "Star Trek" tropes alongside the not-so-timely premise. But at least Alex Moffat's impression of Richard Branson kicked things up a notch.
The Worst
Biden Unites Democrats (Cold Open) – Well, "SNL" is clearly still having trouble with its timely political cold opens. It doesn't help that what's happening in the government isn't exactly rife with material to parody. But it's much better than being on the other end of the spectrum. 
Even though this wasn't a good political satire sketch, it's noteworthy for debuting James Austin Johnson as Joe Biden, especially since it's not often that a featured player opens up a season, let alone an episode, with such a key role. His impersonation got better as the sketch went on, and I think this might actually be the most accurate portrayal of the President of the United States that "SNL" has had yet. Jim Carrey had moments where he nailed certain mannerisms and speech patterns, but something about it just never quite felt right. But Johnson's work here is solid, even if the sketch isn't.
Women's Talk Show – No, the talk show format couldn't be avoided in this episode, and unfortunately, this one was just lame. Mocking the idea of television productions being impacted by breakthrough COVID-19 cases, this riff on "The View" and "The Talk" feels half-baked and barely made me laugh. Aidy Bryant's bits were the only amusing parts, but otherwise, this was a sketch that should have been cut out of the show. It didn't help that Owen Wilson seemed to have a lot of trouble with the cue cards. Oh well, they can't all be winners.
Weekend Update
It's a good thing Colin Jost addressed the lack of excitement around politics right now, because it set the stage for a Weekend Update segment that didn't hit hard on the government. On one hand, that takes some wind out of Weekend Update's sails, but again, it's better for us as a country because we don't have a flaming circus to worry about every week. Thankfully, Colin Jost and Michael Che still had some great one-liners throughout Weekend Update, including Jost taking a hilarious shot at himself without needed Che to set it up for him. You can watch the second half of Weekend Update right here.
A Black Woman Who's Been Missing for Ten Years – News headlines and true crime enthusiasts have been abuzz with the case of Gabby Petito, which inspired this great Weekend Update bit with Ego Nwodim playing a Black woman who has been missing for 10 years. The tragic comparison between how police and communities rally around missing white women while barely addressing a missing Black woman is turned into timely and topical comedy that comes with that poignant commentary lying beneath the surface. This is one of those admirable times where "SNL" satire has something significant to say while also delivering a hilarious bit. 
Pete Davidson on the Met Gala – Many thought Pete Davidson wouldn't be coming back last year when his Weekend Update desk appearance in the season 46 finale felt like a farewell. Davidson even addresses it himself in this bit, which is a very funny roast of his own appearance at the Met Gala, as well as the male members in his family who don't understand his fashion choices. It was a traditional stand-up style appearance at the desk for Davidson, but there's something about him that feels rejuvenated and lively. Davidson even looks healthier in general. Whatever he's doing in his life right now, I hope he sticks with it.
A Tribute to Norm Macdonald – Finally, Weekend Update concluded with a tribute to the late Norm Macdonald, who passed away in September. Macdonald hosted Weekend Update on his own for several years, and he's largely considered to be one of the best. In his honor, "SNL" played a handful of his dry, sarcastic one-liners that cracked us up so much.
The Host
It's hard to believe that this was Owen Wilson's first time hosting "SNL" when there have been so many high points throughout his career that he should have been asked to stop by the show. However, when you see that Wilson isn't super comfortable doing live comedy off cue cards, maybe it's something he avoided for a long time. He can't help but stare at the cue cards, which can make some of the sketches feel more stilted than they otherwise might. He's clearly much more comfortable in front of the camera with lines he can memorize. 
That's not to say he was terrible, though, because he did have many moments that incited laughter. "SNL" is a unique challenge, and not every actor has the chops to pull it off so easily. But for the most part, we enjoyed Wilson's hosting debut, and I hope he gets another chance to come back again.
The MVP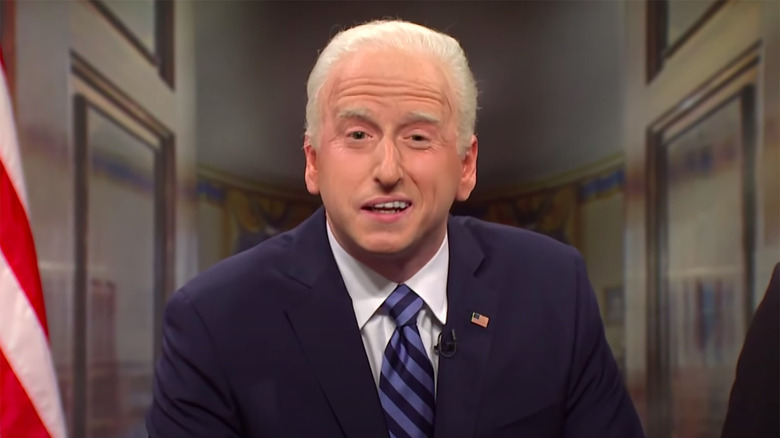 NBC
James Austin Johnson – As a featured player, this was one of the most impressive debuts by a cast member that I've ever seen. Johnson shows range with a variety of characters, and he was confident as hell. It takes balls to even think about being considered for a spot on "SNL," and even when you finally get the gig, you don't expect to be ushered out as the chief character in the cold open of the season premiere for your first show. 
Based on his debut, I think Johnson is going to be a valuable cast member who sticks around "SNL" for awhile. It's still early, but I can see him being a cast member akin to Bill Hader or Will Forte. I can't wait to see what else he does this season.
The Final Word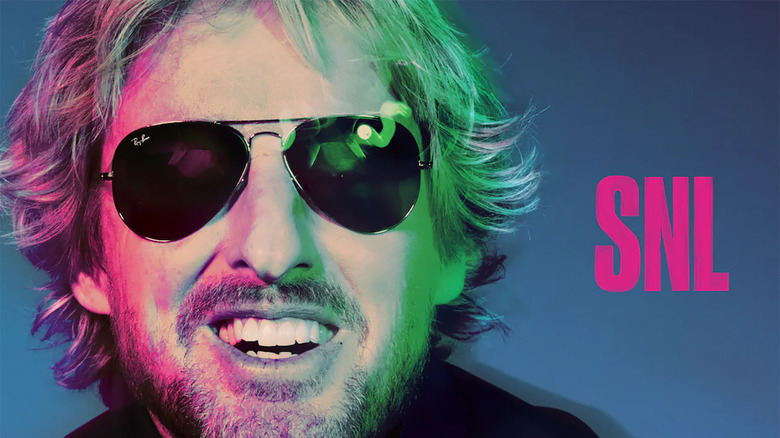 NBC
The 47th season premiere of "Saturday Night Live" wasn't quite as spectacular as I'd hoped it would be. It didn't feel like a season premiere, but rather a middling episode from sometime in the middle of late fall or early spring when the cast and writers are a little tired and somewhat on autopilot. It was nice to see that "SNL" didn't rely on their most familiar tropes, even though they did lean into somewhat familiar formulas. More than likely the entire "SNL" team needed to get back into their groove after summer break, and hopefully the upcoming round of three more back-to-back episodes will only improve.
We'll be back next week when Kim Kardashian West hosts "SNL" on October 9. God help us.