Brendan Gleeson Brings Irish Charm And New Cast Members Shine In A Fantastic Saturday Night Live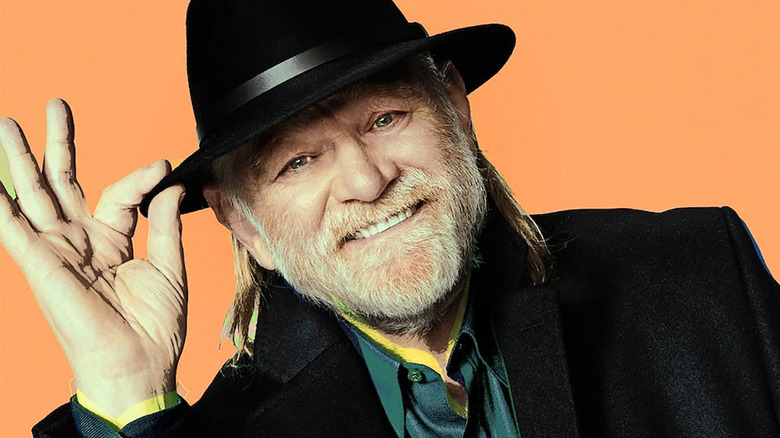 NBC
"Saturday Night Live" is kicking off its 48th season with three back-to-back episodes. Last weekend brought Miles Teller to Studio 8H for an episode with some solid highs and disappointing lows. Thankfully, the second episode of the season, hosted by "Harry Potter" franchise co-star Brendan Gleeson, ramped up the hilarity with great success. The actor, who will soon be seen in "The Banshees of Inisherin," brought plenty of Irish charm to the late night sketch series, and he even got some help from his co-star Colin Farrell. 
Though "SNL" was undoubtedly a fantastic showcase for Brendan Gleeson to let loose some broader comedic chops than we've seen from him before, this episode also let every single one of the new featured cast members shine brightly, each making quite the splash in a variety of ways. In fact, the featured players actually delivered what ended up being the best sketch of the night.
What was the best sketch of the night?
The season 48 premiere of "Saturday Night Live" gave a proper introduction to the four new featured players added to the cast: Marcello Hernandez, Molly Kearney, Michael Longfellow, and Devon Walker. Though all of them were given the spotlight in the cold open, only Michael Longfellow got a standout moment on his own at the Weekend Update desk. But this week, all four of them were the stars of a sketch based solely around their arrival on "SNL."
In the sketch, titled "New Cast Advice," the new stars answer a series of questions about their arrival on the show, and each of them has their own experiences and reactions to the life-changing step in their career. However, the standout is Molly Kearny, who was tasked by Lorne Michaels with the secret mission of assassinating Vladimir Putin. Kearney's storytelling is hilarious here, and they sound increasingly confused and panicked as they recount what has happened to her at "SNL" so far. It's a fantastic escalation of absurdity, and it's somehow infinitely funnier hearing them tell it than if they tried to turn it into a sketch where you actually see this happening.
What's especially great about this sketch is that Molly Kearney's part isn't the only gag being heightened. Marcello Hernandez keeps recounting the advice that Lorne Michaels gave him, and it goes from telling him not to worry about getting sketches on the air early in the season to telling him to just stay home and not even come into the office. It's not often that all the new cast members get a chance to shine in a sketch that's squarely focused on them, and it's even better that this was, in my opinion, the best sketch of the night.
How was the rest of the episode?
This episode of "SNL" is exactly the kind you like to see. Even the worst sketches of the night weren't downright terrible, and most of the sketches were quite funny. Coming in closely behind the best sketch of the night was a bit that felt like it should have been a 10-to-1 sketch (typically the weirdest sketch of the night saved until just before the end of the show at 1am Eastern Time). 
In the sketch, titled "Headshots," Michael Longfellow plays a young actor getting headshots for his rising acting career. Andrew Dismukes plays the delightfully odd photographer, but the sketch takes an even more strange turn when Brendan Gleeson interrupts as Longfellow's grandfather, suddenly sparking inspiration in the photographer. From there, we get to see Gleeson in a series of hilarious photo prompts where he dons some adorable and hilarious facial expressions and poses. But there was still something even better beyond fantastic oddball sketch.
Suddenly, Colin Farrell appears as himself, and Dismukes is inspired even more to place him alongside his other muse. The result is a lovely photoshoot with Gleeson and Farrell showing why they're so great together. Have you ever seen a pair of cute shy boys better than this? The absurdity gets an extra dose when Farrell acts all shy about his photographic prospects, saying that he's never been photographed before, which Longfellow hilarious calls out as a lie. I love this sketch. It felt like something Kyle Mooney and Beck Bennett should have been present for, which really made me respect the place that Dismukes has carved out for himself in their absence.
Meanwhile, on the opposite end of the spectrum, we have the worst sketch of the night. 
If you've avoiding the discourse around the internet personalities known as The Try Guys, consider yourself lucky. It's a pinnacle of extremely online culture, and it's supremely annoying. But of course, this is the kind of thing "SNL" has to make fun of, because the live format affords them the opportunity to provide timely and relevant satire. Unfortunately, there's nothing that can be said or done in this sketch that's any better than the rest of the commentary about this ludicrous situation. Though there's certain amount of comedy that comes from Brendan Gleeson treating this so seriously as a CNN correspondent, the sketch itself mostly falls flat around him. 
Turning back to the funnier side of "SNL," we have what was undoubtedly the weirdest sketch of the night, properly placed in the 10-to-1 slot. This absolutely had to be a Sarah Sherman special. Not only does she star in the sketch, but this had her trademark alternative, oddball comedy style all over it. Though the giant transplanted googly eyes are doing some heavy-lifting, Sherman enhances the bit with her wild facial expressions that make the eyes even more unsettling and crazy. Even Gleeson's performance in this sketch is delightfully strange, boasting a self-important, rich voice that sounds like it belongs in a prestigious stage play. This is the strange side of "SNL" at its best, and I loved it.
Was Brendan Gleeson a good SNL host?
This was Brendan Gleeson's first time hosting "Saturday Night Live," and though he's starred in comedic movies, he's not an actor who is necessarily known for being funny. However, this episode of "SNL" made me wish that he would star in more straight-up comedies. While movies like "Paddington" and "In Bruges" have showcased Gleeson's comedic talents, "SNL" easily offered the best spotlight for his ability to be funny. In fact, he was having fun before the episode even aired:
Though Gleeson felt a little nervous at the top of the show in the monologue, he felt a bit more comfortable once he got a mandolin in his hand. It's actually an old comedy trick. For some reason, audiences are more receptive of comedy when there's some guitar-playing (or other string instrument being strummed) along with it. There's a disarming quality about the music accompanying punchlines, and it makes it easier to laugh. It basically adds a rhythm to the comedy, guiding people to when they should be laughing. In this case, Gleeson used the mandolin as method of telling some folksy jokes. From there, Gleeson was more relaxed and truly funny through the rest of the evening, and not all dramatic actors succeed as well as he did this evening. 
The icing on the cake was Colin Farrell showing up, leaning into Gleeson's amusing description of the actor being needy like his "Banshees of Inisherin" character. Farrell was so wonderful next to Gleeson, and you can see the genuine friendship that exists between these two when they embrace. It set the stage for their hilarious reunion later in the "Headshots" sketch, and it made me hope that Farrell will return to host "SNL" again, something he hasn't done since December 2004. 
Please Don't Destroy is still crushing it
The season premiere of "SNL" didn't have a new pre-recorded sketch from Please Don't Destroy, though the trio did write a few of the sketches in that episode. Thankfully, the comedy troupe reunited in for one of their self-branded videos, and Brendan Gleeson got to play around with them as an unlikely high school student. That's because he was really an older Irish man pretending to be a high school student. The flashbacks only enhanced the silliness of these high school guys believing that Gleeson's character Tommy was a high school student just like them. Honestly, I probably could watch an entire movie where Gleeson pretends to be a high school student in the same vein as "Never Been Kissed."
Please Don't Destroy has brought fantastic energy and a new brand of comedy to "SNL," feeling like the next generation of The Lonely Island (Andy Samberg, Akiva Shaffer, and Jorma Taccone) that came before them. Since the cast has lost a total of eight members since the end of season 47, I hope they get even more of a chance to flex their comedic stylings as season 48 continues.
We'll be back next weekend after hip hop artist and "She-Hulk" guest star Megan Thee Stallion pulls double duty as host and musical guest.